When I first began playing disc golf years ago I remember spending hours looking into the history of the sport and some of the great competitors in the league.
To me, it's always interesting to learn some cool and interesting facts about disc golf, so I've compiled a list of my 15 favorite pieces of disc golf trivia!
I hope you enjoy the facts below and learn something new about my favorite activity, disc golf!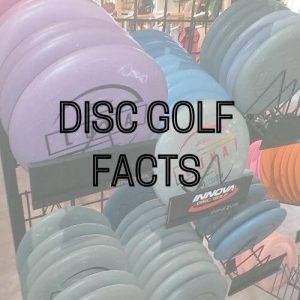 Disc Golf Facts
1. In the year 2019, there were over 50,000 players who were active members of PDGA.
Being a member of the PDGA offers benefits like playing events at a discounted rate, tracking your personal rating, helping fund certain disc golf initiatives, and various other perks. Joining the PDGA costs $75 per year for a professional membership, but there are other options such as amateur and junior memberships.
2. The game of disc golf was invented in the very early 1900s by a group of elementary school friends.
Ronald Cain and his friends began playing a game where they would throw lids into circles drawn into the sand. This is the first known idea of disc golf and the first known game happened in Canada back in 1926.
3. Disc golf began getting popular in the 60s when more courses were being built in public locations.
4. Before being known as the game we call it today, disc golf was referred to as Tin Lid Golf.
5. 75% of all disc golf courses in the world come from the United States(over 6000 courses), while 10% come from Finland and Canada.
The game has been increasing in popularity in other locations outside of the United States, but for now, the majority of courses remain in one location.
6. The three common types of discs are drivers, midranges, and putters.
Even though there are three classifications of discs, there is a large variety within each category. There are overstable drivers, understable midranges, throwing putters, beaded putters, as well as different molds of plastic.
7. In the United States over the past few years, disc golf has been the fourth fastest-growing sport.
With more courses being open to the public as well as a lot of places being free to play, it's no surprise that many are picking up disc golf right now. It's always fun playing with others so grab someone new and introduce them to discing, or even join a club or team!
8. Ken Climo owns the record for most titles at 15 total.
Ken is one of the greats who built up disc golf through winning 9 straight World Championships. Combine that with his three championships after 2000 and his event wins at Masters 40+ to get a very tough record to beat.
9. Professional disc golfer Paul McBeth won four straight World Championships between the years 2012-2015.
10. National Disc Golf Day takes place on August 1st each year.
The PDGA founded the day to help celebrate the fast-growing game of disc golf and choose August since it's such a popular month for discing. It was officially approved as a national day in July 2016 by the Registrar at National Day Calendar.
11. The PDGA was founded in 1976 with the idea of growing and promoting the sport.
Disc golf was slow to ramp up in popularity when until the PDGA started working to increase the amount of people that knew about and enjoyed the entertaining game of disc golf.
12. The record for the highest payout during a tournament happened in 2020 at the Disc Golf Pro Tour Championship. Both the male and female winners took home $20,000.
This high payout occurred during the year where the professional disc golf world championship wasn't played. Instead this tournament was put in place for the pros to compete at and win a large payout.
13. According to InfiniteDiscs, the most popular disc golf driver in 2020 was the Innova Destroyer, followed by the Innova Wraith.
Innova has been a top brand in disc golf for many years now so it's no surprise to see them at the top of the list. The Innova Destroyer and Innova Wraith are two of the best distance drivers on the market and are great discs to try if you haven't already.
14. The MVP disc golf brand created a technology that features a dual-polymer design on their discs.
The outer rim on MVP discs is a different and heavier material than the one used on the inner core. This adds more spin to the disc by stabilizing the flight, leading to straighter and more accurate throws.
15. The World Record for most holes played in 24 hours is 2,900 by Michael Sale back in 2014.
This might seem like an impossible record so let me cover what happened. The course played on was 18 holes with the majority of them being less than 100 feet long. Michael also had a stack of putters on each hole and had the course to himself to run from hole to hole.
Resources