Disclaimer: As an Amazon Associate I earn from qualifying purchases.
Overview of the Innova Beast
The Innova Beast is a very fast driver that has a huge amount of glide when throw correctly. It's one of the most sold and most popular discs ever created, and for a lot of reasons.
With it's wide rim and comfortable feel, all players can get more distance with less power than with other discs. The edge of the disc is exceptional at cutting through any wind which is one factor in being able to throw this Innova driver far.
Besides being a great beginners disc for new players, it's been a staple in professional players bags like Eric Friedman and Barry Schultz. It's amazing that with new discs coming out every month, the Beast remains a top seller and can still compete for best driver.
Who is the Innova Beast For?
It doesn't matter whether you've been playing for two months of two years, every player should think about bagging the Beast.
For every course in the world, they'll be throws that the Beast was designed exactly for.
With the small amount of fade(2), throw the Beast directly at your target and watch as it continues to glide right up to where you aimed. For any hole that's wide open or mostly a straight shot, I always consider taking out the Beast.
One of the main reasons I throw the Innova Beast is that it can comfortably be thrown both forehand and backhand.
Some players prefer one over the other, so having a disc that is so usable on any hole is a huge benefit. I also really enjoy the cool and unique stamp design that can be found on each disc.
When to Throw the Beast
A huge advantage of using the Beast is the flexibility it provides and the large number of throws that it works for. With a little bit of practice you can master flex shots with the Beast and push your maximum distance even more.
The best throws for the Innova Beast are:
Headwind Drives
Flex Shots
Turnovers
For windy conditions that happen to be coming from the side, it can be harder to control and ensure it doesn't completely turn over during the flight. With a heavier disc(175g) it's much more manageable so plan on leaving the DX plastic in your bag on days like that.
Pros of the Innova Beast
Can be easily throw by players of all skill levels
Perfect disc for both forehand and backhand throws
Will help newer players increase their maximum driving distance
Good for max distance, downwind shots, straight and turnover throws
Cons of the Innova Beast
Flight pattern can easily change depending on the plastic type
Might have issues with it turning over for new players
Less fade limits your finishing shots
---
Innova Beast Specifications
Some really important information to look at when buying new discs is the flight path, flight info, and plastic types that are available for the disc. These flight charts by Inbounds give a good insight into how the Beast will perform when thrown by an intermediate player.
Flight Path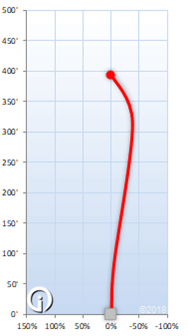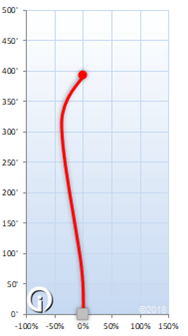 Available Plastics
| Plastic | Weight | Benefits |
| --- | --- | --- |
| Star | 164-175g | Durability of Champion plastic with better grip |
| GStar | 165-175g | Good for cold weather, more flexibility than Star plastic |
| Champion | 160-175g | Highest quality plastic, firm and durable |
| Pro | 165-175g | Grip improves over time, more durable than DX plastic |
| DX | 150-175g | Cheapest plastic, largest amount of weights available |
Read more about every Innova plastic.
Additional Information
Flight Ratings:

Speed 10.0, Glide 5.0, Turn -2.0 and Fade 2.0

Plastic Grades: Basic, Durable, Midgrade, Premium
Primary Use: Distance Driver
Skill Level: Intermediate
Stability: Stable
Weight: 150-175g
Beadless: Yes
Related Discs
Here are a few discs from Innova that are comparable to the Innova Beast.
Innova Firebird – Slower but more overstable
Innova Orc – Same high speed
Innova Wraith – Higher speed distance driver
Innova Valkyrie – Similar in flights
---
Final Review
When you need a high speed driver that is easy to throw and consistent, the Innova Beast is the disc to consider. I've had one in my bag from the first year I began playing, and I still have two in my bag at this moment.
Throw it forehand or backhand, hyzer or annhyzer, any long-distance situation is where the Beast shines. With over five different types of plastic, and a variety of weight, Innova has a combination of discs that can be thrown all over the course!