Players of all levels might be interested in knowing the best disc golf courses in Texas. Each one has varying levels of difficulty but they're all guaranteed to give you a fun day of disc golf!
Here are the top-ranked disc golf courses in Texas according to ratings and experienced players.
Selah Ranch
Dino Hills
Flying Armadillo
Lindsey Park
Granbury City
Z-Boaz Park
Eagle Ranch Park
Stephenville City Park
Keep reading to find out more about each Texas course and any important information that you should know before playing there.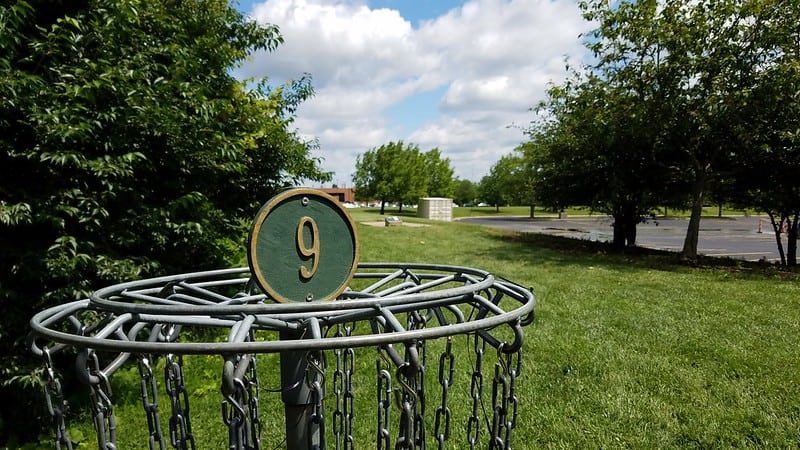 Selah Ranch Creekside
Overall Rating: 4.7 / 5
Holes: 18
Cost: $25 / day
Location: Talco
The Creekside course at Selah Rance is a championship-level course that's open all year. There are two courses on the property which are the Lakeside and Creekside.
The Lakeside and Creekside courses here are both scenic and have beautiful-looking holes around the lake. This is one course you need to try out if you enjoy a mix of open fairways and tight throws through the woods.
It costs $25 to play for the day and they also have disc golf carts that can be rented for the day. Reservations are necessary and there is a restroom on-site.
If you're a newer player just be aware that there are a lot of holes on this course where you could easily lose a disc. A few of them are located near ponds which means a water hazard is something you should look out for.
Dino Hills Disc Golf Farm
Overall Rating: 4.8/5
Holes: 18
Cost: $12/round
Location: Glen Rose
The main course at Dino Hills Disc Golf Farm has 18 holes with a total par of 59. It's located in Glen Rose and is set on a 75-acre property with cows, ponds, and a creek.
There are elevation changes to challenge you but it's an excellent disc golf course for beginners as there's something for everyone to enjoy. It has great signs to help you find the next teepad and it has a gorgeous looking landscape.
One exciting thing about this course is that they're planning on building a championship course within the next few years, bringing them to three separate courses!
Right now they also have an 18-hole putt-putt course that offers its own unique challenges and lines. It's much shorter but has some great opportunities to land a special ace on one of their baskets.
Flying Armadillo DGC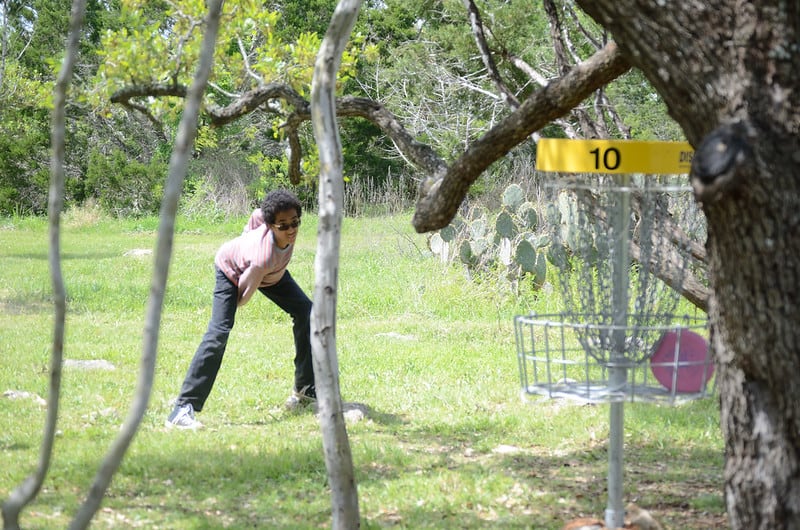 Overall Rating: 4.7 / 5
Holes: 18
Cost: $5 Monday through Friday, $10 on weekends
Location: San Marcos
The Flying Armadillo features two fantastic courses and a nice disc golf pro shop. There's the Big Course which is the more popular destination, and the Gold Mini which is a putt putt style course.
One of the reasons the Big Course is so popular is because it comes with three different tee locations on every hole, making it easy for players of all skill levels to be challenged and have a great time.
If you're interested in trying out glow golf, the mini-course is set up with permanent lights that let you stay out and keep playing disc golf at night.
To play either course it costs around $5 to play on weekdays and $10 on the weekend, and it covers unlimited play on both of the courses.
They are dog friendly and there is a restroom and pro shop on-site too. Camping is also available for $10 per person, per night.
Lindsey Park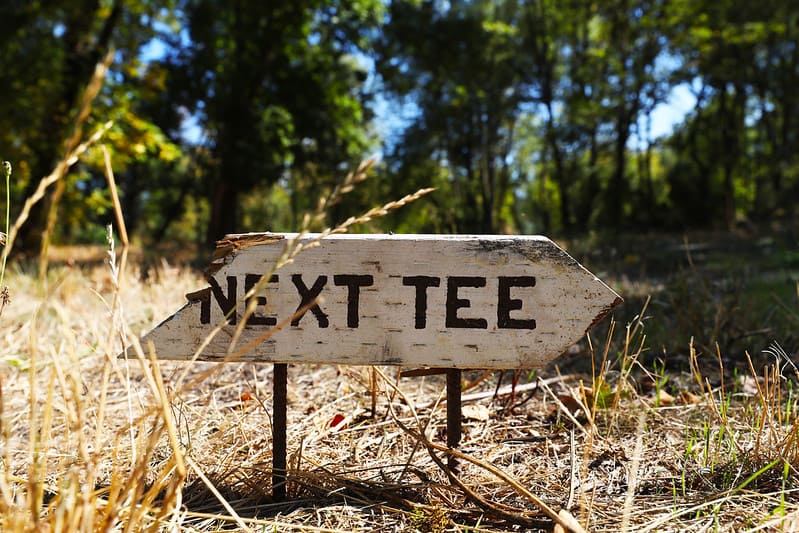 Overall Rating: 4.7 / 5
Holes: 18
Cost: n/a
Location: Tyler
Lindsey Park has three 18 hole courses that offer technical and challenging throws to get a good score. One thing that all three courses have in common is the balance and combination of wooded and open holes.
The shortest par course is the Cedar (Red) course which is suited for people who have spent some time playing disc golf before. It has short holes that need good control when throwing and has elevation changes throughout.
Another course in the park is Hickory (Blue) and it's known for having unique and difficult holes. This one is less popular and it could use some new signs to help players navigate around the property.
Last is the Dogwood (Yellow) course which is the longest of the three options. This one is better suited for experienced players since there are plenty of trees and other obstacles in the way of a good shot.
Granbury City DGC
Overall Rating: 4.4 / 5
Holes: 22
Cost: n/a
Location: Granbury
Granbury City DGC is located in Granbury and has 22 holes with a par of 68 and gets progressively more difficult as you move along it. The course is suitable for all levels although it isn't very technically challenging.
There is a good variety of shots including hills, ponds, trees, and some out of bounds areas. It's inside a park so you'll find benches to rest on and it's well maintained with no rough.
It also has a driving range with warm-up baskets to practice on first. There is a map on the sign at the first hole that you can take a picture of to guide you around.
Z-Boaz Park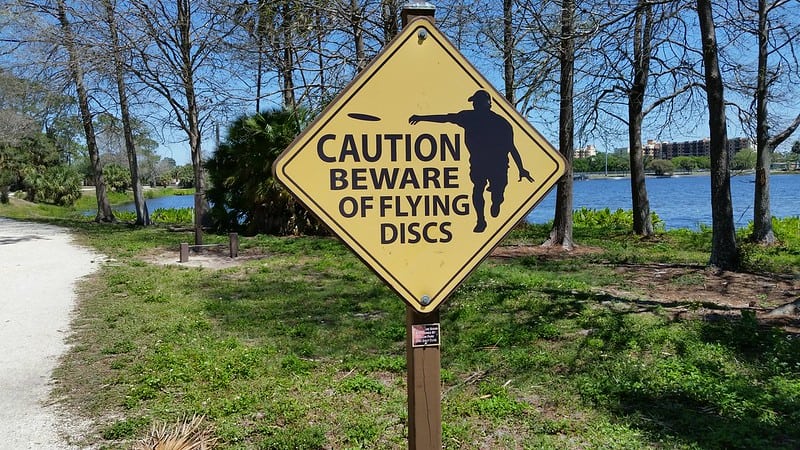 Overall Rating: 4.4 / 5
Holes: 19
Cost: n/a
Location: Benbrook
Z-Boaz Park is located in Fort Worth and has 19 holes with a par of 57. It's moderately hilly and there are tight patches as well as open spaces.
Mixed with the elevation changes and the number of trees on the course and a creek, it makes it very challenging. There is also a good variety of long and short holes, so you won't get bored throwing the same type of shot on every drive.
It can get busy, especially on a nice day but it is a dedicated disc golf course so only other golfers to contend with.
There are no restrooms, drinking water stations, or course map on-site, so you might want to make sure you have UDisc or another disc golf app installed.
Eagle Ranch Park
Overall Rating: 4.1 / 5
Holes: 9
Cost: n/a
Location: Fort Worth
Eagle Ranch Park is located in Fort Worth and has 9 holes with a par of 28. The course has a pond in play, a creek, and elevation changes.
It is a great course for beginners but also has nice challenges such as the obstacles and good variation in the length of the holes. The tee pads and signs are in great condition and the course is very easy to navigate.
One thing to note is that it takes a while for the area to dry out after it rains, so if you plan on playing when it's wet make sure you bring a towel to help dry off your discs.
Stephenville City Park
Overall Rating: 3.8 / 5
Holes: 18
Cost: n/a
Location: Stephenville
Stephenville DGC is located near the Amphitheater in Stephenville City Park. It has 18 holes and a par ranging between 54 and 56.
The course is mostly flat and fairly open so very cart-friendly. There are plenty of seats and picnic tables as well as trash cans along the way. You'll also find lots of parking here so you should be able to play even on those busy summer days.
The course itself is varied and holes differ in length, plus elevation is used in a few. There is also a creek that flows through the park and other water hazards to challenge you.
Check out some of the popular courses found in California!