Whether you're a new disc golfer or a more experienced player, you might be interested in knowing the best disc golf courses in California.
From challenging tree-filled courses to a more relaxed fun-filled session, the 300 or so courses in California provide plenty of variety. We're going to share the most important information about these top courses and any specifics you need to know before you go.
DeLaveaga Disc Golf Course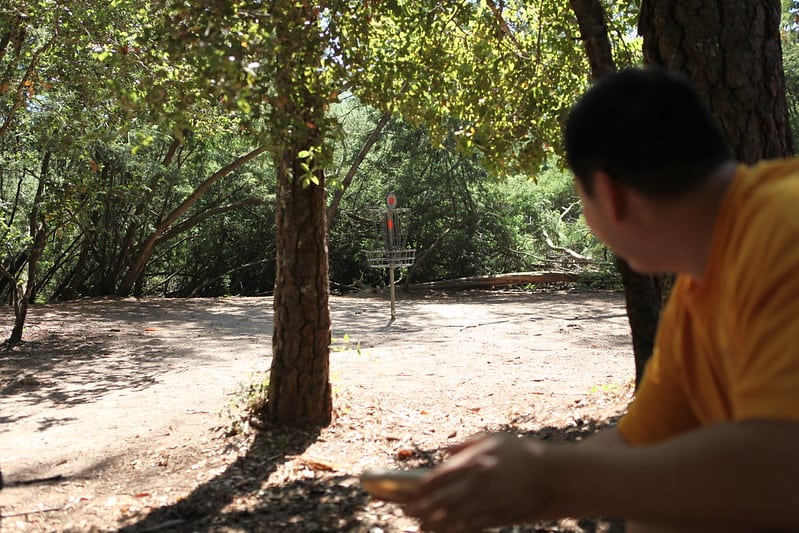 Overall Rating: 4.8/5
Holes: 29
Cost: $2 parking fee
Location: Santa Cruz
DeLaveaga DGC is located in Santa Cruz and is home to the Masters Cup. It's known as one of the most challenging and famous courses in the world.
Playing disc golf here is an experience like nowhere else because of the beautiful park that overlooks Monterey Bay.
There are 29 holes with a par of 89, including one of the most famous disc golf holes, "Top of the World". DeLavega is open all year if you're in the mood for trying out these difficult and diverse holes.
Golden Gate Park
Overall Rating: 4.6/5
Holes: 18
Cost: n/a
Location: San Francisco
The Golden Gate Park disc golf course offers 18 holes that require precision and control to keep your disc in the fairway.
These holes are fun for players of all levels, and most of the shots are located in a wooded area that can be difficult to navigate.
Unlike a lot of other courses, this is a dog and cart-friendly park, so you can enjoy a nice day of discing with the pup. It's important to note that during prime times you might be waiting a while to play since it's a crowded and popular course these days.
Browns N Bows Disc Golf
Overall Rating: 4.7/5
Holes: 81
Cost: $10-15 day pass
Location: Browns Valley
Browns N Bows Disc Golf is located in Browns Valley. The course isn't as long as some but the scenery is beautiful and there are interesting challenges such as water hazards and elevation changes. It is open all year and camping is available as well as cabins to stay in.
The long layout is 18 holes with a par of 57, but there are other courses in this location that are great for beginners to professional disc golfers.
Amenities on the course include a restroom and drinking water, and dogs are welcome if they are approved beforehand. There is also a pro disc golf store on site.
This is such a beautiful course that over 50 acres on the property are often used for wedding venues! If you're looking for a challenging course that's well maintained and offers a variety of shots, enjoy spending your day playing unlimited disc golf at Browns N Bows!
Perry Outback DGC
Overall Rating: 4.3/5
Holes: 18
Cost: $6 parking fee
Location: Visalia
Perry Outback is a challenging course that covers a good amount of area going from hole 1 to hole 18. There's a good mix of tight lines and more open holes that really test your backhand and forehand distance.
The common complaint about the course is that it's difficult to navigate around since there aren't helpful signs pointing to the next tee. With the UDisc app, it becomes must easier to find the next teepad and continue playing through the course.
Since there is longer grass you'll have to be on the top of your game and keep the disc in the fairway or else risk the chance of losing a favorite disc.
Sky High at Mtn. High North
Overall Rating: 4.7/5
Holes: 27
Cost: $15 / 27 holes
Location: Llano
The Sky High disc golf course is one of the best in the entire California area. It has mostly wooded holes with some changes in elevation on the hilly areas.
Disc golfers of all levels can come here and have a lasting and fun experience. There's a good combination of difficult throws that are shorter and more open but longer holes on the course.
Even though this is a popular course, some of the teepads aren't in the best shape, and there are a few signs that are outdated compared to how the course is currently.
Kings River DGC
Overall Rating: 3.8/5
Holes: 17
Cost: n/a
Location: Kingsburg
Kings River DGC is located in Kingsburg in a heavily wooded area with moderate hills. You'll need to purchase a Tulare County pass (day or annual) to play. Cows are also on this land so this course has a real sense of wilderness.
You'll find a good variety of shots here and it's challenging but still suitable for beginners. The pay system is by donation and you will find a box at the first tee where you can enter your money.
There are no facilities at this disc golf course including restrooms or trash cans.
Woodward Legacy DGC
Overall Rating: 4.3/5
Holes: 18
Cost: $5 parking fee
Location: Fresno
Woodward Legacy DGC is located in Fresno and is moderately hilly with trees. There is normally a $5 entrance fee but it is free in January and February.
Holes are clearly signposted with directions and you can see most of them from the tee. The slight elevation change definitely adds to the difficulty of this course.
There are a lot of holes at Woodward that are par 3, making it a good option for newer players who might not have the maximum distance to reach par 5's.
It is dog friendly and there are restrooms and a water fountain attached to these, although no water on the course.
Westside Park
Overall Rating: 3.7/5
Holes: 9
Cost: n/a
Location: Wasco
Westside has a 9 hole course in the park that features some long driving holes with a little bit of incline mixed in. A couple of the holes are on the more challenging side because of the position of trees on the course.
Since this isn't a dedicated disc golf course it can get busy during the day with park-goers having a picnic or going for walks.
You'll find a lot of parking here and the course loops back to the beginning. It's only 9 holes so if you finish quickly there's always the option to play through a second time!
Interested in more courses around the world? Check out these top courses in Maine.