Whether it's for keeping track of your scores or finding new courses, there are a few disc golf apps that every player should have on their phone.
After surveying local players and talking to friends, I've put together a list of the best apps for playing disc golf and improving your scores.
The best disc golf apps are:
UDisc
Perfect Putt 360
Disc Golf Course Review
Infinite Disc Golf
Disc Golf Valley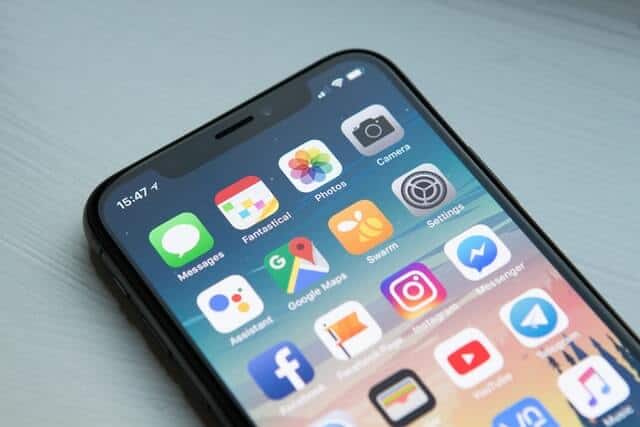 Apps For Disc Golfers
Here's a list of the apps that will help to improve your disc golf scores and experience while playing!
UDisc
UDisc is the official app of the Professional Disc Golf Association and is one app that every disc golfer should have installed. It's the best all-around app with features that give users the ability to discover new courses, track scores, and measure their best throws.
There are over 10,000 courses and scorecards that are searchable within the app. If you're looking for a new place to play you can find reviews, photos, and directions to courses near your location.
While scoring within the app you'll be able to see a ton of metrics including your average and your best score on each hole of the course. If you want even more advanced stats you can track your scrambling, putting, and driving percentages.
You can even input your entire bag into the app and then use their measurement tool to get the distance thrown for each disc. And if all of that isn't enough to get you to download the app, you can even get the app on your Samsung, Google Wear, or Apple watch!
Features:
Measure your throws
Keep scores
Find courses
Accuracy and putting stats
Free App – Has limited features like number of scorecards and leaderboards
Paid App – Unlimited scorecards, share scorecards with other players, back up data to UDisc cloud
Available On – Google Play, App Store
Perfect Putt 360
Perfect Putt 360 is an app that gives you the best structure and format for improving your putting skills. It's difficult to actually improve on putting just by playing rounds, which is why spending time putting is the best strategy to improve.
The goal of the game is to get a perfect score of 360, which is only possible by making 50 putts in a row at five different distances. Starting at 10 feet from the basket you'll putt 10 times before moving back 5 feet. The furthest distance putt you'll practice is 30 feet away, so just inside circle one regulations.
With Perfect Putt, you'll be able to look back at previous scores and see which distance needs the most work, and see the improvements that you've made in your putting game.
Features:
Track your putting improvement scores
Share scores with friends
Save images of your best scores
View your past history of attempts
Paid App – There is no free version of this app
Available On – Google Play, App Store
Disc Golf Course Review
The Disc Golf Course Review app is filled with the most up-to-date information regarding courses and their scoring layouts. You can find descriptions, locations, hole details, photos, and reviews for more than 6000 courses at this time.
Of course, it also works as a great scoring app, allowing you to record and upload your round to their website DGCourseReview, where each round gets added to your personal Scorebook. If you play with other friends you can even upload their scores where they can download them later.
One more feature that's really useful for disc golfers is easily finding tournament information. Using the tournament search will give nearby disc golf tournament times and locations so that you'll always be ready to sign up and compete.
Features:
Upload and sync scores right to the DGCourseReview site
Share an image of your round with friends
Course information including locations, scores, and layout
Tournament searching
Paid App – There is no free version of this app
Available On – Google Play
Infinite Disc Golf
The Infinite Disc Golf app is created by InfiniteDiscs and provides the simplest way to find disc golf courses in your area and record your scores while playing. Even though it's built for simplicity, there are advanced features like putting stats, out of bounds penalty strokes, and personal notes during the round.
You'll also be able to immediately see how your round rates compared to the PDGA rating when you submit your scores on the app. Since the app is fully integrated with their website, you can view your profile and round details online.
Features:
Personal statistics like courses played, round ratings, ace count, and putting percentages
View others scores and profile
Weather conditions during the saved round
Course locator and course layout
Updated ratings after every submitted score
Free App – There is no paid version so all features are included for free
Available On – Google Play
Disc Golf Valley
Disc Golf Valley isn't like the apps above that help with scoring or finding courses, instead it's a fun way to play disc golf virtually! It's the most well-made disc golf game that you can find and I've enjoyed several hours of fun playing it recently.
While playing the game you can explore various courses, unlock new discs, and compete against thousands of other players online. Even though there are in-app purchases for certain stamped discs, you can unlock all of the discs by playing tournaments and using the in-game currency.
Features:
Play with a variety of discs and courses
Compete against others in the app
Free App – There is no paid version so all features are included for free (but you can purchase new discs with money)
Available On – Google Play, App Store
Other Disc Golf Apps
There are plenty of other apps besides the ones reviewed above that can give you the best disc golf experience possible. Here are a couple that I've had recommended to me by other players but I haven't had the chance to try out yet.
Disc Golf 2 – PDGA
AccuWeather
JoesFlightChart
Disc Golf Game
Hopefully, this list of disc golf apps has given you some insight into which ones you might want to try out!