The Innova TL3 is a stable driver that was created after the popular Innova TL has been out for a while. It's very comparable for the disc stats, but the TL3 is faster and has more control all while having have less glide.
After trying out the TL3 for a few rounds I thought it would be worth writing this in-depth review to cover the best uses, plastics, and weights for the Innova TL3.
Overview of the Innova TL3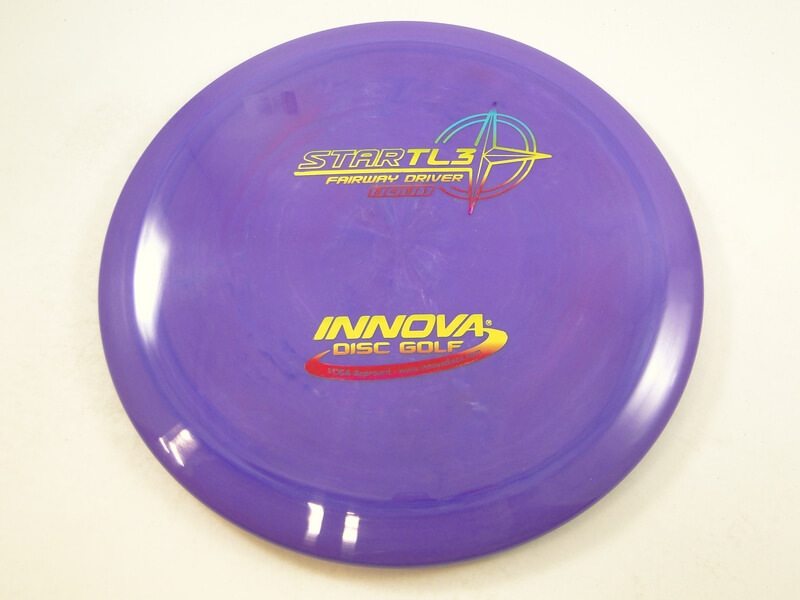 Even though the original TL is a great disc for straight throws, the TL3 has even more control and stability to allow for more precise shots.
When throwing it at full power, you still should be able to get it to fly straight with only a small amount of fade at the end of the flight.
I will say one thing I like about the TL3 is that it feels like a good mix between a midrange disc and distance driver. With the slower speed of 8 it doesn't require much power to actually get decent carry and distance from your throws.
It's also one of the most accurate and controllable discs that I've ever thrown.
That's my quick and easy review of the TL3, now let's get into the disc stats and most common uses!
Innova TL3 Specifications
Flight Ratings: 8 Speed, 4 Glide, -1 Turn, 1 Fade
Plastics: DX, Star, GStar, Champion
Weight: 150-175g
Stability: Stable
Fade: Minimum
Primary Use: Fairway
Skill Level: Beginner
Innova TL3 Features
Plastic Types
You can find this disc golf disc in the following molds; DX TL3, Star TL3, GStar TL3, and Champion TL3.
DX – For Innova, the DX line can be found for almost every one of their disc models and available weights. This is their most affordable plastic and has excellent grip in the majority of conditions. Discs made in DX plastic are much less durable and can become damaged from hitting trees or other obstacles.
Star – The Star plastic mold gives your disc the durability of the Champion plastic, while offering up more overall grip. It's similar to the Pro line for comfort and grip, but is more firm. Most of the Innova discs are manufactured in this plastic at least since it's durable, performs great in all weather, and is cheaper than their premium plastics.
GStar – GStar is a flexible plastic mold that's softer and less stable than other premium plastics. It's comparable to Star or Champion plastic that has been used and beat in. One great benefit of the GStar plastic is that it will hold its shape and flight pattern for longer than DX or Pro discs.
Champion – The most premium and expensive plastic from Innova is the Champion mold. It's extremely durable, firm, and overstable. Discs made in Champion plastic can take a beating against trees or rocks and still keep the same flight characteristics. Since it's so durable, this plastic is less flexible and soft.
Read all about every Innova plastic grade in my complete guide.
Innova TL3 Flight Path
Here's an image to show the normal flight path that you can expect with the TL3.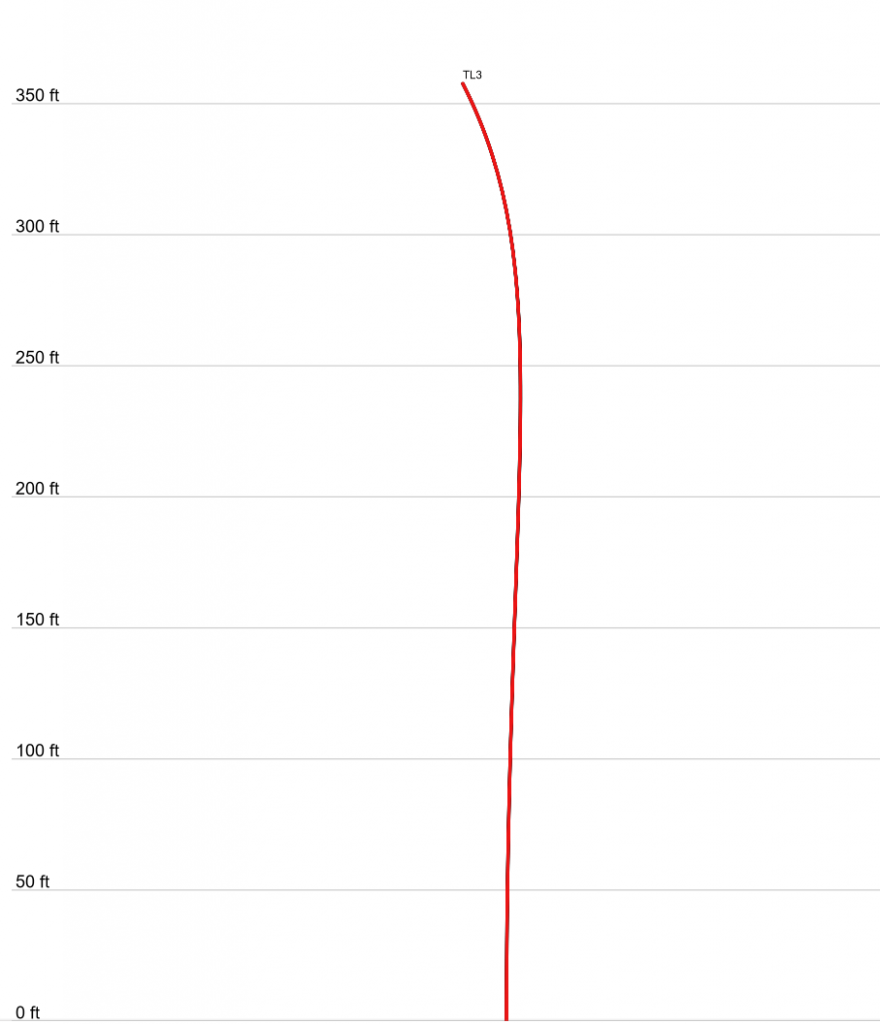 Available Weights
The TL3 can be found with a minimum weight of 150 grams and a maximum weight of 175 grams.
Best Throws for the Innova TL3
From my experience, the best throws for the Innova TL3 are:
Accurate Drives
Straight Throws
Low-ceiling or Tunnel Shots
Accurate – Some discs are easier to control than others, and this one can easily be maneuvered and thrown for accurate lines and distances. You'll have no trouble keeping this disc on the fairway or heading right at the basket.
Straight – The TL3 is one disc that can be thrown straight at your target without having the disc move away from that initial line. Whether you're throwing through a tunnel of trees or just going straight at the basket, you'll have no problem keeping the TL3 traveling fast and on a straight line.
Low-ceiling – If you don't have a lot of space to throw your disc, using this disc will let you keep it low and flat through any obstacles. Throw it fast and it'll glide right over the ground for the entire flight.
TL3 Stability and Turn
Stable discs are less common than under and overstable discs, but they have an important place in any disc golfer's bag. Using stable discs allows the player to throw different shots, such as completely flat and straight.
Which Players Should Use the Innova TL3?
When looking at fairway drivers the first thing you might notice is that they have less speed compared to distance drivers. They usually require less arm speed to throw far, but fairway or control drivers are excellent at placement shots and angle control.
These are the major benefits of using a fairway driver:
Increased control and accuracy on your drives
Slower speeds and less fade which lead to better fairway throws or approaches to the basket
Since this disc has a tag of beginner, that means it's the perfect option for newer players to try out. That doesn't mean that more experienced players shouldn't use it, just that it's easier for beginners and newer players to control and use.
Where Can You Find the Innova TL3?
As an experienced player, my preferred place to look for certain disc golf discs like the TL3 is at any local disc golf shop in my state. If I can't find the disc in-store, there are two online shops that I always prefer to shop at.
They have plenty of disc options and show unique images of each individual disc that you can sort through, look at, and buy.
You can find plenty of options for brands and plastics right on the Amazon site.
Discs Related to the TL3
Check out these similar disc golf discs to the TL3 and read through my full reviews below!
Innova TeeBird3 – Known as one of the most consistent and reliable fairway drivers from Innova.
Innova Dragon – One of the lightweight drivers from Innova that has grippy plastic and floats in water.
Final Review
In my TL3 review I covered the key aspects any disc golfer should know about a disc, including:
The best throws and uses for the TL3
What I learned and liked about the fairway driver after throwing it
If you've ever thrown and enjoyed using the Innova TL, it might be worth giving the quicker TL3 a chance next time you play!