Most of the courses that I play at feature a lot of tunnel shots and holes that go through the woods. It can be tough to navigate a disc around all of the trees and obstacles, but the Innova TL makes it so much easier than it should be.
Since some players might not have experience using the TL, I decided to write this disc review to talk about why I love the TL and why it might be a disc you should try out!
Overview of the Innova TL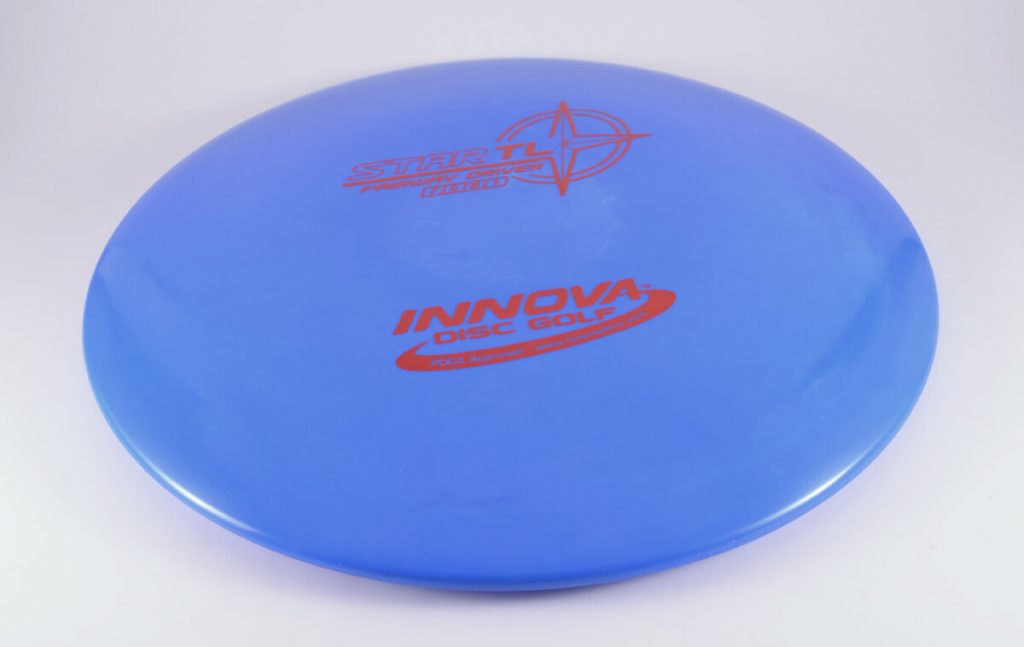 The TL is a slower-moving fairway driver that I mainly use to throw straight and flat shots through a tight and narrow gap. It doesn't have a lot of fade which is one of the reasons it's so great at staying on a straight line.
Combine the minimal fade with the glide that this disc can get and it's no surprise that it can be thrown straight at the basket on most holes.
For comfort, I think it has a lot of grip and feels comfortable in the hand, so most players should be able to easily control the TL for backhand and sidearm throws.
I've recommended this disc in the past to newer players since it's a great first driver that can help you improve your form, accuracy, and throw for more distance.
Innova TL Specifications
Flight Ratings: 7 Speed, 5 Glide, -1 Turn, 1 Fade
Plastics: Star, Champion
Weight: 160-175g
Stability: Stable
Fade: Minimum
Primary Use: Fairway Driver
Skill Level: Intermediate
Innova TL Features
Plastic Types
You can find this disc golf disc in the following molds; Star TL, and Champion TL.
Star – Star plastic is one of the premium Innova plastics that's known for being grippy, durable, and consistent. It has the same durability as the more expensive Champion plastic and will keep its shape in both cold and warm weather.
Champion – For hundreds of rounds of disc golf, Champion Line discs retain their original flight characteristics. The DX, Pro, or Star version is sturdier than the Champion Line model because of its stronger plastic.
It really depends on the type of disc golf courses around you, but it might be a good idea to get the Champion plastic for the TL. The most common throwing scenario is through any gaps, which means it's likely you'll clip a tree or two during the round.
Having the more durable plastic will let your TL keep its stable flight characteristics for longer, even while getting beat up.
Read all about every Innova plastic grade in my complete guide.
Available Weights
The TL can be found with a minimum weight of 160 grams and a maximum weight of 175 grams.
Best Throws for the Innova TL
For most players, the best throws for the Innova TL are:
Hyzer Flips
Accurate Approaches
Sidearm
Hyzer Flip – One effective throw with this disc is the Hyzer Flip. It's similar to an S-Shot, but the line is straighter and the disc rotates or flips up and comes down nose first in the process. This allows for a long straight glide with minimal fade potential.
Accurate – Some discs are more controllable than others, and this one is straightforward to control and launch for precise lines and distances. You'll have no trouble keeping this disc on the fairway or aiming straight towards the basket.
Sidearm – One of the things I like about the TL is how comfortable it is for me to throw both backhand and forehand. It's comfortable and has enough grip that I can generate the spin I need to watch it fly down the fairway, as well as a big enough rim for a lot of control.
TL Stability and Turn
Stable discs are less common than under and overstable discs, but they have an important place in any disc golfer's bag. Using stable discs allows the player to throw different shots, such as completely flat and straight.
Which Players Should Use the Innova TL?
Any player who's looking for an accurate and controllable disc should consider throwing the TL. It's slower so you don't need as much arm speed to get maximum distance, and it's easy to control for players of all skill levels.
Even though it's considered a fairway driver, it's more versatile than that and can be thrown from the tee on a lot of courses and holes. Fairway drivers can sometimes be underrated but they bring a lot of options to your game once you get used to a disc like the TL.
The TL has an intermediate rating, but from what I've seen it doesn't take long for beginners to throw effective shots with it.
Where Can You Find the Innova TL?
If you have any local disc golf shops around, that would be my recommendation since you can hand pick which disc you want. If there aren't any shops, I always check the following online stores for discs.
They have plenty of disc options and show unique images of each individual disc that you can sort through, look at, and buy.
You can find plenty of options for brands and plastics right on the Amazon site.
Discs Related to the TL
Check out these similar disc golf discs to the TL and read through my full reviews below!
Innova TeeBird – One of the most popular and consistent fairway drivers with good speed and glide.
Innova Eagle – Super reliable and predictable flight path that's great for long power throws.
Innova TL3 – Similar to the Innova TL, the TL3 features more control with less speed and fade.
Final Review
There you have it, a full review of the Innova TL fairway driver. It's been one of the best discs from Innova for the past few years, and you can even find pros on tour that throw it.
It's not the perfect disc for every situation, but if you want a disc that you can throw far and straight, the TL is perfect for that!