Disclaimer: As an Amazon Associate I earn from qualifying purchases.
The Innova Leopard is one of the top discs to bag if you're looking for a straight controlled shot from a fairway driver. This is a slower speed disc coming in at a 6 for speed, but I promise that the distance this will glide can make up for the lack of arm speed.
Suitable for players of all skill levels, the Leopard is very popular among newer disc golf players. Even though it's an easy disc to learn how to throw, it can be heavily used by higher skilled players.
With great feel and a controlled flight path, what more could you want out of a fairway driver?
A reliable disc that can get huge distance for beginner players. Great for shaping tough throws and turnover shots.
Innova Leopard Review
This disc is so beginner-friendly that you'll often find it in starter sets for new players. The lower speed on the disc allows most people to get a really good distance while they work on perfecting their backhand or forehand form.
With a high glide(5) and very low fade(1), anyone can grab a Leopard from their bag and get the expected flight path each time they throw it. The great thing about it is that even if you have a higher arm speed and can throw more difficult discs, the Leopard can still offer a lot of utility in your bag.
Take those tough shots that need to be shaped to get around obstacles and the Leopard can tremendously help weave in and out on holes. It's possible to throw some pretty great roller shots as well once you learn to turnover the disc in flight.
Innova Leopard Features
Plastic Types
You can find this disc golf disc in the following molds; DX Leopard, Star Leopard, GStar Leopard, Pro Leopard, EchoStar Leopard, Champion Leopard.
DX – For Innova, the DX line can be found for almost every one of their disc models and available weights. This is their most affordable plastic and has excellent grip in the majority of conditions. Discs made in DX plastic are much less durable and can become damaged from hitting trees or other obstacles.
Star – The Star plastic mold gives your disc the durability of the Champion plastic, while offering up more overall grip. It's similar to the Pro line for comfort and grip, but is more firm. Most of the Innova discs are manufactured in this plastic at least since it's durable, performs great in all weather, and is cheaper than their premium plastics.
GStar – GStar is a softer and less stable premium plastic than other high-end materials. It's comparable to Star or Champion plastic that has been used and beaten in before. One great advantage of GStar plastic is that it will retain its form and flight path for longer than DX or Pro discs.
Pro – The Innova Pro line is made with a higher grade of plastic than their basic mold, ensuring longer life and better performance. When comparing the durability of pro versus DX plastic, the Pro Line discs are more durable. The Pro Line discs glide farther and are less expensive than premium Champion or Star Line discs.
EchoStar – EchoStar plastic is soft and has a better grip than the standard Star plastic. It's also produced with between 50 and 100 percent recycled plastic to help reduce waste.
Champion – The most premium and expensive plastic from Innova is the Champion mold. It's extremely durable, firm, and overstable. Discs made in Champion plastic can take a beating against trees or rocks and still keep the same flight characteristics. Since it's so durable, this plastic is less flexible and soft.
Read all about every Innova plastic grade in my complete guide.

Available Weights
The Leopard can be found with a minimum weight of 150 grams and a maximum weight of 175 grams.
Best Throws for the Innova Leopard
For most players, the best throws for the Innova Leopard are:
Tailwind
Anhyzer
Roller
Straight
Tailwind – Tailwinds will help push your disc forward since it'll be moving in the same direction that the disc is flying. This type of wind also causes the disc to be more overstable and have less glide since it gets pushed down towards the ground.
Roller – This disc is great for throws where the majority of the distance is gained by rolling the disc on the ground rather than flying through the air.
Straight – This disc is ideal for targeting your goal. You'll have no difficulties maintaining this disc on a straight line whether you're throwing through a tunnel of trees or just going straight at the basket.
Leopard Stability and Turn
Understable discs are significantly more speed sensitive than stable or overstable ones. An understable disc will often fly level to overstable at low speeds. Newcomers frequently throw discs at slower speeds which causes them to be more stable.
Who is the Innova Leopard for?
As I mentioned earlier the Leopard is designed more towards newer players or people who want to work on improving their technique and throwing form. The slower speed means that anyone can throw it with less speed and still get a good full flight out of the disc.
Some more experienced players bag a Leopard or two as well. Even though it might not be thrown on longer holes for better players, it gives all players confidence when throwing around trees or in tough locations on the course.
This disc is designed for players of all levels, meaning you should have no trouble throwing it even if you're new to disc golf. Beginner-friendly discs are easier to aim, control, and throw for newer players when compared to the other difficulty levels that you can find.
Innova has plenty of other fairway drivers to try out if you're looking for a disc that performs differently.
Flight Path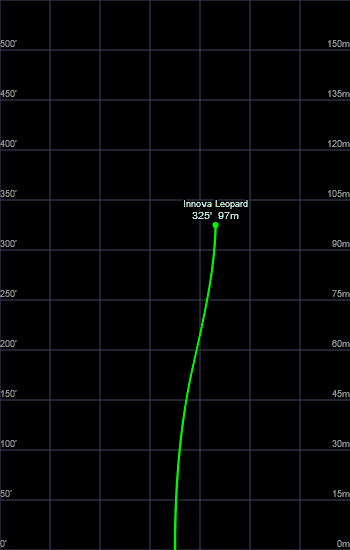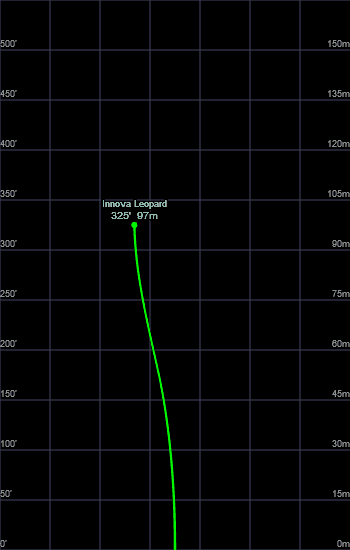 Innova Leopard Specifications
Speed: 6.0
Glide: 5.0
Turn: -2.0
Fade: 1.0
Primary Use: Control Driver
Stability: Understable
Recommended Skill Level: Beginner
Available Plastics: Basic, Durable, Midgrade, Premium
Beadless: Yes
Pros of the Innova Leopard
Great for long straight shots
Beginner-friendly introduction to hyzer throws
Excels at turnover shots
Can be a utility disc which can be used for rollers
Easy to learn fairway driver
Excellent glide
Easy for beginners to throw far and straight
Cons of the Innova Leopard
Lower speed of 6.0
Very little fade at the end of flights
Not as useful for more experienced players
Where Can You Find the Innova Leopard?
As an experienced player, my preferred place to look for certain disc golf discs like the Leopard is at any local disc golf shop in my state. If I can't find the disc in-store, there are two online shops that I always prefer to shop at.
They have plenty of disc options and show unique images of each individual disc that you can sort through, look at, and buy.
You can find plenty of options for brands and plastics right on the Amazon site.
Related Discs
Check out these similar disc golf discs to the Leopard and read through my full reviews below!
Innova Colt – An Innova putter that's perfect for throwing from the tee or with approach shots.
Final Review
The Leopard is one of the best discs for beginners to learn proper form and technique. An amazing driver, even newer players can get great distance and still work on all of their shot types.
Available in all types of plastic, the star or champion plastics are the most popular. Depending on what type of shots you usually go for, you can't go wrong with the stability and shot-shaping ability of the star variant.