Disclaimer: As an Amazon Associate I earn from qualifying purchases.
The Innova Colt is a flat top putter that was designed to go straight and to carry far. With a speed of 3.0 and glide of 3.0, this putter is perfect for all kinds of throws at any distance.
Often referred to as "The Great Equalizer" by the Innova founder Dave Dunipace, this disc is known for being a beginner-friendly disc with a unique flight pattern. Even though it's an easy disc for anyone to learn with doesn't mean it can't find a spot in a more experienced player's bag.
In this review, I'll be going over the features, specs, and what shots I like to throw with this fantastic disc.
Overview of the Innova Colt
Whether you're looking for an approach disc that cuts through the air or a consistent flight path, the Colt offers everything you could hope for in an Innova putter. One great thing about it is how hard you can really throw the disc without worry about turning it over. There are a few holes where I'll throw it off the tee because of how consistent and reliable the flight pattern is.
The Innova Colt is a disc that's mainly used for putting and approach shots. It has a shallow rim and flat top which makes it an ideal disc for less than ideal conditions. Whatever line you release it on is the line that it'll follow for the flight. That is one of the reasons it's a great disc choice for straight and flat throws.
Even though I consider it more of a throwing putter, the Colt can also be used for putting inside and outside the circle. I prefer to use it for those longer 50-60 foot putts as I like the consistent drop that it'll give at the end of the flight. The additional glide is great for giving your disc a chance to stay up and go in on long putts or throw-ins.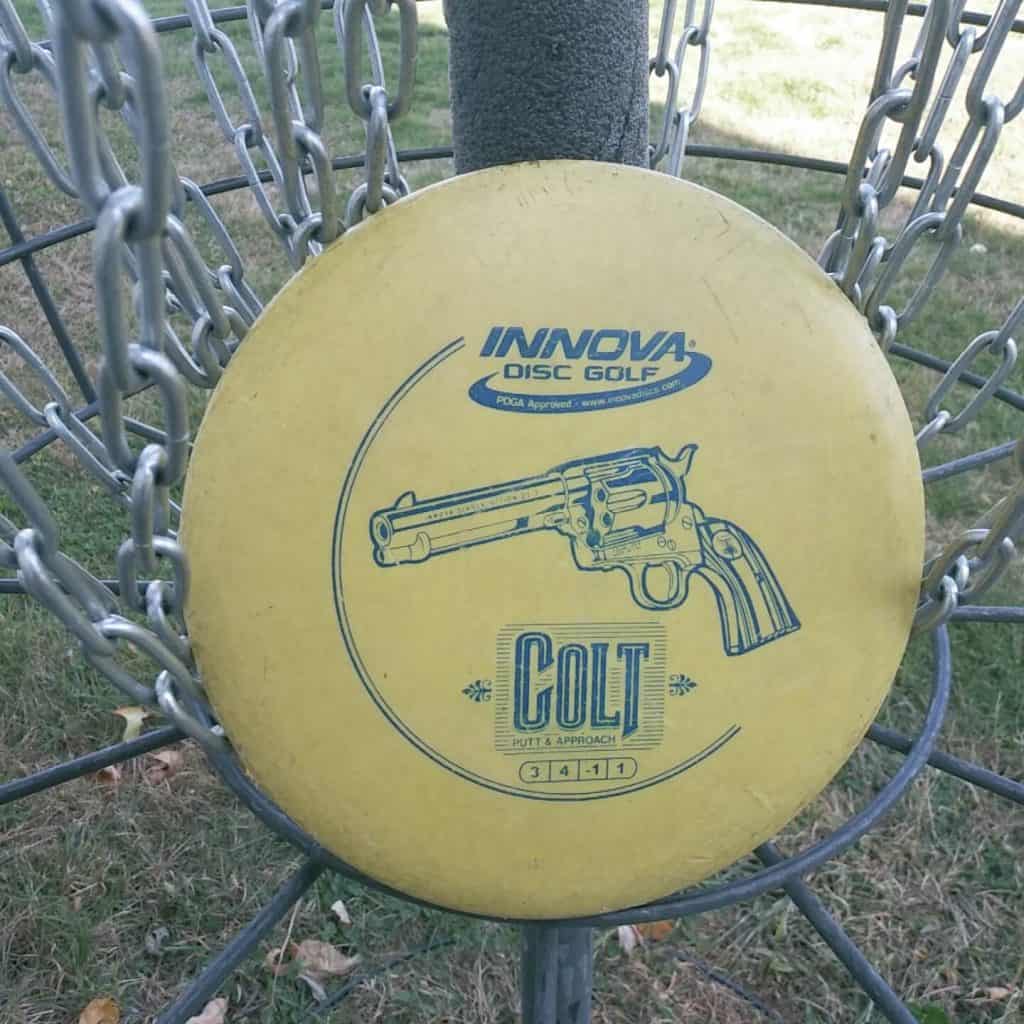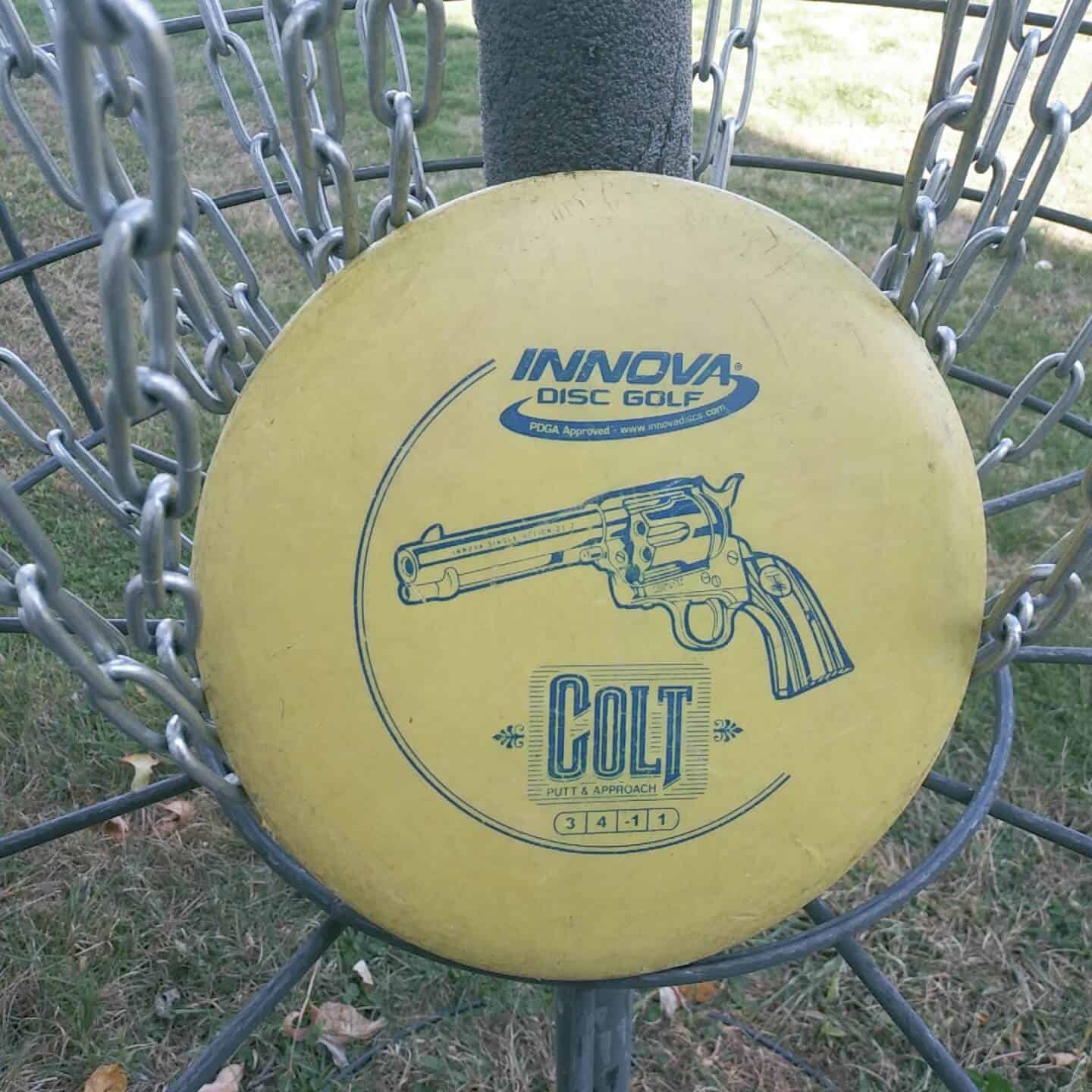 Initial Reaction
After heading out to my local course and throwing it around on most holes, the first thing I noticed was how much I love the shape and feel of this disc.
I'm usually picky about how a disc feels in my hand, but I think the plastic material and flat top are what contributed to the comfort of the disc.
I didn't really have any issues that came up during my first round with the disc. I mostly threw it for my approach shots and when I needed to hit a straight gap which the disc was perfect for.
For putting, it wasn't my favorite putter I've thrown. The plastic material does feel really good in the hand, but it can be harder to gauge how hard to actually throw it while putting. Of course, this would obviously get easier with more experience using the disc.
Pros and Cons of the Colt
Pros
Beginner-friendly disc
Gives you straight and flat throws
A great disc for that wind since the rim easily cuts through the air
An easy throwing disc for approach shots
Very consistent flight path with minimal fade at the end
Cons
For some players putting inside the circle with the Colt can be difficult
The disc stability makes it tough to shape those closer shots
Who is the Innova Colt for?
The great thing about this disc is how beginner-friendly it is. It's actually one of the discs I usually offer to my friends when I take someone out for the very first time. There isn't much of a learning curve when throwing the Colt, besides the obvious like how to hold the disc and aim.
Now, just because this is a great disc for new players doesn't mean it offers no value to the more experienced players. Having the Colt in your bag opens up a variety of shots that you can comfortably go for.
The straight flight that an experienced player can throw is perfect for tunnel shots that most courses have. It also works perfectly for easy landing approach shots that won't fly right past the basket.
Flight Path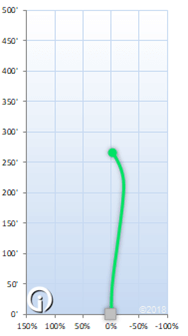 Colt Specifications
Speed: 3.0
Glide: 3.0
Turn: -1.0
Fade: 1.0
Primary Use: Putt & Approach
Stability: Stable
Recommended Skill Level: Everyone
Available Plastics: Basic, Midgrade, Premium
Beadless: Yes
Related Discs
Final Verdict – Innova Colt
After using the Colt for a variety of shots, I think most players could find a spot in their bag for a disc like this. Consistent, straight-flying with a ton of glide are the factors that a disc needs to be an approach disc which is what I would mainly use it for.
Putting with the Colt can be useful but I feel like there are better putters on the market right now. There were a few too many spit-outs and I think you gain more for having this be a throwing putter instead.
You can check the current price of the Innova Colt on Amazon here.