Disclaimer: As an Amazon Associate we earn from qualifying purchases.
If you're looking for an overstable driver that excels on those forehand shots, the Innova Firebird(Check Price on Amazon) might be the disc for you! The Firebird is one of the most popular drivers that Innova has created, and it's very unique in its combination of speed and stability.
In this review, we'll break down all of the key features of the disc as well as the flight path and what player the Firebird is made for!
Overview of the Innova Firebird
When you need an overstable driver that provides a variety of powerful shots, the Innova Firebird is the disc to use! With how reliable and comfortable this disc is, it's no surprise that so many pro disc golfers carry at least one in their bag.
The Firebird comes with a very narrow rim which feels great in the hand and gives you a clean and smooth release every time. It doesn't matter whether you use this disc for forehands or backhands as it has a reliable flight and consistent finish. Even though there isn't a lot of glide built into its numbering system, we were surprised how far it could carry down the course.
Playing in a headwind can be absolutely brutal, especially if you don't have the right equipment. Thankfully, as long as you have a Firebird you'll have some type of line that you can throw. There is very little worry about it flipping too much no matter the condition. The overstability of this disc means it will fight in the wind and will manage to keep its flight as you'd expect.
One of the best things about this disc is how many different throwing options you have. It feels like one of the most balanced drivers on the market that can be thrown on most course holes. For forehand players, it works so well for tough flicks when a lot of other discs struggle with that type of shot.
Specifications
Flight Ratings:

Speed 9, Glide 3, Turn 0 and Fade 4

Available Plastics: Star, GStar, Champion, XT, R-Pro, Glow, DX
Weight: 150-175g
Stability: Very Overstable
Primary Use: Control Driver
Recommended Skill Level: Advanced, Intermediate
Beadless: Yes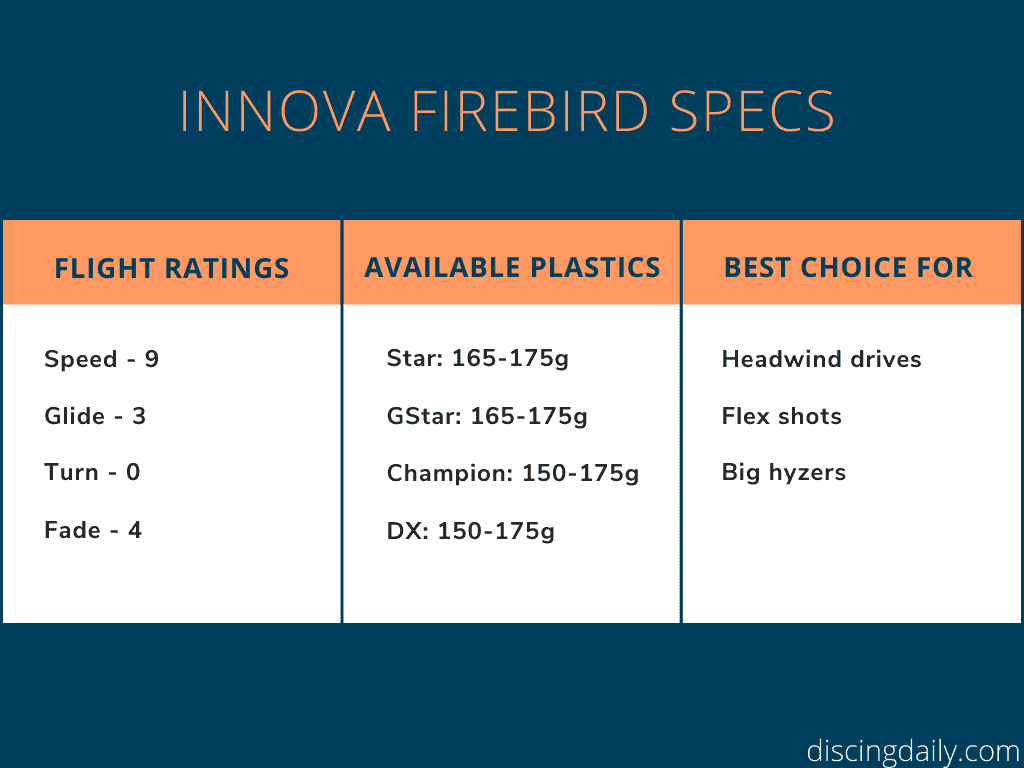 Features
When it's time to get a new disc it can be quite difficult to differentiate between all of the choices. It's important to consider a couple key features that differ between some discs and some disc golf brands.
Plastic Types
The more types of plastic that a disc is made in, the more opportunities you have to fit one of them into your bag. The Firebird comes in four different plastics; DX, Star, GStar, and Champion. Before you decide which plastic type is best for your game we should go over the differences between them.
DX – Has the widest selection when it comes to disc models and weight options. This is Innova's cheapest plastic that will wear down and take a new flight path after a short while. This can be useful to bag since it can provide different lines than a completely new model.
GStar – Has the most comfortable grip and is great for use in cold weather. This plastic is as durable as Star but has even more flexibility in the disc.
Star – The Star model has the same durability that the Champion plastic provides. It also has increased grip but is less firm than Champion.
Champion – This is the most stable of all the plastics. Champion plastic has the most durability and reliable performance that is great for faster-throwing players.
Weight
Disc weight is a feature that sometimes gets overlooked when deciding which disc to use. The obvious time when it mostly comes into play is during a round where there's a strong wind. A lighter disc will be affected more by the wind, and often times aren't even an option to throw.
Sometimes there is a good reason to use a lighter disc, including when you want to shape your throw. Using a lighter DX Firebird for instance gives you less stability and allows you to throw a line that wouldn't be possible with a max weight Champion Firebird.
There isn't a surefire way to know which weight to get a disc in, it really depends on the player and weather conditions. We do appreciate having the option to try different weights because it expands your game and knowledge over time to know which disc to throw.
Different Shot Types
This feature is the most important factor in whether the Firebird is worth it or not. Even though some players exclusively use backhand, it's nice to have the option to throw a disc multiple ways. The Firebird is a great disc for backhand and forehand shots, as well as your utility throws like thumber and overhead.
When it comes down to it, the Firebird is created for and most useful on the following shot types:
Headwind Drives
Flex Shots
Hyzer Throws
Using other fairway drivers from Innova will give you a different selection of throws.
Flight Path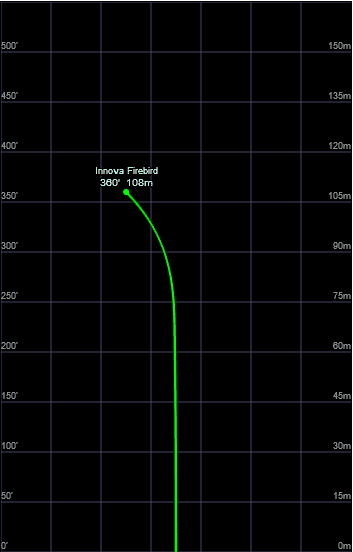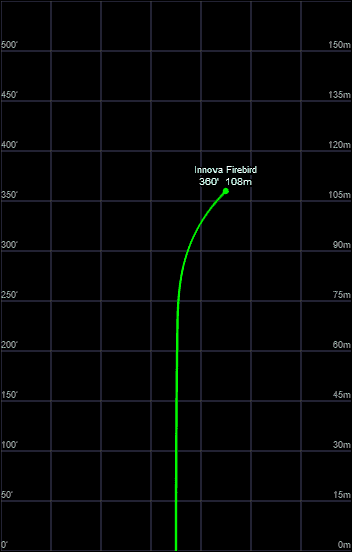 Who Is the Innova Firebird For?
This disc is geared more towards an intermediate or advanced player. New players will most likely not have enough arm speed to allow the Firebird to correctly follow it's flight pattern.
As you can see from the images above, the disc can carry quite far. If a newer player were to try and get that distance they would either turn it over, or have it start to fade much earlier in the flight.
It might be tough thinking about when to throw the Firebird, but there are three shot types that it excels at. The first scenario to use this disc is for throwing in a strong headwind. The Firebird has no trouble cutting through tough winds and it's extreme stability lets it not be affected as much in the wind.
One of the more popular times that it's used is for any type of flex shot. Again, because the disc is so overstable you can get away with throwing a sharp anhyzer that will cover a good distance down the fairway before straightening and then fading out. If you want to throw a disc farther, it really does allow you to get that extra 40-50 feet that you may not be able to get with just a hyzer shot.
The third best scenario to throw a Firebird is for your basic hyzer shot. Combine the speed you need with the fade at the end, and you have the perfect disc for those hyzer approach shots.
Final Thoughts
The Firebird is a disc that we definitely recommend you try out if you've been playing for a little while. There doesn't seem to be a disc on the market that can give you the same forehand flight. This disc flies consistently and has a reliable fade at the end which makes it the perfect choice for so many holes that finish on a sharp turn.
Read more about the best fairway drivers from Innova here!