Throwing one of these highest glide discs will allow you to reach your maximum distance and park even the furthest holes! A few years ago I was looking around for 7 glide discs, and decided to write this article about the information I found.
Here's a list of the discs with the most carry and glide from all of the popular disc golf brands.

Highest Glide Discs Comparison Table
Discs With the Most Glide
1. Latitude 64 River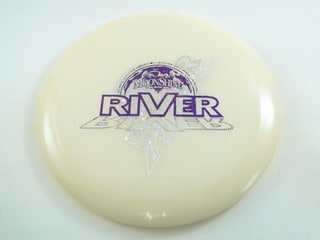 Glide: 7
Disc type: Fairway Driver
Flight ratings: 7, 7, -1, 1
The Latitude 64 River is one of the most popular and highly rated fairway drivers for players of all levels. It has one of the highest numbers for glide, coming in at 7 speed and 7 glide.
I love that it's a fairway driver because that makes it easy to control on tougher shots where you need to hit a specific line. It's a very accurate and consistent disc that won't fade that much at the end of the flight.
One great thing about this disc is that it's perfect for players with any skill level. New players can easily pick up and throw the River to help get extra distance on their shots.
2. Innova Aero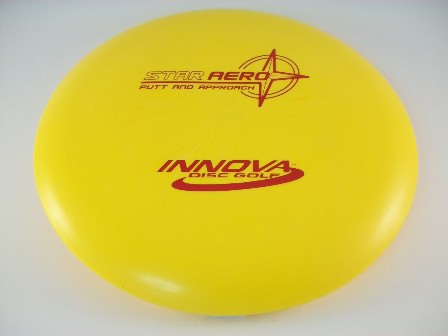 Glide: 6
Disc type: Putter
Flight ratings: 3, 6, 0, 0
The Innova Aero is one of the highest glide discs ever made and it's actually a putter and approach disc! One cool thing about the Aero is that it was one of the first discs that were designed specifically for disc golf.
It only has a speed of 3 which makes it easy to throw and doesn't require a lot of arm speed to get the full flight out of the disc. The Aero is a great disc for beginners since it's easy to throw, has a ton of glide, and is one of the straightest flying discs.
3. Innova Tern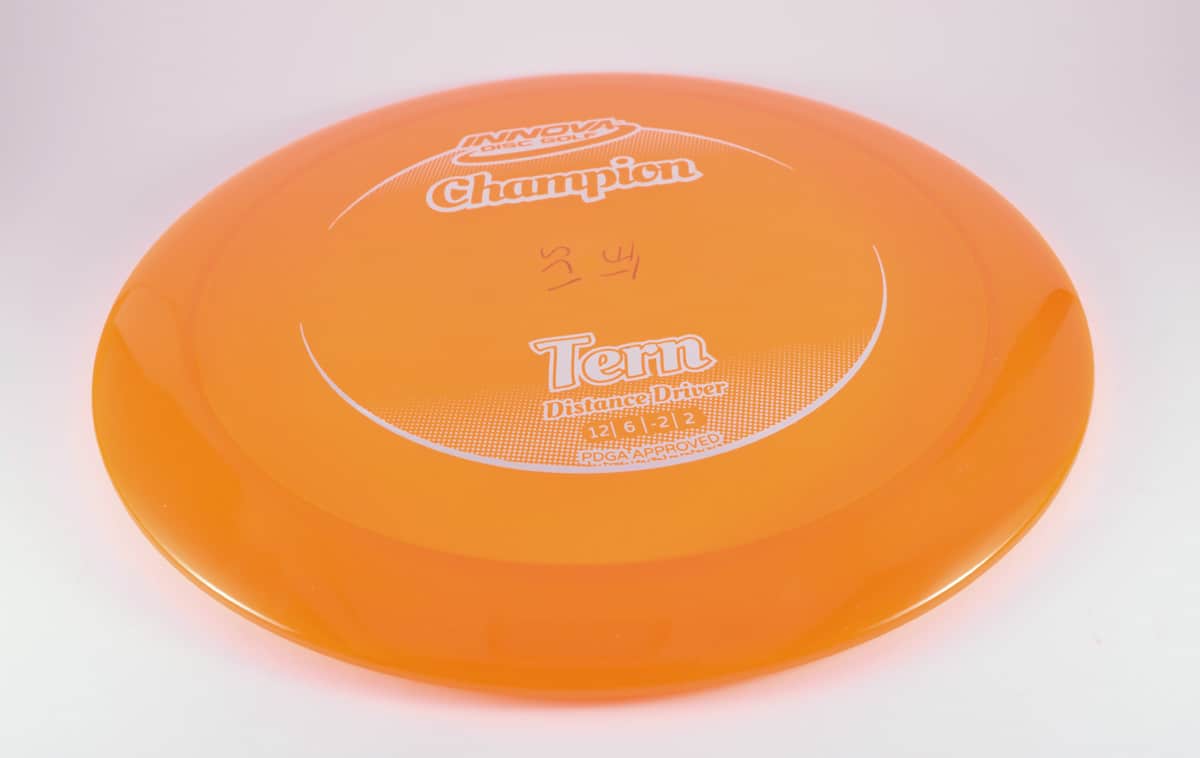 Glide: 6
Disc type: Distance Driver
Flight ratings: 12, 6, -2, 2
The Innova Tern is an understable distance driver with a speed of 12 and a glide of 6. Even though this has a similar glide to other discs on this list, the Tern isn't a great option for new players.
For intermediate players, the Tern will give them maximum distance, but it can be tough to control and prevent the disc from turning over. It can be thrown either backhand or forehand, and many players are able to push their maximum distance to 350-400 feet with the glide that the Innova Tern provides.
Find more information about the Tern in my full Innova Tern review.
4. Innova Shryke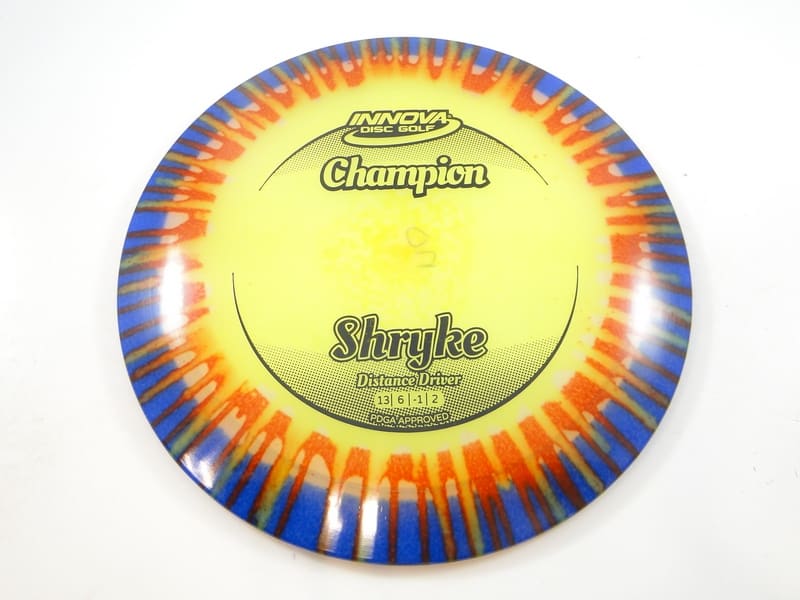 Glide: 6
Disc type: Distance Driver
Flight ratings: 13, 6, -2, 2
The Innova Shryke is one of the easier high-speed distance drivers for all players to throw. It's one of the most used Innova drivers since it has a very consistent flight and the high glide allows players to reach their maximum distance.
Most players that throw a Shryke consider it one of their farthest throwing drivers. It can be tough to control in high winds, but on calmer days you can crush this disc on any long and difficult hole. The one downside to the Shryke is that it has a speed of 13, so it does need to be thrown pretty hard to get the full flight and glide.
Find more information about the Shryke in my full Innova Shryke review.
5. Innova Corvette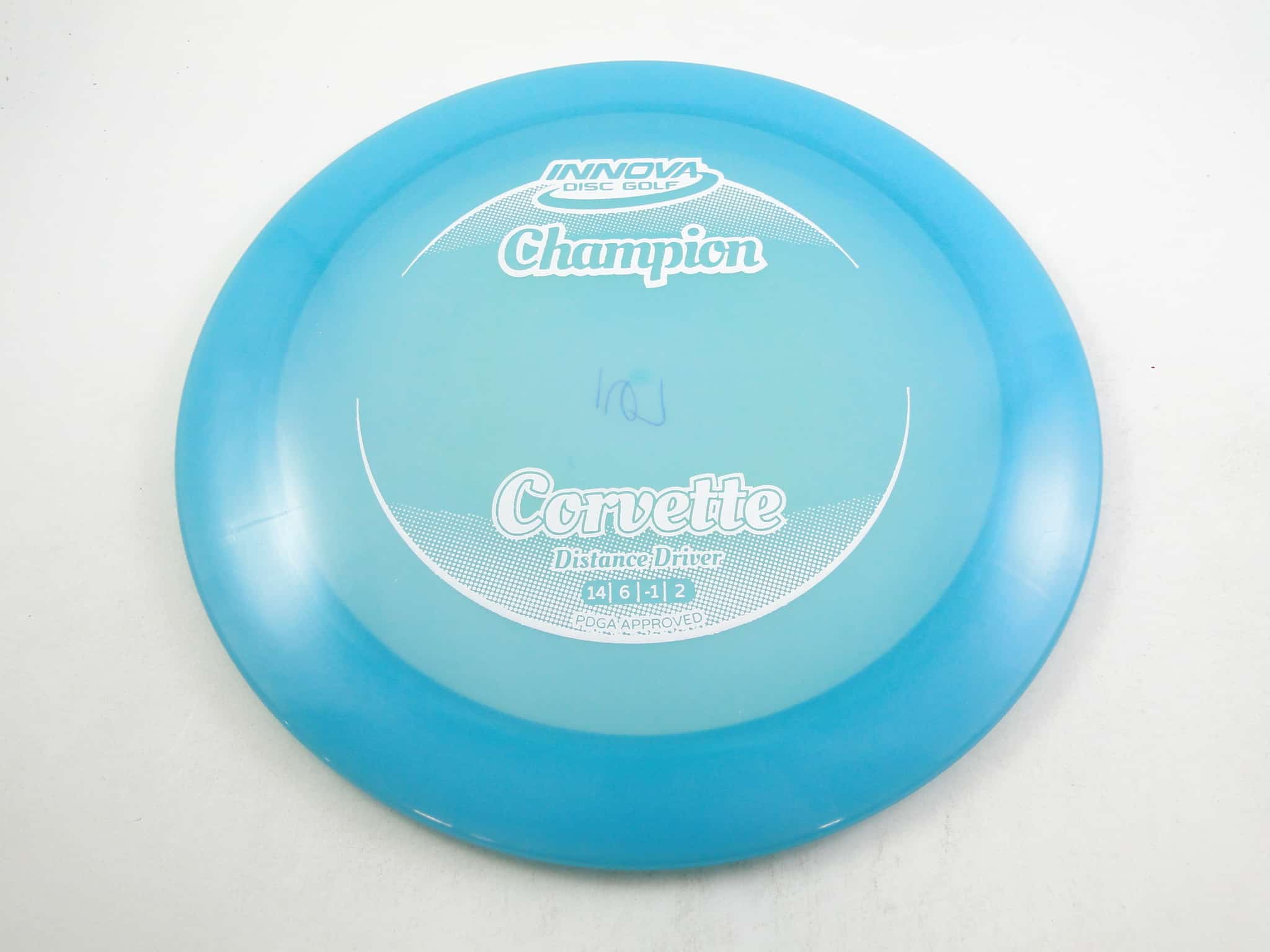 Glide: 6
Disc type: Distance Driver
Flight ratings: 14, 6, -1, 2
The Corvette is one of the farthest flying discs available and is one of two speed 14 drivers made by Innova. Alongside the 14 speed, this disc has a 6 glide and will carry far and hard when thrown correctly.
This is more of an intermediate player's disc, but if you have the arm speed required to rip this down the fairway, you'll get amazing glide and great distances. The Innova Corvette is a decent option in windy conditions since it can be thrown either flat or on an anhyzer/hyzer line.
Find more information about this driver in my full Innova Corvette review.
6. Innova Groove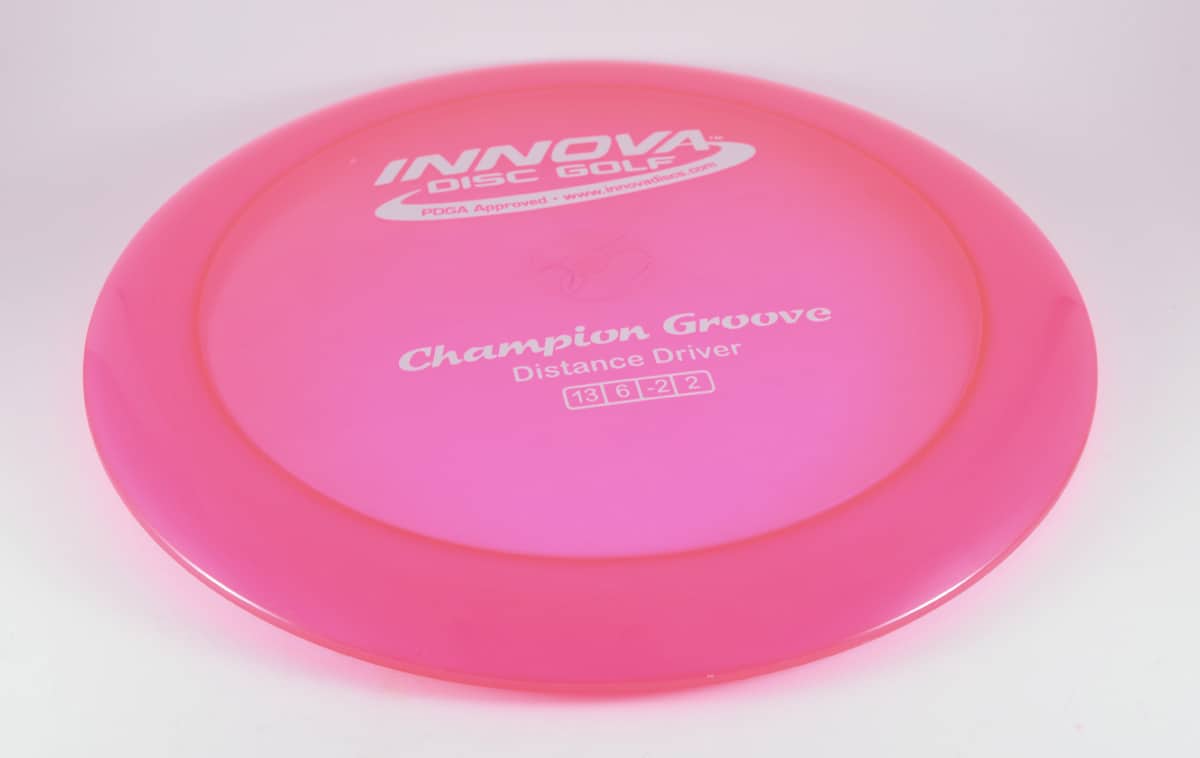 Glide: 6
Disc type: Distance Driver
Flight ratings: 13, 6, -2, 2
The Innova Groove is a stable distance driver that's similar to the Innova Shryke but has a very different feel. It's very unique and is designed with a thick rim and groove near the underside of the rim.
For flight numbers, it has a 6 for glide, and it's a more beginner-friendly disc than most other 13 speed drivers. A lot of players prefer throwing the Groove forehand since the thicker rim feels comfortable and easy to release at full speed. People who can master the grip and release point on this disc will be able to get maximum glide on every throw.
Find more information about the Groove in my full Innova Groove review.
7. Innova Wombat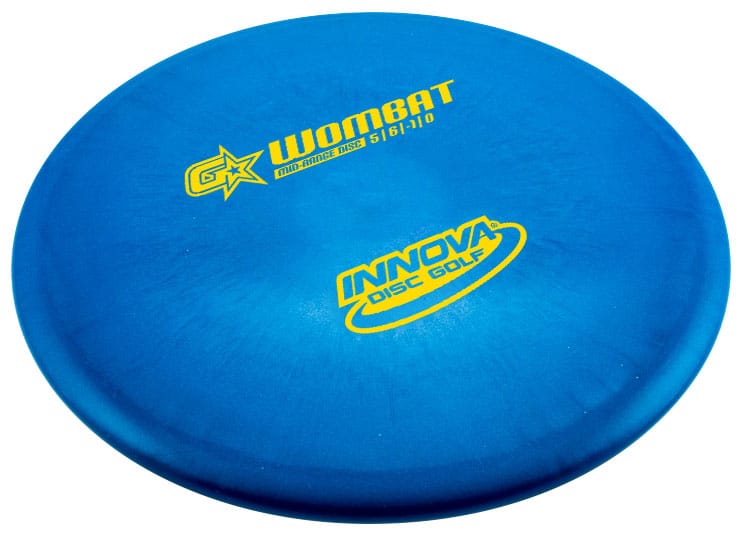 Glide: 6
Disc type: Mid Range
Flight ratings: 5, 6, -1, 1
The Wombat is a unique midrange disc that's made using Innova's VTech Technology. It's a very straight flying disc with minimal fade and a ton of glide potential for any disc golfer. The combination of high glide and a flat landing makes the Innova Wombat perfect for tight tunnel shots or anything in the woods.
One thing to pay attention to is how windy the conditions are since the Wombat won't fly and glide as far if the wind is interrupting its flight. You might find that you have to take a little bit of power off so that you don't sail it past the basket!
8. Innova Mamba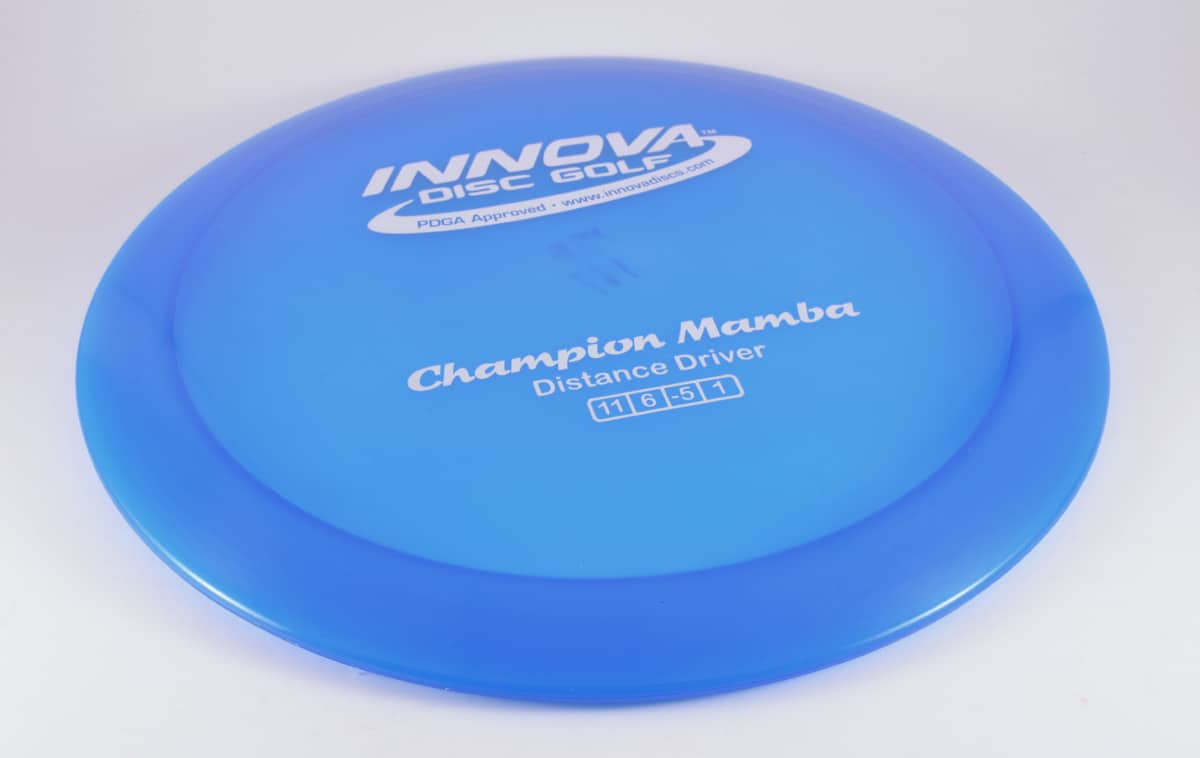 Glide: 6
Disc type: Distance Driver
Flight ratings: 11, 6, -5, 1
If you're looking for a super understable disc that lets players get more distance, the Innova Mamba is the disc for you. Just like most of the other high glide discs, the Mamba has 6 glide but is paired with -5 turn.
Since it's so understable it's a great disc for specific throws into tailwinds, turnover shots, and even rollers. The Mamba is popular in Innovas star plastic mold, which gives it a solid grip and works well in headwinds to get extra distance on the drive.
Find more information about the Mamba in my full Innova Mamba review.
9. Innova Daedalus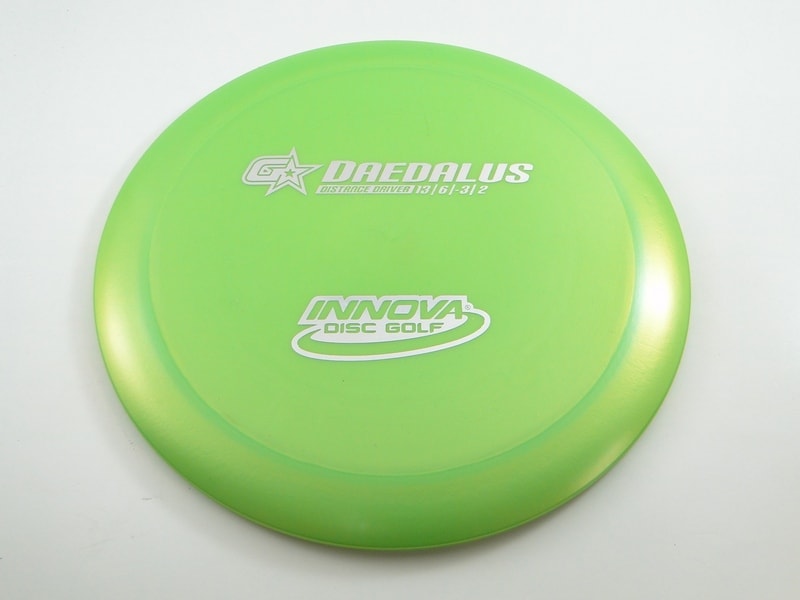 Glide: 6
Disc type: Distance Driver
Flight ratings: 13, 6, -4, 2
The Innova Daedalus was designed for players that can't throw as hard as professionals but still want to get a good distance. Even though it's considered a high-speed driver, players with less power will still see it soar and glide down the fairway.
It's an understable disc that doesn't fly very well in the wind, but in calmer conditions it can be thrown on a ton of different angles. Once you get used to the minimal fade you'll find plenty of holes and courses where the Daedalus can be thrown!
10. Innova Archangel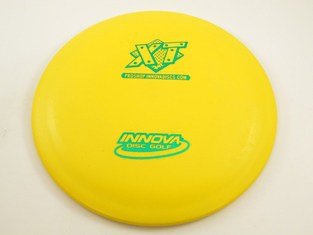 Glide: 6
Disc type: Fairway Driver
Flight ratings: 8, 6, -4, 1
The Innova Archangel is a beginner control driver with medium speed and high glide on the flight. It also has minimal fade so it's easier to keep in the fairway and land close to the basket. Newer players should be able to increase their maximum distance with the Archangel because of its manageable flight characteristics.
Besides having tons of glide, it's one of the easiest drivers for new players to use, is designed for long anhyzer throws and even roller shots due to the understable turn.