If you're looking for a maximum distance driver that doesn't require a lot of power and arm speed, the Innova Mamba is one disc that you should try out.
When I first threw the Mamba I couldn't believe how much glide I was able to get, even when I didn't throw it that hard.
I've used the Innova Mamba for a while so I want to share everything I've learned about the driver in this complete disc review.
Keep reading to learn the best throws, plastics, and weight for the Mamba!
Quick Review of the Innova Mamba
Flight Ratings: 11 Speed, 6 Glide, -5 Turn, 1 Fade
Weight: 139-175 grams
Stability: Understable
Skill Level: Intermediate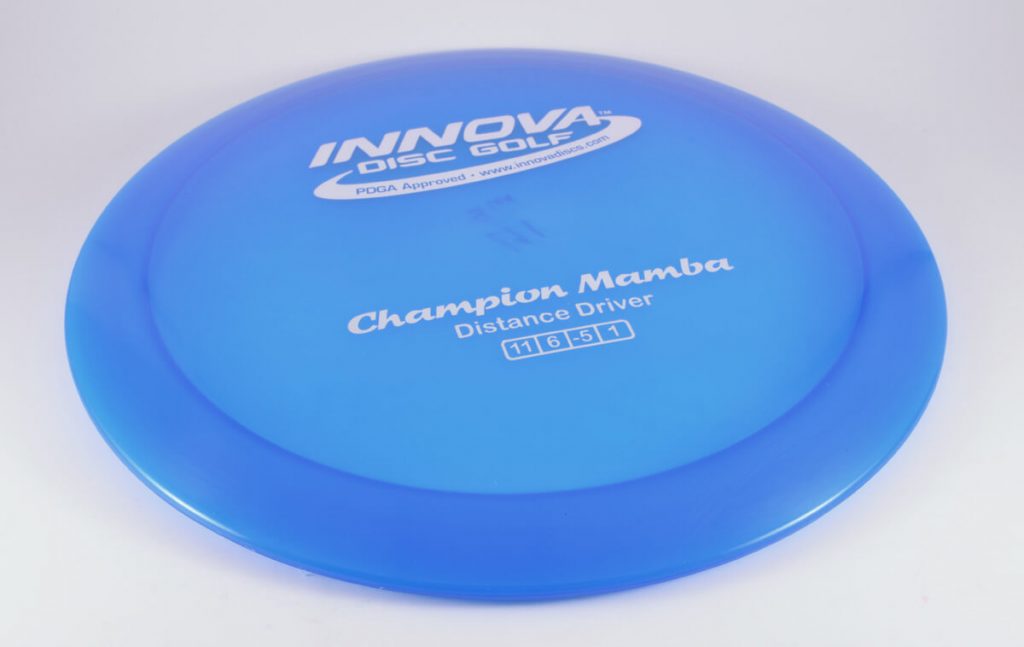 Who Is the Innova Mamba For?
Distance drivers are great at allowing you to reach your furthest throwing potential on any hole. They're usually thrown from the tee when you need as much distance as possible right from the start. These are higher-speed discs and do require a lot of arm speed to throw, so newer players might struggle to control the angle and flight.
These are the major benefits of using a distance driver:
Getting closer to the basket on long distance holes
Designed with more speed, glide, and flexibility in shot types
They give you the most variety of throwing options and possible lines
For disc golfers with some prior expertise and practice, discs designed as intermediate are ideal. Even though the Mamba takes some skill to throw, it opens up the different throws and angles that you could hit.
These discs may be thrown by beginners, but they'll require a lot of effort to achieve considerable distance.
When Should You Throw the Innova Mamba?
The best throws for the Innova Mamba are:
Tailwind – Tailwinds will assist propel your disc forward since it will be moving in the same direction as the disc. Because it is pushed down towards the ground, this sort of wind causes the disc to be more overstable and have less glide.
Flex – Overstable discs are perfect for throwing these flex shots where the disc is released at a strong angle and then flex back to stable. For a lot of players, this is the easiest way to add more distance to your normal drive.
Roller – This disc is great for throws where the majority of the distance is gained by rolling the disc on the ground rather than flying through the air.
One important aspect of how a disc will fly is the stability of the disc, ranging from understable to overstable. The Innova Mamba is considered understable, which is one of the reasons it's more difficult to throw and control.
Understable discs are significantly more speed sensitive than stable or overstable ones. An understable disc will often fly level to overstable at low speeds. Newcomers frequently throw discs at slower speeds which causes them to be more stable.
Mamba Plastics
The Mamba can be found in all of the following plastic grades:
Star
GStar
Champion
Metal Flake
Star – Star plastic is one of the premium Innova plastics that's known for being grippy, durable, and consistent. It has the same durability as the more expensive Champion plastic and will keep its shape in both cold and warm weather.
GStar – GStar is a softer and less stable premium plastic than other high-end materials. It's comparable to Star or Champion plastic that has been used and beaten in before. One great advantage of GStar plastic is that it will retain its form and flight path for longer than DX or Pro discs.
Champion – For hundreds of rounds of disc golf, Champion Line discs retain their original flight characteristics. This is the most durable and expensive plastic from Innova, and many players prefer using this plastic for their distance drivers.
Metal Flake – The Metal Flake discs from Innova are actually made from the exact same Champion plastic. These discs are firm and long-lasting, with the only difference being the metal flecks that have been added. With the small pieces of metal, the disc will be a heavier weight and more overstable.
Mamba Weights
The Mamba can be found with a minimum weight of 139 grams and a maximum weight of 175 grams. These are the official weights starting from the approved date back in 2012.
Pros of the Innova Mamba
You won't need to use a ton of power to get maximum distance since the Mamba provides a lot of glide.
If you play in windy areas, the Mamba is great for throwing in tailwind situations, especially on an anhyzer angle.
Similar Discs to the Mamba
If you finished reading this disc review and figured it isn't the disc for you, no worries! I have a list of closely-related discs that might be a better option than the Mamba.
Where Can You Find the Innova Mamba?
Although the Mamba can be found at most of your local disc golf shops, I also recommend checking out these online shops.
They have plenty of disc options and have images of each individual disc that you can sort through, look at, and pick.
You can find plenty of options for brands and plastics right on the Amazon site.