One of the more unique discs I've ever thrown, the Innova Groove comes with an actual groove around the underside of the rim. A lot of disc golfers don't like how it feels, but personally, it's not something that feels uncomfortable to me.
Outside of the unique design, when throwing the Groove you can expect a lot of distance, glide, and speed when thrown by just about any player.
For this review I wanted to share my thoughts on the Groove, what it's really great at, as well as the few things I didn't like with this Innova driver.
Quick Review of the Innova Groove
Flight Ratings: 13 Speed, 6 Glide, -2 Turn, 2 Fade
Weight: 165-175 grams
Stability: Stable
Skill Level: Intermediate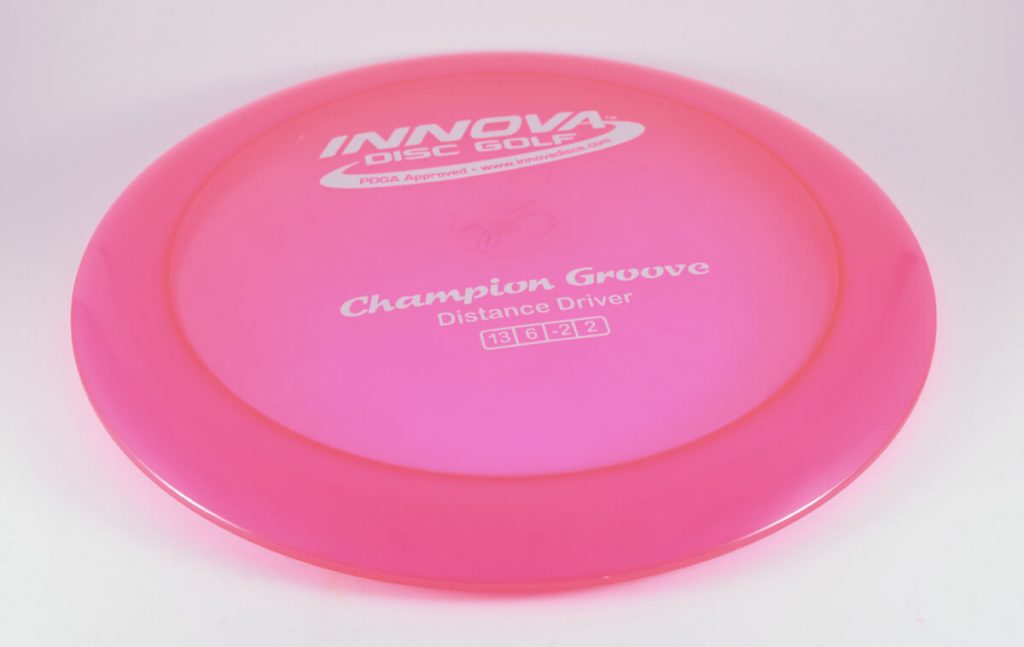 Who Is the Innova Groove For?
Some of the distance drivers are built to cut through the wind, while others provide more glide and allow less powerful throwers to go further with less effort. Everything about distance drivers is designed to provide the most range and control in every scenario.
One of the best features of the Groove is that it's often molded in a lighter weight so that players with less arm speed can still take advantage of the massive glide. If you release the Groove on the correct angle you'll see just how far it'll fly before it starts to slow down.
These are the major benefits of using a distance driver:
Getting closer to the basket on long distance holes
Designed with more speed, glide, and flexibility in shot types
For disc golfers with some prior expertise and practice, Intermediate discs are ideal. These discs may be thrown by beginners, but they'll require a lot of effort to achieve considerable distance. An important thing to note for the Groove is that these discs weigh less than other wide-rimmed drivers, which should make it easier to throw and control.
When Should You Throw the Groove?
The best throws for the Innova Groove are:
Distance – This type of disc will help you to reach your maximum distance off the tee. A high speed and glide number are two important factors to look for when increasing how far you can throw the disc.
Straight – This disc is one that can be thrown straight at your target. Whether you're throwing through a tunnel of trees or just going straight at the basket, you'll have no problems keeping this disc on a straight line.
Groove Plastics
The Groove can be found in all of the following plastic grades:
Champion – The most premium and costly plastic produced by Innova is the Champion mold. It's extremely long-lasting, firm, and overstable. Discs molded in Champion plastic can withstand abuse from trees or rocks while retaining their flight characteristics. Because it is so robust, this material is less flexible and soft.
Groove Weights
The Groove can be found with a minimum weight of 165 grams and a maximum weight of 175 grams.
Pros of the Innova Groove
The Groover is great at being thrown fast, long, and straight on most disc golf holes.
With a wide rim it's perfect for both forehand and backhand shots.
It's one of the weirdest and unique disc golf discs that you could ever throw.
Where Can You Find the Innova Groove?
Although the Groove can be found at most of your local disc golf shops, I also recommend checking out these online shops.
They have plenty of disc options and have images of each Groove that you can sort through, look at, and pick.
Related Discs
Check out these Innova drivers that are similar to the Groove and read through my full reviews below!
Innova Dominator – Distance driver with a lot of glide and predictable fade.
Innova Katana – The perfect driver for finesse shots and throws into a tailwind.