One of the more understable distance drivers from Innova, the Tern allows players to throw for maximum distance in a wide variety of shots. It's designed for intermediate players, although I've seen newer players pick it up and have success as well.
For this review I'll be covering everything you need to know about the Innova Tern, including the flight ratings, available plastics, and the best throws for this driver!
Quick Review of the Innova Tern
Flight Ratings: 12 Speed, 6 Glide, -3 Turn, 2 Fade
Weight: 130-175 grams
Stability: Understable
Skill Level: Intermediate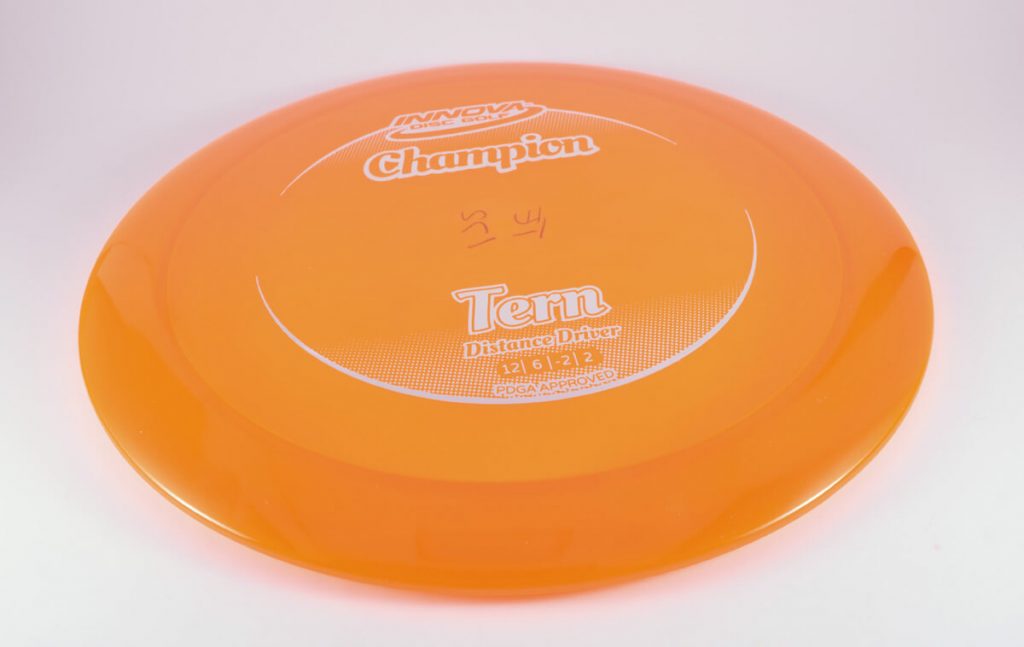 Who Is the Innova Tern For?
The average distance driver has speeds of 10 to 14, and they require a lot of power to complete the disc's entire flight. The Tern fits in nicely with that description and also has enough turn to open up your available throws.
Like most other Innova drivers, the Tern is flat on top and has wider rims that let the plastic edge cut through the air and keep flying and gliding.
These are the major benefits of using a distance driver:
Getting closer to the basket on long distance holes
Designed with more speed, glide, and flexibility in shot types
Cutting through any type of wind that's happening on the course
For disc golfers with some prior expertise and practice, Intermediate discs are ideal. These discs may be thrown by beginners, but they'll require a lot of effort to achieve considerable distance.
Since the Tern is less stable than other Innova drivers, you should expect to need some practice with the disc to prevent from turning it over once in a while.
When Should You Throw the Tern?
The best throws for the Innova Tern are:
Glide – Having a disc with maximum glide is essential when you need a long throw. This disc has enough glide to keep going down the fairway without requiring too much power behind the throw.
Roller – This disc is great for throws where the majority of the distance is gained by rolling the disc on the ground rather than flying through the air.
Flex – Overstable discs are perfect for throwing these flex shots where the disc is released at a strong angle and then flex back to stable. For a lot of players, this is the easiest way to add more distance to your normal drive.
Understable discs are significantly more speed sensitive than stable or overstable ones. An understable disc will often fly level to overstable at low speeds. Newcomers frequently throw discs at slower speeds which causes them to be more stable.
Tern Plastics
The Tern can be found in all of the following plastic grades:
Star
GStar
StarLite
EchoStar
Champion
Pro
Star – Star plastic is one of the premium Innova plastics that's known for being grippy, durable, and consistent. It has the same durability as the more expensive Champion plastic and will keep its shape in both cold and warm weather.
GStar – GStar is a softer and less stable premium plastic than other high-end materials. It's comparable to Star or Champion plastic that has been used and beaten in before. One great advantage of GStar plastic is that it will retain its form and flight path for longer than DX or Pro discs.
StarLite – This plastic has similar benefits to the original Star plastic, with the addition of being more lightweight. Starlite discs can often be found as light as 130 grams when they would usually be around 160-165 grams in premium blends.
EchoStar – EchoStar plastic has similar features to the original Star plastic, but is softer and has enhanced grip. It's also made with between 50-100% recycled plastic to help reduce waste.
Champion – The most premium and expensive plastic from Innova is the Champion mold. It's extremely durable, firm, and overstable. Discs made in Champion plastic can take a beating against trees or rocks and still keep the same flight characteristics. Since it's so durable, this plastic is less flexible and soft.
Pro – Each disc model has its own Pro Line of plastic molds. Pro is more resilient and provides more grip to the player than DX plastic. One of Innovas most cost-effective and popular polymers, it's also one of the most affordable.
Tern Weights
The Tern can be found with a minimum weight of 130 grams and a maximum weight of 175 grams. In the past I've liked using a lightweight Tern so that I can shape my shot easier and get enough speed behind my throws.
Pros of the Innova Tern
It's one of the best shot-shaping drivers that you can find.
You can get a lot of glide out of the Tern even if you can't throw that fast.
Where Can You Find the Innova Tern?
Although the Innova Tern can be found at most of your local disc golf shops, I also recommend checking out these online shops. And, if you're curious about other discs that match up to the Tern, you'll see there are plenty of drivers that can perform just as well.
They have unique images of each disc that you can sort through, look at, and pick.
You can find plenty of options for brands and plastics right on the Amazon site.