Disclaimer: As an Amazon Associate I earn from qualifying purchases.
The Discraft Kong(now referred to as the Discraft Zeus), is a distance driver that closely resembles the Innova Destroyer. One of Paul McBeth's signature discs, the Kong quickly became one of the most hyped-up discs that Discraft had ever released.
Combine the soft and grippy feel from the ESP plastic with the shallow rim and you can understand why the pros use the Kong for the longest shots on a course. Once you get a good throw with maximum distance, the glide will take care of the rest and carry it even further than you would think.
If you happen to be looking for a comfortable, max distance driver, then the Discraft Kong(Zeus) is the disc that you need to try! Check below for a more in-depth review of my experience using the Kong as well as the pros and cons of the disc.
A maximum distance driver with a great feel and consistent glide that gives you that extra distance.
Overview of the Discraft Kong
To sum the disc up, the Kong is the disc that you'll grab out of your bag when trying to absolutely crush a drive. When I say this disc can fly fast and far, I mean it.
With a glide of 5, there's really no limit to how far the Kong can carry when you get a really great rip and snap on the disc. Because of the stability of the disc, it can be pretty tough for newer players to throw. If you're an intermediate or an advanced player then I recommend giving the Kong a shot and seeing just how much it can improve your game.
Made with premium plastic, the material of the Kong provides a good grip while being soft in the hand. It is also a durable plastic so these discs will take a while to beat in and change flight patterns.
Who is the Discraft Kong for?
The Kong is for players who have a higher arm speed and are looking for the perfect disc to help reach those full distance shots. If you can consistently throw distance drivers with a speed of 11 or 12, you won't have much difficulty learning to throw the Kong.
If you feel more comfortable throwing fairway drivers and haven't thrown many max distance shots, I would stay away from this disc. There are much easier and better drivers to use when you want to begin working on adding higher speed discs to your arsenal.
One thing that I love about this disc is how comfortable it feels for me to throw for both backhand and forehand. I often find that a lot of discs only feel nice to throw for one or the other but not both.
The Kong has the advantage of having a shallow rim which will allow you to get a nice clean release for your sidearm throws. The sharp edge makes the disc cut through the air and glide but still feels easy and soft in the hand while throwing.
Discraft Kong Flight Path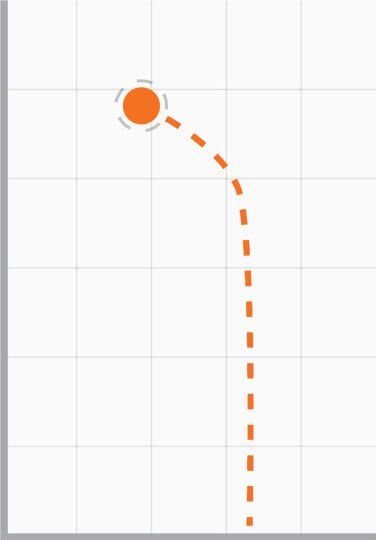 Discraft Kong Specifications
Speed: 12.0
Glide: 5.0
Turn: -1.0
Fade: 3.0
Primary Use: Distance Driver
Stability: Overstable
Recommended Skill Level: Advanced & Intermediate
Available Plastics: Premium
Beadless: Yes
Related Discs
Final Verdict – Discraft Kong
The most important thing is to realize if this disc is correct for your level of play. It is very similar to the Innova Destroyer but can be a little more difficult to throw. With a speed of 12 and turn of -1, if you've been playing consistently for a year or so I imagine this disc could be easily added to your bag.
When you'll want to throw the Kong is on open, long holes. Think about those shots that you can't quite get the distance and that's the type of shot and hole that the Kong would be great for.
Even though I knew there would be huge glide during the flight, I was still surprised at the extra distance it got at the end of the flight path. It can really help turn those par 5's into Eagle chances if you get a good drive off.
That's pretty much all there is to know about the disc. It feels great in the hand, flies reliably, and absolutely goes max distance in the open. Hopefully, this Discraft Kong review was helpful in some way and provided the info you need when thinking about trying the Kong out.
You can check the current price of the Discraft Kong on Amazon here.