One of the slower distance drivers, the Innova Viking lets any player get a nice straight throw with consistent glide and fade towards the end.
Since the Viking is so consistent it's known for its versatility in shot types, from tunnel shots to tailwind drives.
The rest of this Viking review will be about the best plastics, throws, and benefits of having the Viking in your bag!
Overview of the Innova Viking
When I was consistently trying out the Viking my favorite thing was how comfortable I felt throwing it for both backhand and forehand drives.
A lot of players, myself included, need the disc rim to be wide and comfortable to really get a clean release and snap on sidearm throws.
The Innova Viking is slower than other distance drivers, coming in with a 9 speed value, but it has a high amount of glide that helps to make up for the missing distance.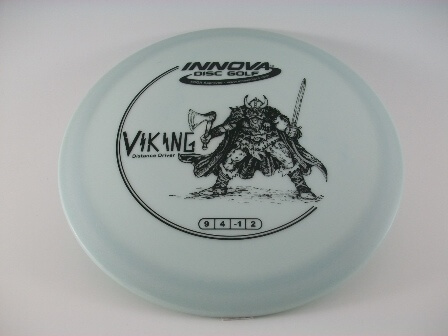 Innova Viking Specifications
Flight Ratings: 9 Speed, 4 Glide, -1 Turn, 2 Fade
Plastics: DX, Champion
Weight: 150-175g
Stability: Overstable
Fade: Minimum
Primary Use: Distance
Skill Level: Intermediate
Innova Viking Features
Plastic Types
You can find this disc golf disc in the following molds; DX Viking, and Champion Viking.
DX – The DX line is available for virtually every disc model and weight at Innova. This is their most cost-effective plastic and provides outstanding traction in the majority of situations. In comparison to other plastics, discs manufactured with DX plastic are significantly less robust and can be damaged while flying through trees or other obstructions.
Champion – The most premium and costly plastic produced by Innova is the Champion mold. It's extremely long-lasting, firm, and overstable. A Viking that's molded in Champion plastic can withstand abuse from trees or rocks while retaining the flight characteristics.
Read all about every Innova plastic grade in my complete guide.
Available Weights
The Viking can be found with a minimum weight of 150 grams and a maximum weight of 175 grams.
Best Throws for the Innova Viking
For most players, the best throws for the Innova Viking are:
Accurate
Distance
Tailwind
Accurate – Some discs are easier to control than others, and this one can easily be maneuvered and thrown for accurate lines and distances. You'll have no trouble keeping this disc on the fairway or heading right at the basket.
Distance – This type of disc will help you to reach your maximum distance off the tee. A high speed and glide number are two important factors to look for when increasing how far you can throw the disc.
Tailwind – Tailwinds will help push your disc forward since it'll be moving in the same direction that the disc is flying. This type of wind also causes the disc to be more overstable and have less glide since it gets pushed down towards the ground.
Viking Stability and Turn
Overstable discs can be an essential part of any player's bag, as they offer a dependable option when other discs might turn over or fade away prematurely.
Which Players Should Use the Innova Viking?
Distance drivers are discs with sharp and flat rims that can fly farther than any other type of disc but require more power and technique.
These are the major benefits of using a distance driver:
Getting closer to the basket on long distance holes
Designed with more speed, glide, and flexibility in shot types
For disc golfers with some prior expertise and practice, intermediate discs are ideal. These discs may be thrown by beginners or newer players, but they'll require a lot of effort to achieve considerable distance.
Where Can You Find the Innova Viking?
As an experienced player, my preferred place to look for certain disc golf discs like the Viking is at any local disc golf shop in my state. If I can't find the disc in-store, there are two online shops that I always prefer to shop at.
InfiniteDiscs – They have plenty of disc options and show unique images of each individual disc that you can sort through, look at, and buy.
Amazon – You can find plenty of options for brands and plastics right on the Amazon site.
Related Discs
Check out these similar disc golf discs to the Viking and read through my full reviews below!
Innova Thunderbird – A slower driver that's controllable, accurate, and has a lot of glide.
Innova Valkyrie – A turnover distance driver with a lot of glide that also works well in windy conditions.
Final Review
The Viking is a slow distance driver from Innova that can be thrown accurately and works well in tailwind situations.
It's very similar to the popular Valkyrie, so if you've ever had experience with that disc then you should know what to expect.
Hopefully this review helped you learn about the Viking and whether or not it has a place waiting in your bag!