I've been throwing Innova discs during most of my rounds the last few years, and there's one disc that I used frequently, the Innova TeeBird.
It's known as one of the most consistent and reliable fairway drivers, and you can find casual disc golfers all the way to professionals that enjoy throwing the TeeBird.
Since this is one of my favorite discs, I thought it would be worth writing this TeeBird review to share with you the reasons why so many disc golfers throw this driver.
Overview of the Innova TeeBird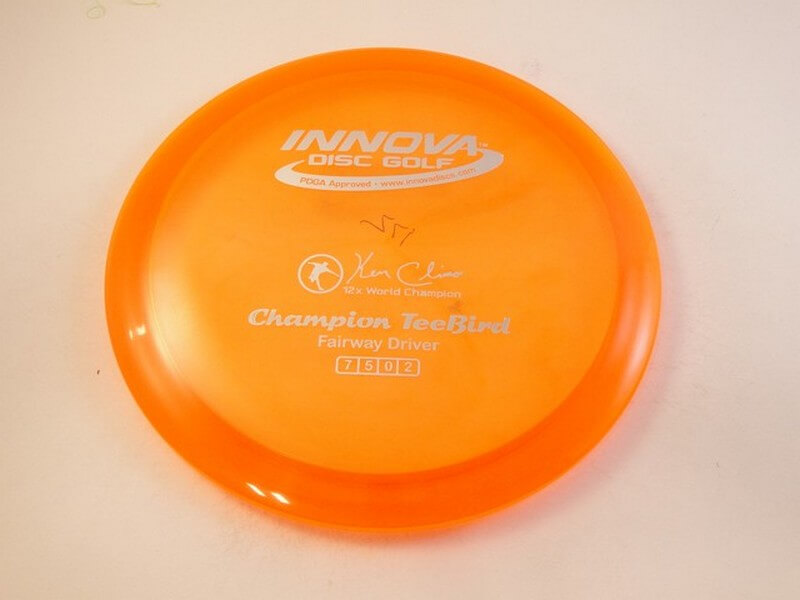 The majority of disc golf courses have holes where you need a straight and accurate approach shot. The TeeBird excels at approach shots from the fairway since it's one of the most reliable and accurate drivers.
You might be thinking that the slower speed of the TeeBird will limit your throwing distance, but I can tell you, the TeeBird can be thrown fast and far with proper technique. It does have a lot of glide that also helps you get the TeeBird all the way to the pin.
I don't recommend the TeeBird to brand new players, but anyone who has thrown midranges and played a few rounds should be able to throw it without any trouble.
Once you master the TeeBird you'll have so much more control and accuracy for your drives and approaches to the basket!
Innova TeeBird Specifications
Flight Ratings: 7 Speed, 5 Glide, 0 Turn, 2 Fade
Plastics: Star, DX, Metal Flake, EchoStar, Champion
Weight: 130-175g
Stability: Overstable
Fade: Minimum
Primary Use: Fairway
Skill Level: Intermediate
Innova TeeBird Features
Plastic Types
You can find this disc golf disc in the following molds; Star TeeBird, DX TeeBird, Metal Flake TeeBird, EchoStar TeeBird, and Champion TeeBird.
Star – Star plastic is one of the premium Innova plastics that's known for being grippy, durable, and consistent. It has the same durability as the more expensive Champion plastic and will keep its shape in both cold and warm weather.
DX – The DX Line has the most models and weights of any line. These discs are budget-friendly and provide a good grip in a variety of weather conditions.
Metal Flake – The Metal Flake discs from Innova are actually made from the exact same Champion plastic. These discs are firm and long-lasting, with the only difference being the metal flecks that have been added. With the small pieces of metal, the disc will be a heavier weight and more overstable.
EchoStar – EchoStar plastic has similar features to the original Star plastic, but is softer and has enhanced grip. It's also made with between 50-100% recycled plastic to help reduce waste.
Champion – The most premium and expensive plastic from Innova is the Champion mold. It's extremely durable, firm, and overstable. Discs made in Champion plastic can take a beating against trees or rocks and still keep the same flight characteristics. Since it's so durable, this plastic is less flexible and soft.
I recommend getting a Champion TeeBird, especially if you play in wooded areas and have a lot of obstacles in the way.
Read all about every Innova plastic grade in my complete guide.
Available Weights
The TeeBird can be found with a minimum weight of 130 grams and a maximum weight of 175 grams. For the lightweight TeeBird, it can be more difficult to control, especially if you have a lot of power behind your throws.
Best Throws for the Innova TeeBird
For most players, the best throws for the Innova TeeBird are:
Accurate – Some discs are more controllable than others, and this one is straightforward to control and launch for precise lines and distances. You'll have no trouble keeping this disc on the fairway or aiming straight towards the basket.
Flex – Overstable discs are ideal for throwing flex shots, in which the disc is released at a steep angle and then springs back to normal. This is by far the most popular way for frequent players to boost their driving distance.
Power – Discs for power throws are typically overstable, meaning they will resist turning to the right for a right-handed backhand throw. When thrown with enough power, an overstable disc will flex or turn to the left before returning to its original flight path.
I'm a massive sidearm thrower so it's worth mentioning that the TeeBird feels comfortable and great for forehands, and I've had no trouble getting clean releases.
TeeBird Stability and Turn
Overstable discs are one type of disc that's a great disc for power throwers who have been playing disc golf for a while. Newer disc golfers with less experience won't get as great results since less power means the disc will fade earlier in the flight and not travel as far down the fairway.
Which Players Should Use the Innova TeeBird?
Fairway drivers are my favorite type of disc, especially since I love the increased control and placement that I can get with these discs. A lot of players won't be able to throw as far when using fairway drivers, but there are plenty of times on the course where control drivers are the best option to use.
These are the major benefits of using a fairway driver:
Accurate approach shots that will surely make your putts closer and easier
More control with speed and angles when throwing fairway drivers
They offer you plenty of shot types and are usually the better option for newer players or those with less arm speed
For disc golfers with some prior expertise and practice, intermediate discs are ideal. The TeeBird can definitely be thrown by beginners or newer players, but they'll require more technique and effort to achieve considerable distance.
Where Can You Find the Innova TeeBird?
As an experienced player, my preferred place to look for certain disc golf discs like the TeeBird is at any local disc golf shop in my state. If I can't find the disc in-store, there are two online shops that I always prefer to shop at.
They have plenty of disc options and show unique images of each individual disc that you can sort through, look at, and buy.
You can find plenty of options for brands and plastics right on the Amazon site.
Discs Related to the TeeBird
Check out these similar disc golf discs to the TeeBird and read through my full reviews below!
Innova Eagle – Super reliable and predictable flight path that's great for long power throws.
Final Review
The Innova TeeBird is one of the most popular and consistent fairway drivers that you could add to your bag. It feels really great in the hand, can be thrown for forehands and backhands, and excels at approaches toward the basket.
I hope this review taught you something about the TeeBird and helps you decide on whether or not to try it out for your next round!