The Innova Starfire is one of the more dependable and consistent distance drivers that you can find. It has the benefit of providing a lot of glide and fade that can be taken advantage of for massive distance drives.
It took me a while before I actually tried throwing the Starfire, but I could tell right away it was a disc that I would enjoy. Since it's so overstable, I was able to throw some strong forehand drives, and didn't have to worry about losing control of the disc or not having it fade back.
For the rest of the review, I'll talk about my favorite uses for the Starfire, and anything that I wasn't a huge fan about when using the driver.
Overview of the Innova Starfire
I'm not sure how popular the Starfire is, but to me it opens up the types of shots that you can throw from the tee. When you throw a powerful hyzer out, there's no question about it consistently fading back throughout the flight.
Since it is a 10-speed driver, I wouldn't recommend it to brand new players unless they already have good arm speed and control.
But, if you've been playing and are looking to upgrade in disc speed, the Starfire might be the disc to increase your distance and lower your scores.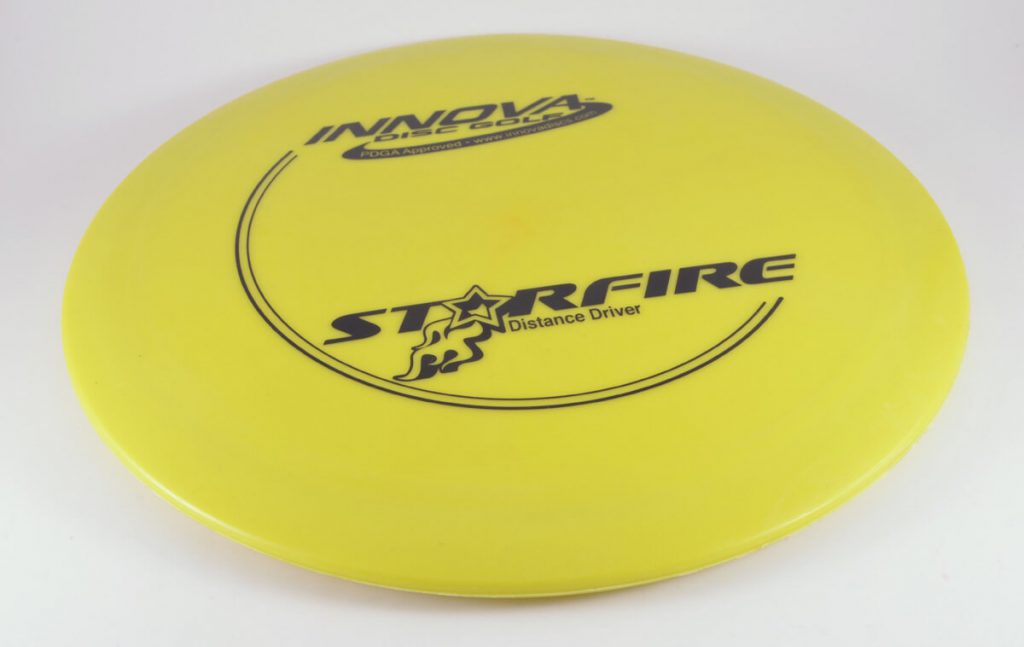 Innova Starfire Specifications
Flight Ratings: 10 Speed, 4 Glide, 0 Turn, 3 Fade
Plastics: Star, Champion, DX, GStar, Pro
Weight: 150-175g
Stability: Overstable
Fade: Minimum
Primary Use: Distance
Skill Level: Intermediate
Innova Starfire Features
Plastic Types
You can find this disc golf disc in the following molds; Star Starfire, Champion Starfire, DX Starfire, GStar Starfire, and Pro Starfire.
Star – Star plastic is one of the premium Innova plastics that's known for being grippy, durable, and consistent. It has the same durability as the more expensive Champion plastic and will keep its shape in both cold and warm weather.
Champion – The most premium and costly plastic produced by Innova is the Champion mold. It's extremely long-lasting, firm, and overstable. Discs molded in Champion plastic can withstand abuse from trees or rocks while retaining their flight characteristics. Because it is so robust, this material is less flexible and soft.
DX – For Innova, the DX line can be found for almost every one of their disc models and available weights. This is their most affordable plastic and has excellent grip in the majority of conditions. Discs made in DX plastic are much less durable and can become damaged from hitting trees or other obstacles.
GStar – GStar is a softer and less stable premium plastic than other high-end materials. It's comparable to Star or Champion plastic that has been used and beaten in before. One great advantage of GStar plastic is that it will retain its form and flight path for longer than DX or Pro discs.
Pro – The Innova Pro line is made with a higher grade of plastic than their basic mold, ensuring longer life and better performance. When comparing the durability of pro versus DX plastic, the Pro Line discs are more durable. The Pro Line discs glide farther and are less expensive than premium Champion or Star Line discs.
Read all about every Innova plastic grade in my complete guide.
Available Weights
The Starfire can be found with a minimum weight of 150 grams and a maximum weight of 175 grams.

Best Throws for the Innova Starfire
For most players, the best throws for the Innova Starfire are:
Headwind – This disc performs well when throwing into a headwind situation. Headwinds are when the direction of the wind is pushing toward you and your disc. This causes the disc to be less stable and usually lifts the disc slightly. When there's a lot of wind, overstable discs are great options since they aren't affected as much during the flight.
Accurate – Some discs are easier to control than others, and this one can easily be maneuvered and thrown for accurate lines and distances. You'll have no trouble keeping this disc on the fairway or heading right at the basket.
Starfire Stability and Turn
This is a fast overstable disc that's great for players who have a lot of power and need a disc to go from right to left for a right-handed backhand throw.
Which Players Should Use the Innova Starfire?
Distance drivers are discs with sharp and flat rims that can fly farther than any other type of disc but require more power and technique.
These are the major benefits of using a distance driver:
Getting closer to the basket on long distance holes
Designed with more speed, glide, and flexibility in shot types
Discs that are given an intermediate rating are great for disc golfers who have some previous experience and practice. Beginners or newer players could learn to throw these discs, but at the start it would be difficult to get much distance out of them.
Where Can You Find the Innova Starfire?
As an experienced player, my preferred place to look for certain disc golf discs like the Starfire is at any local disc golf shop in my state. If I can't find the disc in-store, there are two online shops that I always prefer to shop at.
InfiniteDiscs – They have plenty of disc options and show unique images of each individual disc that you can sort through, look at, and buy.
Amazon – You can find plenty of options for brands and plastics right on the Amazon site.
Related Discs
Check out these similar Innova drivers to the Starfire and read through my full reviews below!
Innova Orc – One of the most popular and straight-flying distance drivers.
Final Review
Hopefully this review of the Innova Starfire gave you all the necessary information to decide on whether or not you should try it out.
All of my friends that have tried throwing my disc have had great experiences with some spectacular shots!