One of the more understable drivers from Innova, the Sidewinder takes some control and skill to throw perfectly.
Even though it's classified as a distance driver, the Sidewinder has less speed (8), and doesn't actually need a lot of arm speed or power to throw it effectively.
The rest of this Sidewinder review covers everything you might want to know about a disc, including the best throws, weight, and plastic molds.
Quick Review of the Innova Sidewinder
Flight Ratings: 9 Speed, 5 Glide, -3 Turn, 1 Fade
Weight: 130-175 grams
Stability: Understable
Skill Level: Beginner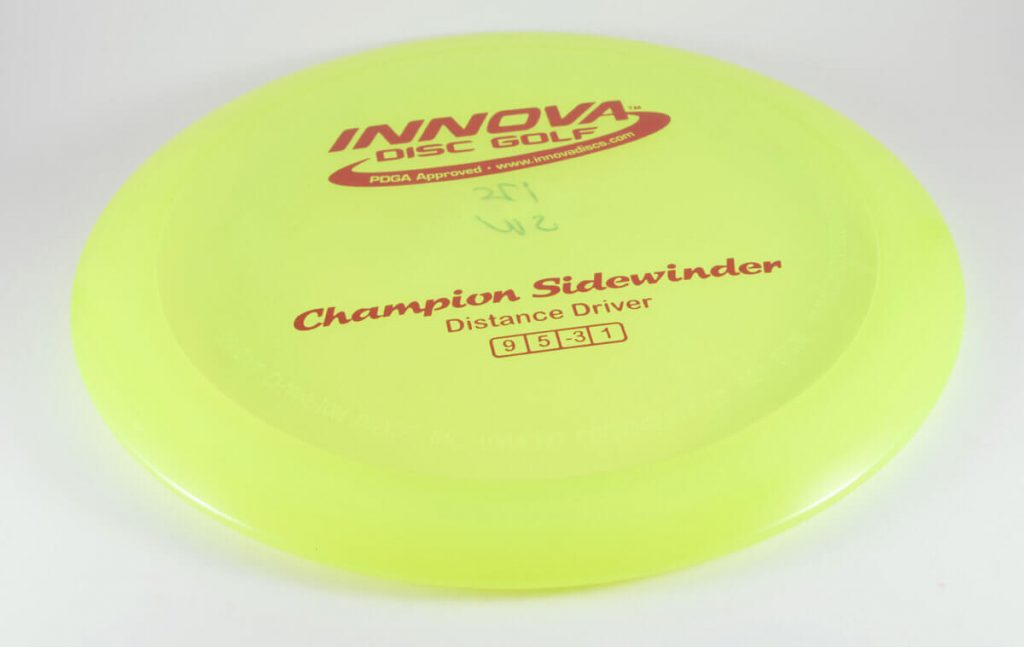 Who Is the Innova Sidewinder For?
Since the Sidewinder is a distance driver, the rim is sharper and flatter than the other disc types. If you have decent control and technique, learning to throw the Sidewinder won't be too difficult.
These are the major benefits of using a distance driver:
Getting closer to the basket on long distance holes
Designed with more speed, glide, and flexibility in shot types
A more controlled release and fade during the flight path
Since this disc has a tag of beginner, that means it's the perfect option for newer players to try out. That doesn't mean that more experienced players shouldn't use it, just that it's easier for beginners to control and use.
The understability of the Sidewinder does increase its difficulty to control, but it does have a predictable turn and fade amount.
When Should You Throw the Sidewinder?
The best throws for the Innova Sidewinder are:
Roller – This disc is great for throws where the majority of the distance is gained by rolling the disc on the ground rather than flying through the air.
Distance – This type of disc will push you in the right direction for reaching your maximum distance off the tee. When it comes to increasing how far you can throw the disc, look for a high speed and glide number.
The stability of the disc is important to know since it's one of the biggest factors in determining how a disc will fly once it's released.
Understable discs are more likely to turn over during the flight compared to stable or overstable discs. Newer players should be able to throw straighter and gain more distance with understable discs since the slower arm speed will cause them to travel straight.
Sidewinder Plastics
The Sidewinder can be found in all of the following plastic grades:
DX
Star
GStar
StarLite
Champion
DX – The DX Line has the most models and weights of any line. These discs are budget-friendly and provide a good grip in a variety of weather conditions.
Star – The Star plastic mold gives your disc the durability of the Champion plastic, while offering up more overall grip. It's similar to the Pro line for comfort and grip, but is more firm. Most of the Innova discs are manufactured in this plastic at least since it's durable, performs great in all weather, and is cheaper than their premium plastics.
GStar – GStar is a flexible plastic mold that's softer and less stable than other premium plastics. It's comparable to Star or Champion plastic that has been used and beat in. One great benefit of the GStar plastic is that it will hold its shape and flight pattern for longer than DX or Pro discs.
StarLite – This plastic has similar benefits to the original Star plastic, with the addition of being more lightweight. Starlite discs can often be found as light as 130 grams when they would usually be around 160-165 grams in premium blends.
Champion – The most premium and expensive plastic from Innova is the Champion mold. It's extremely durable, firm, and overstable. Discs made in Champion plastic can take a beating against trees or rocks and still keep the same flight characteristics. Since it's so durable, this plastic is less flexible and soft.
Read all about every Innova plastic grade in my complete guide.
Sidewinder Weights
The Sidewinder can be found with a minimum weight of 130 grams and a maximum weight of 175 grams.
Pros of the Innova Sidewinder
One of the best roller disc right away when throwing
There are a lot of plastic options to make this driver durable and consistent
Where Can You Find the Innova Sidewinder?
Although the Sidewinder can be found at most of your local disc golf shops, I also recommend checking out these online shops.
InfiniteDiscs – They have plenty of disc options and have images of each individual disc that you can sort through, look at, and pick.
Amazon – You can find plenty of options for brands and plastics right on the Amazon site.
Related Discs
Check out these similar discs to the Sidewinder and read through my full reviews below!
Innova Valkyrie – A turnover distance driver with a lot of glide that also works well in windy conditions.
Innova Roadrunner – A distance driver with lots of glide that's perfect for rollers and turnover shots.
Final Review
This review of the Sidewinder covered the best throws, plastics, and weights to use when trying out this Innova driver.
I also explained the consistency of the disc and the difficulty level in learning to throw the Sidewinder.