It actually took me a few years of playing disc golf before I had even heard of the Innova Monster. It's definitely not as popular these days, but it's such an interesting disc that I decided to write a review for it.
If you're interested in learning more about this extremely overstable distance driver, keep reading for the best throws, plastics, and weights for the Innova Monster!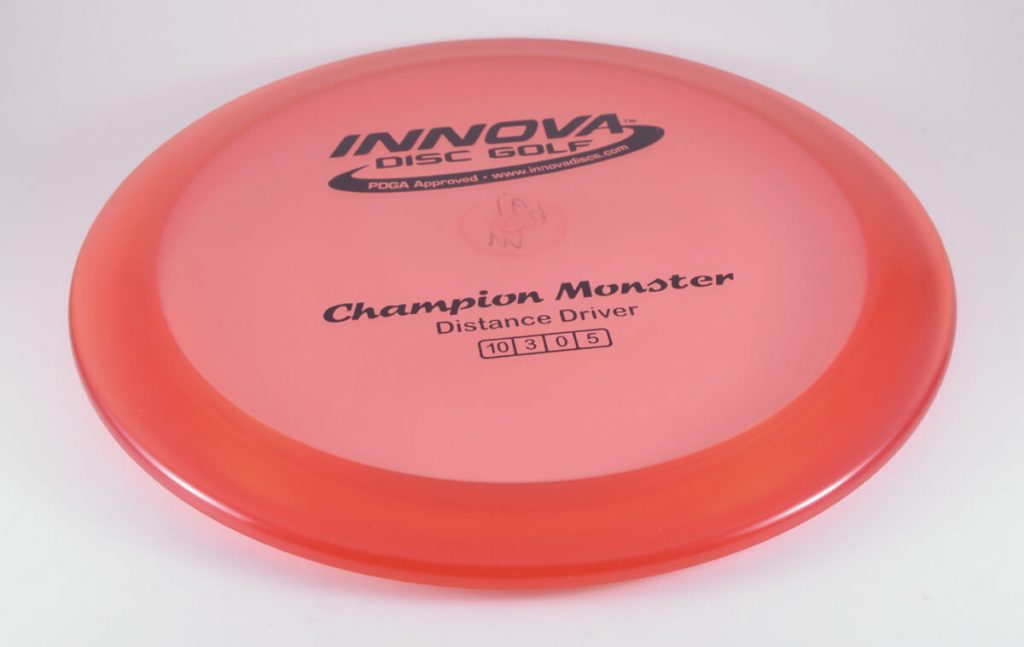 Overview of the Innova Monster
Right away from my first throw with the Innova Monster I could tell this was an overstable driver with a lot of fade. Releasing it someone flat on a forehand, I watched it glide a decent amount before starting to cut hard as the natural fade of the disc took over.
One thing I'd like to note right away is that even though it's an overstable driver, the Monster is more of an advanced disc and does require some experience to control your throws.
Innova Monster Specifications
Flight Ratings: 10 Speed, 3 Glide, 0 Turn, 5 Fade
Plastics: Star, Champion
Weight: 165-175g
Stability: Overstable
Fade: Maximum
Primary Use: Distance
Skill Level: Advanced
Innova Monster Features
Plastic Types
You can find this disc golf disc in the following molds; Star Monster, and Champion Monster.
Star – The Star plastic mold gives your disc the durability of the Champion plastic, while offering up more overall grip. It's similar to the Pro line for comfort and grip, but is more firm. Most of the Innova discs are manufactured in this plastic at least since it's durable, performs great in all weather, and is cheaper than their premium plastics.
Champion – The most premium and expensive plastic from Innova is the Champion mold. It's extremely durable, firm, and overstable. Discs made in Champion plastic can take a beating against trees or rocks and still keep the same flight characteristics. Since it's so durable, this plastic is less flexible and soft.
Read all about every Innova plastic grade in my complete guide.
Available Weights
The Monster can be found with a minimum weight of 165 grams and a maximum weight of 175 grams.
Best Throws for the Innova Monster
For most players, the best throws for the Innova Monster are:
Headwind – This disc performs well when throwing into a headwind situation. Headwinds are when the direction of the wind is pushing toward you and your disc. This causes the disc to be less stable and usually lifts the disc slightly. When there's a lot of wind, overstable discs are great options since they aren't affected as much during the flight.
Forehand – Discs that are great for sidearm throws are usually overstable and provide a lot of grip in the hand. Having a clean release and spin is key to a good forehand, and the Monster has a wide enough rim to be able to generate a strong, powerful throw.
As a consistent sidearm player, my favorite use of the Monster has to be wide hyzer forehands that reliably fade towards the basket.
Monster Stability and Turn
An overstable disc is a type of disc designed to resist turning over, or 'hyzering out', during flight. The stability of the Monster makes it ideal for players with powerful throws, or for those who need to shape shots around obstacles. Throw the Monster out fast and wide and watch as it always fades back toward your landing spot.
Which Players Should Use the Innova Monster?
Some of the distance drivers are built to cut through the wind, while others provide more glide and allow less powerful throwers to go further with less effort. Everything about distance drivers is designed to provide the most range and control in every scenario.
These are the major benefits of using a distance driver:
Getting closer to the basket on long distance holes
Designed with more speed, glide, and flexibility in shot types
Since this disc is more advanced, it's usually geared more towards players with a good amount of experience. They're often more difficult to control the angle and speed so that the disc doesn't turn or flip during the flight.
Where Can You Find the Innova Monster?
As an experienced player, my preferred place to look for certain disc golf discs like the Monster is at any local disc golf shop in my state. If I can't find the disc in-store, there are two online shops that I always prefer to shop at.
They have plenty of disc options and show unique images of each individual disc that you can sort through, look at, and buy.
Related Discs
Check out these similar disc golf discs to the Monster and read through my full reviews below!
Innova Starfire – A dependable and fast distance driver with consistent fade.
Innova Orc – One of the most popular and straight-flying distance drivers.
Final Review
If there's one thing you should take away from this Innova Monster review, it's that the Monster is consistent, overstable, and difficult for new disc golfers to throw.
There are some major benefits to using such an overstable driver, such as windy courses, but it's important to understand the downsides as well.
Be sure to read my full review about to get an idea on whether of not the Monster is the next disc for you!