The Krait is a pretty unique distance driver, which is why I decided to write about it in this Innova Krait review!
This driver has a great combination of high glide with minimal fade, making it the perfect disc for straight and powerful drives from the tee.
If you're a newer player or just starting to throw high-speed drivers, keep reading to find out if the Krait would be a good disc in your bag!
Overview of the Innova Krait
My first impression when throwing the Krait was that it's a pretty comfortable disc and I had no issues throwing it for both backhand or forehand shots. It actually reminded me of the Innova Wraith because that's one of the more comfortable drivers that feels smooth to release or flick for a sidearm.
After throwing it for a bit, I definitely started to understand the flight pattern, and could maximize the glide and distance on every throw. As long as you understand how the disc will fade, it's easy to control and get accurate throws from anywhere on the fairway.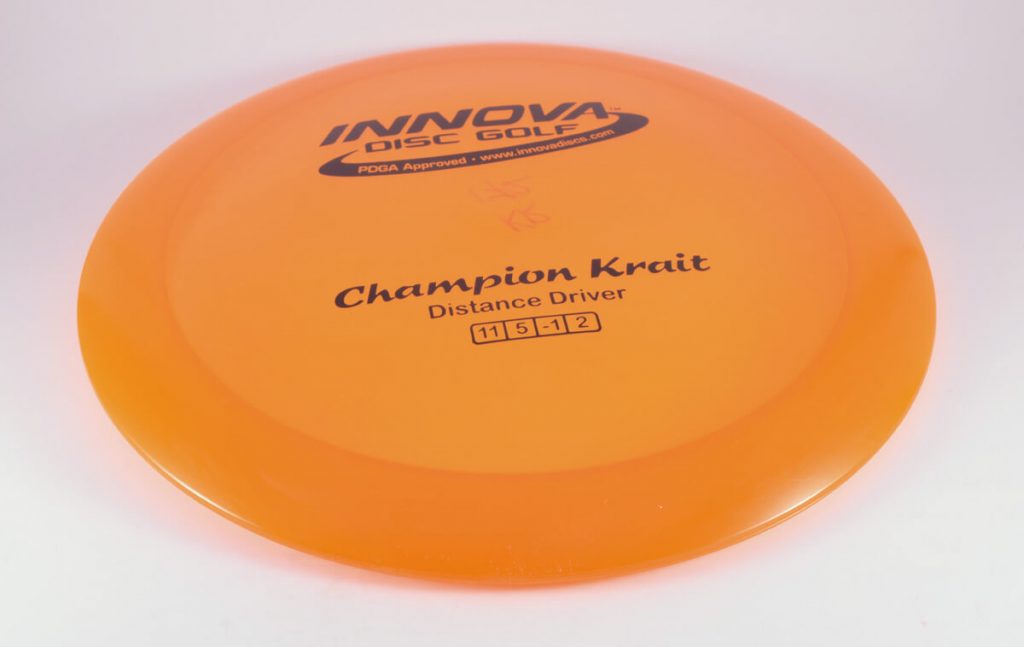 Innova Krait Specifications
Flight Ratings: 11 Speed, 5 Glide, -1 Turn, 2 Fade
Plastics: GStar, Champion, Blizzard
Weight: 130-175g
Stability: Stable
Fade: Minimum
Primary Use: Distance
Skill Level: Intermediate
Innova Krait Features
Here's some information on the Krait, including all grades of plastic, weights, and throwing options.
Plastic Types
You can find this disc golf disc in the following molds; GStar Krait, Champion Krait, and Blizzard Krait.
GStar – GStar is a flexible plastic mold that's softer and less stable than other premium plastics. It's comparable to Star or Champion plastic that has been used and beat in. One great benefit of the GStar plastic is that it will hold its shape and flight pattern for longer than DX or Pro discs.
Champion – The most premium and expensive plastic from Innova is the Champion mold. It's extremely durable, firm, and overstable. Discs made in Champion plastic can take a beating against trees or rocks and still keep the same flight characteristics. Since it's so durable, this plastic is less flexible and soft.
Blizzard – Blizzard plastic is a mix between the original Champion plastic and micro air bubbles. Adding more air inside the rim causes the disc to have the same durability while cutting down on the total weight. These lighter discs are great for newer players who want to get the same flight and distance as a heavier disc.
Read all about every Innova plastic grade in my complete guide.
Available Weights
The Krait can be found with a minimum weight of 130 grams and a maximum weight of 175 grams.
Best Throws for the Innova Krait
Although the specific shot types of a disc are more dependent on the disc golfer and their skills, there are some common uses of the Krait.
For most players, the best throws for the Innova Krait are:
Straight
Distance
Accurate
Straight – This disc is one that can be thrown straight at your target. Whether you're throwing through a tunnel of trees or just going straight at the basket, you'll have no problems keeping this disc on a straight line.
Distance – This type of disc will help you to reach your maximum distance off the tee. A high speed and glide number are two important factors to look for when increasing how far you can throw the disc.
Accurate – Some discs are more controllable than others, and this one is straightforward to control and launch for precise lines and distances. You'll have no trouble keeping this disc on the fairway or aiming straight towards the basket.
Krait Stability and Turn
Stable discs are less common than under and overstable discs, but they have an important place in any disc golfer's bag. Using stable discs allows the player to throw different shots, such as completely flat and straight.
Which Players Should Use the Innova Krait?
This distance driver is designed for players with a high arm speed who want to reach out further with their throws. If you can throw distance drivers with a speed of 11 or 12 on a regular basis, learning to throw this disc should not be difficult.
These are the major benefits of using a distance driver:
Getting closer to the basket on long distance holes
Designed with more speed, glide, and flexibility in shot types
Discs that are given an intermediate rating are great for disc golfers who have some previous experience and practice. Beginners or newer players could learn to throw these discs, but at the start it would be difficult to get much distance out of them.
Where Can You Find the Innova Krait?
As an experienced player, my preferred place to look for certain disc golf discs like the Krait is at any local disc golf shop in my state. If I can't find the disc in-store, there are two online shops that I always prefer to shop at.
InfiniteDiscs – They have plenty of disc options and have images of each individual disc that you can sort through, look at, and pick.
Related Discs
Check out these similar disc golf discs to the Krait and read through my full reviews below!
Innova Wraith – One of the best drivers for distance, glide, and tailwind throws.
Innova Archon – Distance driver with a good mix of speed, control, and glide that's perfect for tunnel shots.
Final Review
In this Innova Krait review, I went over everything I've learned while throwing the Krait to help you make any decisions.
This is a consistent Innova driver that you'll be able to get extra distance out of your throw with its max value for glide.