Not too many discs can be thrown and controlled in the wind, but that's actually one of the situations that the Innova Invictus excels at.
If you've thrown Innova discs before, you've probably thrown or at least heard of the popular Innova Firebird. The Invictus is quite similar in flight and ratings, with many considering it a faster Firebird.
For anyone who's interested in trying out the driver, this review covers the best throws, plastics, and uses for the Invictus!
Overview of the Innova Invictus
The Invictus is a 10-speed driver that can be thrown hard with a massive amount of glide on the disc. It's also very overstable which is one of the reasons I love throwing it for forehand drives.
Just like with the Firebird, you can expect a hard finish and consistent fade towards the end of the flight.
Don't be surprised when this disc hooks massively on any hyzer or straight throws.
One negative about the Invictus is that it's not the most comfortable disc to throw. By that I mean the rim is smaller and sharper than I can enjoy using.
Even though the Invictus is great for sidearms, the rough rim can make it slightly more difficult to control and get a nice, clean release.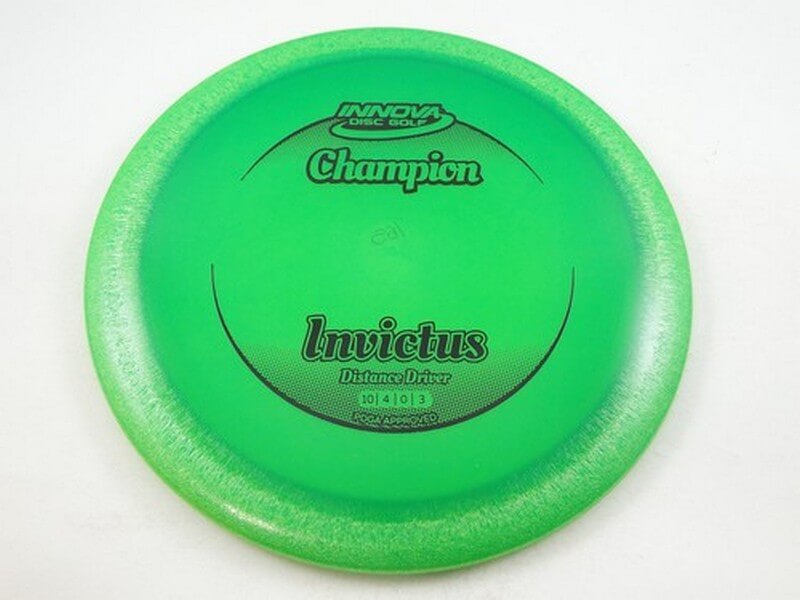 Innova Invictus Specifications
Flight Ratings: 10 Speed, 4 Glide, 0 Turn, 3 Fade
Plastics: Star, GStar
Weight: 165-175g
Stability: Overstable
Fade: Minimum
Primary Use: Distance
Skill Level: Advanced
Innova Invictus Features
Plastic Types
You can find this disc golf disc in the following molds; Star Invictus, and GStar Invictus.
Star – The Star plastic mold gives your disc the durability of the Champion plastic, while offering up more overall grip. It's similar to the Pro line for comfort and grip, but is more firm. Most of the Innova discs are manufactured in this plastic at least since it's durable, performs great in all weather, and is cheaper than their premium plastics.
GStar – GStar is a softer and less stable premium plastic than other high-end materials. It's comparable to Star or Champion plastic that has been used and beaten in before. One great advantage of GStar plastic is that it will retain its form and flight path for longer than DX or Pro discs.
Read all about every Innova plastic grade in my complete guide.
Available Weights
The Invictus can be found with a minimum weight of 165 grams and a maximum weight of 175 grams.
Best Throws for the Innova Invictus
For most players, the best throws for the Innova Invictus are:
Forehand
Distance
Headwind
Hyzer
Forehand – Overstable discs that provide a lot of grip in the hand are often excellent for sidearm throws. A good forehand requires a clean release and spin, and this disc has a wide enough rim to enable you to create a strong, powerful throw.
Distance – This type of disc will push you in the right direction for reaching your maximum distance off the tee. When it comes to increasing how far you can throw the disc, look for a high speed and glide number.
Headwind – This disc performs well when throwing into a headwind situation. Headwinds are when the direction of the wind is pushing toward you and your disc. This causes the disc to be less stable and usually lifts the disc slightly. When there's a lot of wind, overstable discs are great options since they aren't affected as much during the flight.
Hyzer – Hyzer is the angle of release for a right-handed backhand thrower, with the outside edge or left edge tilted downward. A disc released with a hyzer will travel to the left faster than one thrown flat. If you want your disc to go further to the left, use more hyzer (RHBH).
Invictus Stability and Turn
An overstable disc is a type of disc designed to resist turning over, or 'hyzering out', during flight. This makes them ideal for players with powerful throws, or for those who need to shape shots around obstacles.
Which Players Should Use the Innova Invictus?
Some of the distance drivers are built to cut through the wind, while others provide more glide and allow less powerful throwers to go further with less effort. Everything about Distance Drivers is designed to provide the most range and control in every scenario.
These are the major benefits of using a distance driver:
Getting closer to the basket on long distance holes
Designed with more speed, glide, and flexibility in shot types
This disc has an advanced rating for skill level, meaning it's more difficult to control and take full advantage of. Usually, newer players won't have enough arm speed to throw the disc like it was designed to do.
Disc golfers who have played multiple rounds and have more experience with other discs should have enough control to manage this advanced disc.
Where Can You Find the Innova Invictus?
As an experienced player, my preferred place to look for certain disc golf discs like the Invictus is at any local disc golf shop in my state. If I can't find the disc in-store, there are two online shops that I always prefer to shop at.
They have plenty of disc options and show unique images of each individual disc that you can sort through, look at, and buy.
You can find plenty of options for brands and plastics right on the Amazon site.
Invictus Related Discs
Check out these similar disc golf discs to the Invictus and read through my full reviews below!
Innova Orc – One of the most popular and straight-flying distance drivers.
Read more about the best Innova distance drivers in this in-depth guide!
Final Review
For this Invictus review I covered the pros and cons, common throws, and best plastics that you should consider when thinking about the disc.
It might not be for every disc golfer, but I enjoyed trying out the Invictus and think there's a lot of players who could improve their game with it in their bag!