The Innova Firestorm is one of the fastest drivers on the market, coming in with a speed rating of 14, the highest available. This disc is dependable, very overstable, and effective at getting tons of distance in the air.
In the past I've compared the Firestorm to an older and used Destroyer, but much faster and with a consistent fade at the end of the flight.
Here's my full review of the Firestorm including when to throw it, what plastics you can find it in, and other pros of using this distance driver!
Quick Review of the Innova Firestorm
Flight Ratings: 14 Speed, 4 Glide, -1 Turn, 3 Fade
Weight: 165-175 grams
Stability: Overstable
Skill Level: Advanced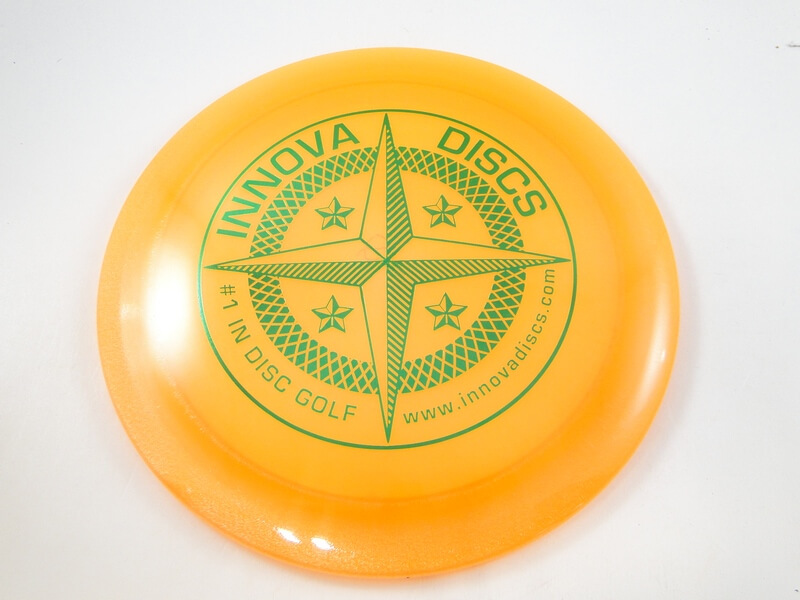 Who Is the Innova Firestorm For?
Distance drivers are the best disc type at throwing maximum distances. Many of these drivers are designed with smaller rims to cut through any wind and get more glide down the fairway.
These are the major benefits of using a distance driver:
Throwing for more distance and getting closer to the basket
Flexibility in shot shapes and different throwing options
Advanced discs are intended for disc golf players with a lot of experience. It will be more difficult to manage this disc if you've only played a few rounds before.
Even though the Firestorm might be difficult to throw at first, it's extremely overstable which should help with control. As long as you have enough arm speed and power behind your throw, the Firestorm will add some strength and distance to your disc golf game!
When Should You Throw the Firestorm?
The best throws for the Innova Firestorm are:
Sidearm
Hyzer
Low-ceiling
Sidearm – One of the things I like about the Firestorm is how comfortable it is for me to throw both backhand and forehand. It's comfortable and has enough grip that I can generate the spin I need to watch it fly down the fairway.
The Firestorm comes with a wide rim that allows for a lot of grip and spin on forehand throws.
Hyzer – Hyzer is the angle of release for a right-handed backhand disc thrower, with the outside edge or left edge tilted downward. A disc released with a hyzer will travel to the left faster than one thrown flat. If you want your disc to go further to the left, use more hyzer (RHBH).
Low-ceiling – Whether you have a little space to throw your disc or not, using this disc will allow you to keep it low and flat over any terrain. It'll go right over the ground during its journey if you throw it quickly.
The Firestorm is also a very overstable disc compared to most other drivers, which is great for players who generate a lot of power as well as if you need a disc to move right to left for a right-handed backhand throw.
Firestorm Plastics
The Firestorm can be found in the following plastic grade:
Champion – The most premium and expensive plastic from Innova is the Champion mold. It's extremely durable, firm, and overstable. Discs made in Champion plastic can take a beating against trees or rocks and still keep the same flight characteristics, which is more likely to happen when throwing disc golf drivers. Since it's so durable, this plastic is less flexible and soft.
The Champion plastic is the most expensive, durable, and overstable plastic from Innova.
Firestorm Weights
The Firestorm can be found with a minimum weight of 165 grams and a maximum weight of 175 grams. Distance drivers have a maximum allowed weight of 175, so you won't be able to get a heavier disc.
Pros of the Innova Firestorm
Very overstable and perfect for throwing in the wind.
One of the best options for getting pure distance on a shot.
The wide rim is comfortable and allows for a lot of control throughout the release and follow-through.
Where Can You Find the Innova Firestorm?
Although the Firestorm can be found at most of your local disc golf shops, I also recommend checking out these online shops.
They have plenty of disc options and have images of each individual disc that you can sort through, look at, and pick.
You can find plenty of options for brands and plastics right on the Amazon site.
Discs Similar to the Firestorm

Check out these similar discs to the Firestorm and read through my full reviews below!
Innova Destroyer – One of the most loved and popular distance drivers ever created by Innova. Another fast and overstable disc that is perfect for long throws.
Innova Corvette – The Corvette is one of our speediest distance drivers, with a Speed 14. It has good glide, accuracy on the green, and commanding distance.