A unique and lightweight disc that actually floats in the water, the Innova Dragon is one driver that you should know about.
I decided to write this review on the Innova Dragon because honestly it's not a disc I see many players talk about too often.
It's a slower driver that can be great for newer disc golfers to use, especially when first learning how to play.
Nobody enjoys throwing an errant shot and watching it sink to the bottom of a pond or stream and losing the disc forever.
Overview of the Innova Dragon
One of the reasons why the Dragon floats is because it's only created in the lightest and cheapest Innova plastic, DX.
Also most fairway and distance drivers will have a maximum weight of up to 175g, but the Dragon doesn't weigh anymore than 160g.
This isn't the type of disc to greatly improve your game, but there are some nice benefits that I'll be going over in the rest of this review!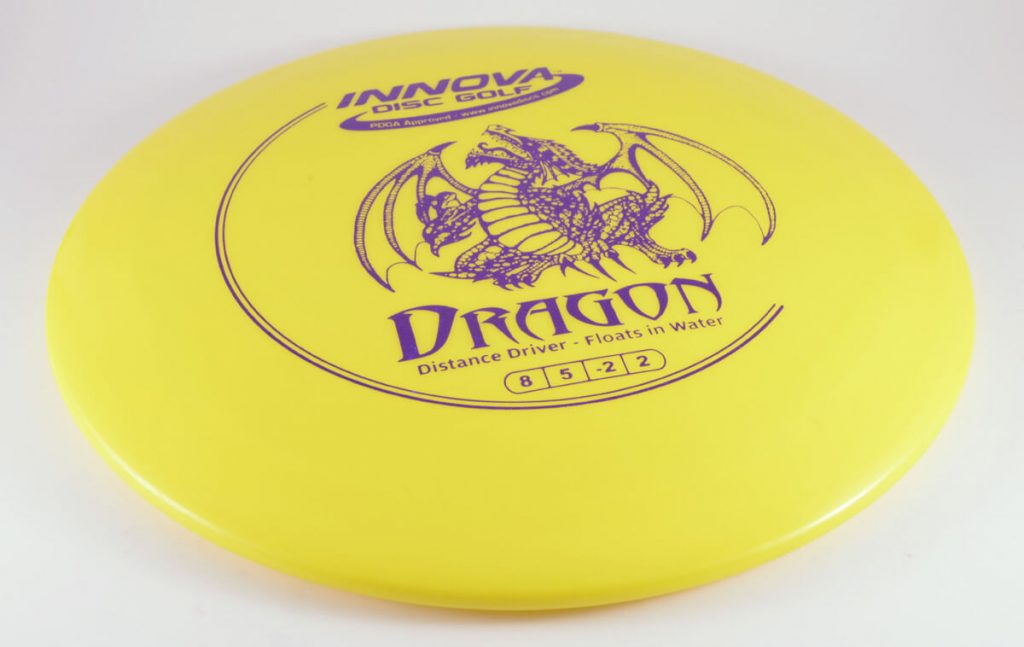 Innova Dragon Specifications
To really understand how a disc will fly, it's important to have some understanding of the disc information like flight path and stability.
Flight Ratings: 8 Speed, 5 Glide, -2 Turn, 2 Fade
Plastics: DX
Weight: 150-160g
Stability: Understable
Fade: Minimum
Primary Use: Fairway
Skill Level: Beginner
Innova Dragon Features
Plastic Types
You can find this disc golf disc in only one grade of plastic, the DX Dragon.
DX – The DX line is available for virtually every disc model and weight at Innova. This is their most cost-effective plastic and provides outstanding traction in the majority of situations. In comparison to other plastics, discs manufactured with DX plastic are significantly less robust and can be damaged while flying through trees or other obstructions.
Read more about the available Innova plastic grades in my complete guide.
Available Weights
The Dragon can be found with a minimum weight of 150 grams and a maximum weight of 160 grams. Only going up to 160g is pretty unique among any type of disc golf driver.
Best Throws for the Innova Dragon
For most players, the best throws for the Innova Dragon are:
Tailwinds
Maximum Glide
Water Hazards
Tailwind – Tailwinds will help push your disc forward since it'll be moving in the same direction that the disc is flying. This type of wind also causes the disc to be more overstable and have less glide since it gets pushed down towards the ground.
Glide – Having a disc with maximum glide is essential when you need a long throw. This disc has enough glide to keep going down the fairway without requiring too much power behind the throw.
Water Hazards – Because the Dragon is a floating disc, it's a good option to use it when you need to throw near any body of water. These water hazards can become a lot less intimidating when you aren't worried about losing the disc.
Dragon Stability and Turn
Understable discs are significantly more speed sensitive than stable or overstable ones. An understable disc like the Dragon will often fly level to overstable at low speeds. New players frequently throw discs at slower speeds which will cause them to be more stable.
Which Players Should Use the Innova Dragon?
When looking at fairway drivers the first thing you might notice is that they have less speed compared to distance drivers. They usually require less arm speed to throw far, but fairway or control drivers are excellent at placement shots and angle control.
These are the major benefits of using a fairway driver:
Since this disc has a tag of beginner, that means it's the perfect option for newer players to try out. That doesn't mean that more experienced players shouldn't use it, just that it's easier for beginners and newer players to control and use.
Where Can You Find the Innova Dragon?
As an experienced player, my preferred place to look for certain disc golf discs like the Dragon is at any local disc golf shop in my state. If I can't find the disc in-store, there are two online shops that I always prefer to shop at.
InfiniteDiscs – They have plenty of disc options and show unique images of each individual disc that you can sort through, look at, and buy.
Amazon – You can find plenty of options for brands and plastics right on the Amazon site.
Final Review
Hopefully you learned something new about the Innova Dragon in this review. I covered a few topics, including the following:
Best throws for the Dragon
Which plastic and weight options are available
How difficult the Dragon is to throw for new players
If you decide to try out the Dragon or another fairway driver, I hope you enjoy your next round trying it on the course!