The Colossus was the first distance driver from Innova to ever go above a speed of 13. With a 14 speed, you know this disc requires a lot of arm speed and power to get max distance!
Since the Colossus is considered an advanced disc, I would recommend it only to players who have some good experience or are looking to upgrade their faster discs.
For this review, I'll be covering everything from how the Colossus feels, to the available plastics and throwing options that you'll have.
Keep reading to find out if the Innova Colossus is the right disc for you!
Quick Review of the Innova Colossus
Flight Ratings: 14 Speed, 5 Glide, -1 Turn, 3 Fade
Weight: 150-175 grams
Stability: Overstable
Skill Level: Advanced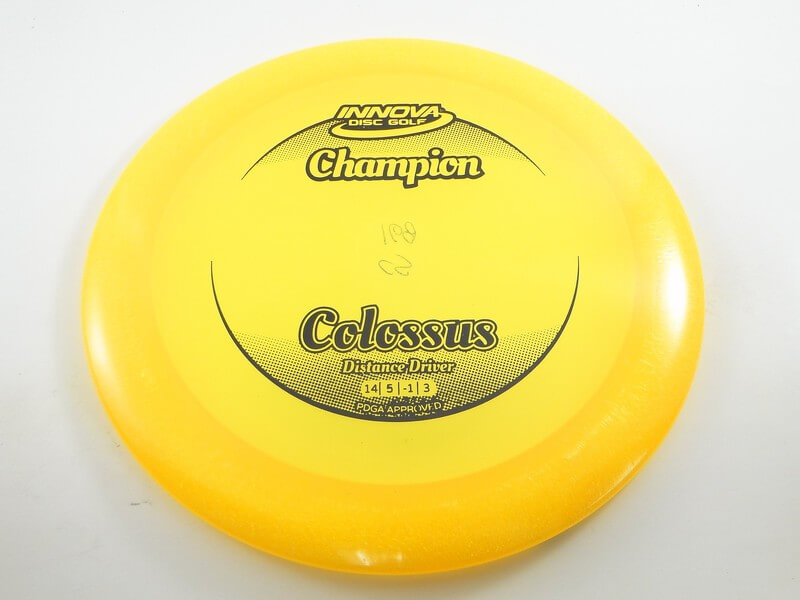 Who Is the Innova Colossus For?
This driver is designed for players with a high arm speed who want to reach out further with their throws. If you can throw distance drivers with a speed of 11 or 12 on a regular basis, learning to throw this disc should not be difficult.
These are the major benefits of using a distance driver:
You'll be able to throw for more distance, get closer to the basket, and have more consistent flights.
They're usually more overstable, allowing you to put power behind your throw without having the disc flip over.
This disc is more advanced and is generally intended for players with a lot of experience. They're typically harder to control the angle and speed of so that the disc doesn't turn or flip during flight.
When Should You Throw the Colossus?
The best throws for the Innova Colossus are:
Distance – When you throw the Colossus, the driver status will help you to reach your maximum distance off the tee. A high speed and glide number are two important factors to look for when increasing how far you can throw the disc. The Colossus features both of those and is great for long and open fairways.
Tailwind – Tailwinds will help push your disc forward since it'll be moving in the same direction that the disc is flying. This type of wind also causes the disc to be more overstable and have less glide since it gets pushed down towards the ground.
The stability of the disc is one of the biggest factors in determining how a disc will fly once it's released.
This is a fast overstable disc that's great for players who have a lot of power and need a disc to go from right to left for a right-handed backhand throw.
Colossus Plastics
The Colossus can be found in all of the following plastic grades:
Star – The Star plastic mold gives your disc the durability of the Champion plastic while offering up more overall grip. It's similar to the Pro line for comfort and grip but is more firm across the disc. Most of the Innova discs are manufactured in this plastic at least since it's durable, performs great in all weather, and is cheaper than their premium plastics.
GStar – GStar is a flexible plastic mold that's softer and less stable than other premium plastics. It's comparable to Star or Champion plastic that has been used and beat in. One great benefit of the GStar plastic is that it will hold its shape and flight pattern for longer than DX or Pro discs.
Champion – For hundreds of rounds of disc golf, Champion Line discs retain their original flight characteristics. The DX, Pro, or Star version is sturdier than the Champion Line model because of its stronger plastic.
Colossus Weights
The Colossus can be found with a minimum weight of 150 grams and a maximum weight of 175 grams. If you get the lighter 150 gram disc, it will be less overstable and durable since it'll be made in GStar plastic instead of Champion.
Pros of the Innova Colossus
The speed, turn, and fade on the Colossus are very predictable and consistent, even after the disc has been beaten in.
There's a sturdy and wide rim that helps the disc fit comfortably in your hand.
Where Can You Find the Innova Colossus?
Although the Colossus can be found at most of your local disc golf shops, I also recommend checking out these online shops.
They have plenty of disc options and have images of each individual disc that you can sort through, look at, and pick.
You can find plenty of options for brands and plastics right on the Amazon site.
Related Discs
Dominator – Distance driver with a lot of glide and predictable fade.
Groove – A lightweight distance driver that's great for long and straight holes.