The Innova Boss is a high speed driver that's perfect for those holes that require a lot of speed, glide, and distance. It's one of the most popular discs ever created and is used for a variety of different shot shapes and types.
Here's my full review of the Innova Boss, including my experiences throwing the disc and any important information that you should know!
Quick Overview of the Innova Boss
Flight Ratings: 13 Speed, 5 Glide, -1 Turn, 3 Fade
Weight: 130-175 grams
Stability: Overstable
Skill Level: Advanced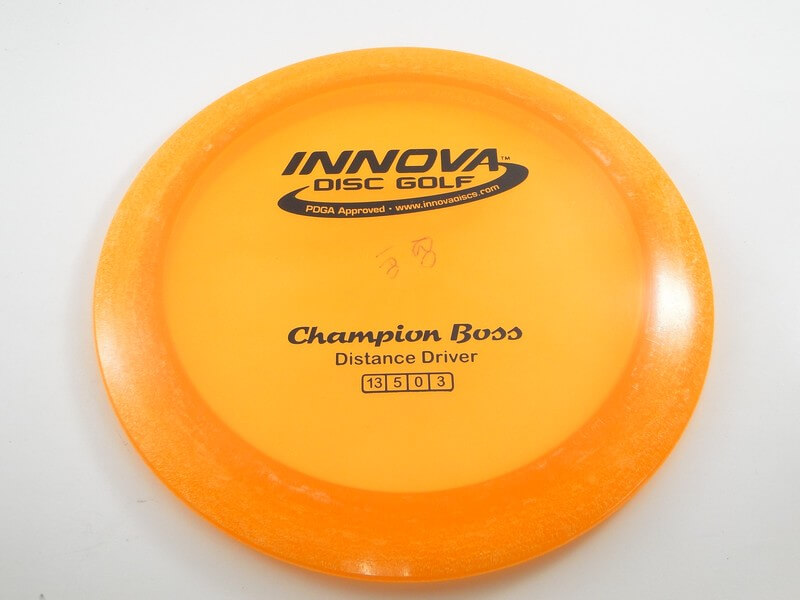 Who Is the Innova Boss For?
Distance drivers are designed for players who want to throw their disc as far as possible. Most of these discs have thin rims which help them cut through the wind without slowing down. You'll also find some of the highest speed and glide numbers on these drivers, which can make them tough for new disc golfers to use.
These are the major benefits of using a distance driver:
Getting closer to the basket on long distance holes
Designed with more speed, glide, and flexibility in shot types
Advanced discs are intended for disc golf players with a lot of experience. It will be more difficult to manage the Boss if you've only played a few rounds before.
I would recommend trying out a few fairway drivers before moving on to an advanced disc like the Innova Boss. Otherwise, you might have trouble controlling and getting a good throwing distance with the distance driver.
When Should You Throw the Boss?
The best throws for the Innova Boss are:
Power – If your arm speed is high, you'll need a disc that's suited for powerful throws. Discs that can endure a lot of power allow you to go all out without worrying about holding back or changing the disc mid-flight.
Sidearm – Overstable discs that provide a lot of grip in the hand are often excellent for sidearm throws. A good forehand requires a clean release and spin, and this disc has a wide enough rim to enable you to create a strong, powerful throw.
Distance – This type of disc is one that will help you to reach your maximum distance off the tee. A high speed and glide number are two important factors to look for when increasing how far you can throw the disc.
Once I finally bought and started to throw the Innova Boss it's been a disc that I keep in my bag ever since. There seems to always be at least a few times throughout a round where I default to using the Boss over other drivers.
The stability of the disc is one of the biggest factors in determining how a disc will fly once it's released.
Overstable discs can be an essential part of any player's bag, as they offer a dependable option when other discs might turn over or fade away prematurely.
The Boss is overstable enough that you can really put some power behind your throws, without having to worry about flipping or turning over the driver.
Boss Plastics
The Boss can be found in all of the following plastic grades:
Star
GStar
StarLite
EchoStar
Champion
Blizzard
Pro
R-Pro
DX
Star – The Star plastic mold gives your disc the durability of the Champion plastic while offering up more overall grip. It's similar to the Pro line for comfort and grip but is more firm. Most of the Innova discs are manufactured in this plastic at least since it's durable, performs great in all weather, and is cheaper than their premium plastics.
GStar – GStar is a softer and less stable premium plastic than other high-end materials. It's comparable to Star or Champion plastic that has been used and beaten in before. One great advantage of GStar plastic is that it will retain its form and flight path for longer than DX or Pro discs.
StarLite – This plastic has similar benefits to the original Star plastic, with the addition of being more lightweight. Starlite discs can often be found as light as 130 grams when they would usually be around 160-165 grams in premium blends. I prefer using a lightweight Boss over other heavier drivers since this disc will move extremely fast when it's light.
The lightweight discs made from StarLite plastic can be a great option to use, but they struggle to stay flat when being thrown in fast winds.
EchoStar – EchoStar plastic is soft and has a better grip than the standard Star plastic. It's also produced with between 50 and 100 percent recycled plastic to help reduce waste.
Champion – For hundreds of rounds of disc golf, Champion Line discs retain their original flight characteristics. The DX, Pro, or Star version is sturdier than the Champion Line model because of its stronger plastic.
Blizzard – Blizzard plastic is a mix between the original Champion plastic and micro air bubbles. Adding more air inside the rim causes the disc to have the same durability while cutting down on the total weight. These lighter discs are great for newer players who want to get the same flight and distance as a heavier disc.
Pro – The Pro Line of plastic molds has a unique blend for each disc model. Compared to DX plastic, Pro is more durable and provides more grip for the player. It's one of Innovas most affordable and popular plastics.
R-Pro – R-Pro plastic is designed for bad weather environments like rain or cold temperatures. Discs made with this mold are soft and grippy, which makes them easier to throw and control in those bad conditions.
DX – For Innova, the DX line can be found for almost every one of their disc models and available weights. This is their most affordable plastic and has excellent grip in the majority of conditions. Discs made in DX plastic are much less durable and can become damaged from hitting trees or other obstacles.
Boss Weights
The Boss can be found with a minimum weight of 130 grams and a maximum weight of 175 grams.
Pros of the Innova Boss
The Boss feels great in the hand and can be comfortably thrown both forehand and backhand.
There are a lot of different plastic molds that you can find the Boss available in.
Players with less arm speed can get a lightweight boss and still throw it for maximum distance.
Where Can You Find the Innova Boss?
Although the Boss can be found at most of your local disc golf shops, I also recommend checking out these online shops.
They have plenty of disc options and unique images of each individual disc that you can sort through, look at, and pick.
You can find plenty of options for brands and plastics right on the Amazon site.
Related Discs
Check out these similar discs to the Boss and read through my full reviews below!
Innova Ape – The Ape is a long-distance driver with exceptional stability. Expect consistent and accurate flights from this disc. The Ape is ideal for strong backhand and sidearm players.