Known as one of the better turnover discs, the Innova Archangel gives any player maximum distance throws. It's one of the easier drivers to throw, and even new disc golfers with less power will be amazed at how far they can drive with the Archangel.
I wanted to write this Archangel disc review to help other players learn the best throws, benefits, weights, and plastics to use on the course.
Overview of the Innova Archangel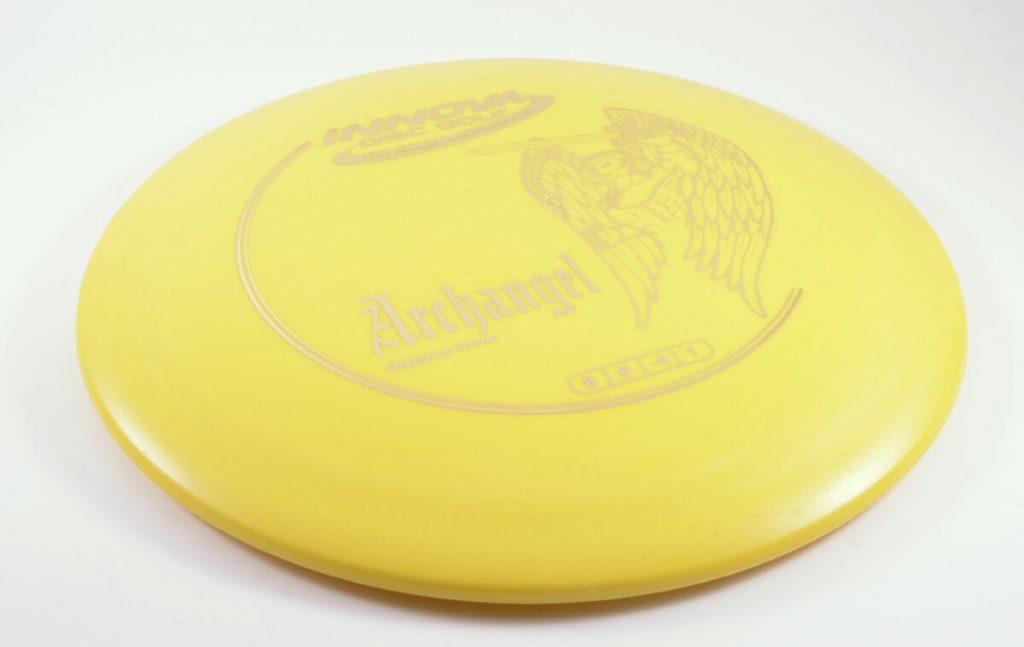 My first impression of the Archangel was that it had a surprising amount of glide for such a slower-moving disc. It shows an Innova rating of 6 for glide, and it's great at carrying and continuing to fly down the fairway.
Another reason I recommend this disc to beginners is because it doesn't have a lot of fade. It's easily controllable so that you don't have to worry about your throw strongly moving away from the basket as it slows down.
For more experienced players, they might enjoy using the Archangel as a roller disc, since there is a high amount of turn and understability on the disc. A little bit of practice and angle control goes a long way at getting the Archangel to do any type of throw that you want.
Innova Archangel Specifications
Flight Ratings: 8 Speed, 6 Glide, -4 Turn, 1 Fade
Plastics: DX
Weight: 150-175g
Stability: Understable
Fade: Minimum
Primary Use: Fairway
Skill Level: Beginner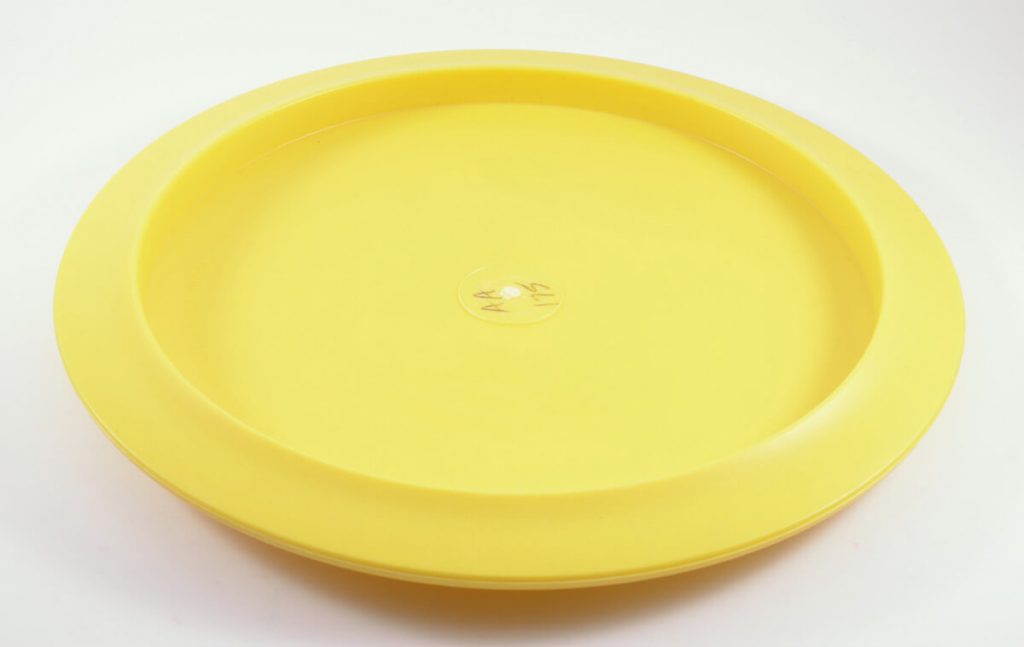 Innova Archangel Features
Plastic Types
You can find the Archangel in only one of Innova's plastic molds, the DX Archangel.
DX – The DX line is available for virtually every disc model and weight at Innova. This is their most cost-effective plastic and provides outstanding traction in the majority of situations. In comparison to other plastics, discs manufactured with DX plastic are significantly less robust and can be damaged while flying through trees or other obstructions.
Since they only make this disc in the most basic plastic, you'll often see more lightweight options ranging from 150-160 grams. You should also expect the disc to beat in pretty quickly and have a slightly altered flight, especially if you hit trees or other obstacles.
Read all about every Innova plastic grade in my complete guide.
Available Weights
The Archangel can be found with a minimum weight of 150 grams and a maximum weight of 175 grams.
Best Throws for the Innova Archangel
For most players, the best throws for the Innova Archangel are:
Anhyzer – Anhyzer throws are when the angle of the disc is pointed upward where it's closest to your throwing hand. After being thrown, the disc will continue to fly on the release angle, before it starts to slow down and fade to the opposite side.
Roller – The understability of the Archangel makes it an easy disc to turn mid flight and turn into a roller disc. More experienced players can control the nose angle on release to get a fast-moving roller throw.
Glide – When you need a lot of distance on your throw, having a disc with maximum glide is important to get that extra distance. The Archangel has a 6 glide rating, which is the maximum amount and lets the disc glide down the fairway without as much power behind the throw.

Archangel Stability and Turn
Understable discs are significantly more speed sensitive than stable or overstable ones. An understable disc will often fly level to overstable at low speeds. Newcomers frequently throw discs at slower speeds which causes them to be more stable.
Which Players Should Use the Innova Archangel?
Most fairway drivers are easier to control and throw when compared to distance drivers. They don't require as much speed, and a lot of these discs have maximum glide numbers to help get that extra distance when throwing on the fairway.
These are the major benefits of using a fairway driver:
Slower speeds that make it easier to throw for newer players or players with less arm speed and power.
More control and accuracy with less huge fade during the flight.
This disc is designed for players of all levels, meaning you should have no trouble throwing it even if you're new to disc golf. Beginner-friendly discs are easier to aim, control, and throw for newer players when compared to the other difficulty levels that you can find.
Where Can You Find the Innova Archangel?
My preferred place to look for certain disc golf discs like the Archangel is at any local disc golf shop in my state. If I can't find the disc in-store, there are two online shops that I always prefer to shop at.
They have plenty of disc options and show unique images of each individual disc that you can sort through, look at, and buy.
You can find plenty of options for brands and plastics right on the Amazon site.
Discs Related to the Archangel
Check out these similar disc golf discs to the Archangel and read through my full reviews below!
Innova TL3 – The Innova TL3 is a stable driver that was created after the popular Innova TL.
Innova Dragon – One of the lightweight drivers from Innova that has grippy plastic and floats in water.
Final Review
This Archangel review was all about my experiences using the disc and anything that I thought would be important for other players to know.
It's not the most popular fairway driver from Innova, but it's a great disc for getting easy distance and accurate approaches towards the basket,