Are you trying to find the best disc golf courses in Maine?
There are over 80 amazing disc golf courses in Maine that it can be hard to compile a list of the best ones. I've played a handful of rounds on many of the courses in the Northeast, and have enjoyed the unique holes from each one.
Here are the top ranked disc golf courses in Maine according to locals and online ratings.
Sabattus Disc Golf
Devil's Grove
Bittersweet Ridge
Pineland Farms
Acker's Acres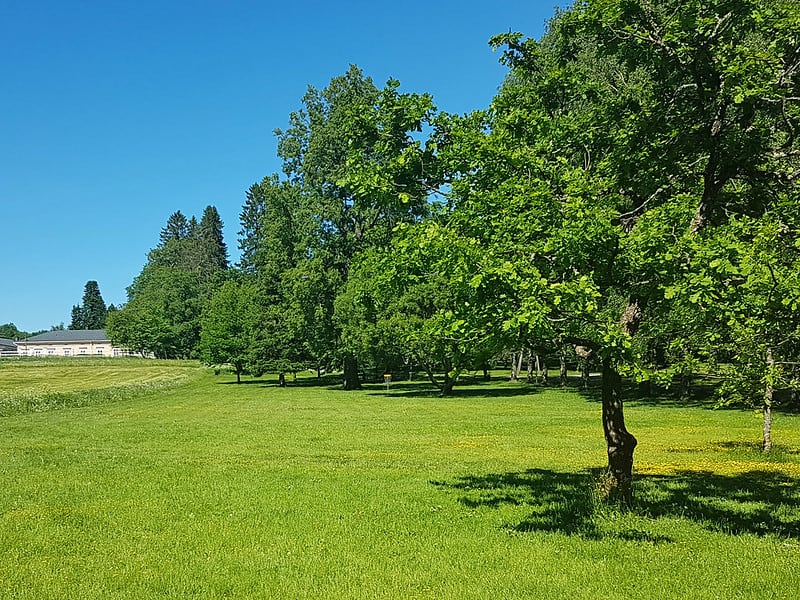 Sabattus Disc Golf
At Sabattus you'll find three full 18-hole courses and one 9-hole course that's perfect for beginner disc golfers. The three large courses are the Hawk, Falcon, and Eagle, with the difficulty going from easiest to hardest.
All three courses receive maintenance frequently and have no problems with long grass or overgrown bushes. My favorite part about playing at Sabattus is that there's a good mix of harder holes in the woods and more open shots on the course.
There are a few holes where water comes into play, so be sure to take your time and bring your best disc golf retriever just in case!
There's also an amazing pro shop directly next to the courses, where you'll find a huge variety of discs, bags, apparel, and other disc golf gear.
Overall Rating: 4.8/5
Courses: Hawk, Falcon, Eagle
Location: Sabattus
Website: sabattusdiscgolf
Devil's Grove
If you're looking for a technical course with a good variety of shots, the Devil's Grove might be the most fun and best option. Across the 45 acres, there are two full 18 hole courses, the Demon and the Devil.
It might be surprising, but the original course on the premise was actually the Demon. Between the two options, it's the more technical and difficult one, especially since it features more wooded holes and elevation changes.
The second course, the Devil, is more popular and partly because it features more open fairways with beautiful views all around. One nice feature is the three different tee pad locations that are supported on this course.
Blue – For the more advanced players who want a challenging round. It's the longest and hardest layout available at Devil's Grove.
White – The white layout is designed for players of all levels. It's technical enough to keep more experienced players entertained while providing a good improvement goal for newer disc golfers.
Red – Built mainly for beginners, the red layout is made entirely of par 3 holes. Most of the holes are short enough to throw exclusively putters and midranges.
Devil's Grove also has a nice looking pro shop on the site where you could pick up some new discs, or snacks and drinks before the round!
Overall Rating: 4.4/5
Courses: Demon, Devil
Location: Lewiston
Website: Devil's Grove
Bittersweet Ridge
Like most of the courses on this list, Bittersweet Ridge comes with two 18 hole courses that offer different experiences depending on the skill level of those playing.
The first course is called the North side, and it's known as an advanced level course that beginners would struggle to play. My favorite part of playing this side is how different most of the holes are. One teepad will have you throwing technical shots through the woods, while the next lets you bomb an open shot towards the basket 500+ feet away.
Bittersweet Ridge South is the more technical of the two, with most baskets being located somewhere in a wooded area. It starts out easier on the front 9 but gets more challenging once the elevation changes come into play on the last 9 holes.
The sweet side (south) is the better option for players of all skill levels, has shorter holes, and alternative pin positions on certain holes.
Overall Rating: 4.4/5
Courses: North Side, South Side
Location: North Yarmouth
Website: Bittersweet Ridge
Pineland Farms
If you're looking to play a very long and difficult course, then consider visiting either of Pineland Farms disc golf courses. It's open all year long so you can even enjoy playing disc golf in the snow if you go throughout the winter months.
The first course on the farm is The Patriot which covers much more distance than the Minuteman. Playing an entire round will cover over 7,000 feet, different terrains, and nice views of the surrounding areas including Campus skiing trails.
For those disc golfers who want a shorter but challenging course, you should definitely spend your afternoon at the newest course, the Minuteman. It's around 4,000 feet from hole 1 to the end and was designed with newer players in mind. This course has a good mix of shot types, going through tight wooded areas and open fairways.
Overall Rating: 4.7/5
Courses: Patriot, Minuteman
Location: New Gloucester
Website: Pineland Farms
Acker's Acres
Acker's is one of the most beautiful looking courses in Maine. It's well maintained, has nice looking signs, and a good variety for all disc golfers.
There are two official courses, Wicked and Twisted, although a lot of people play the Dirty 30, which is a combination of 30 holes from both courses. The Wicked course stays in the woods for the majority of holes and finishes off with a short par three over a pond going back towards the parking lot.
The Twisted is the second course and features a few of their longer holes on the course. But, just like the other course, there are plenty of technical shots that will require precise aiming to stay anywhere close to the fairway.
Overall Rating: 4.6/5
Courses: Wicked, Twisted, Dirty 30
Location: Bowdoinham
Website: Acker's Acres