Having comfortable and good-looking clothes can make all the difference in playing your best round of disc golf. Over the last few, years there's been an increase in the available apparel items designed for disc golfers.
Here are some great options if you're looking for disc golf clothes or other unique and comfortable apparel!
Wander Disc Golf
Circle 1 Disc
JomezPro
Diameter Apparel
Infinite Discs
I wanted to talk about my experiences buying disc golf clothing so let's take a closer look at some of the best clothing and apparel companies in disc golf!
1. Wander Disc Golf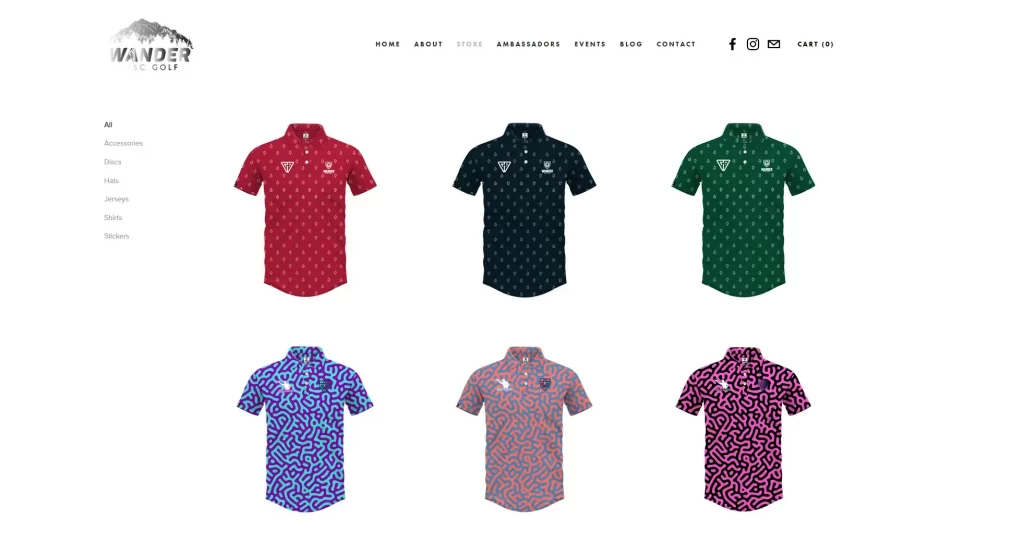 The Wander Disc Golf brand was created with passion behind disc golf as well as the beautiful scenery that you can see while playing most courses. They set out to embrace the game of disc golf with durable products that showcase the sights in the game.
Wander Disc Golf also gives a portion of their sales to the disc golf community through groups and mental health organizations.
Here are some of the apparel products that you can get from Wander Disc Golf:
Jerseys
Socks
Shirts
Hats
Patches
Stickers
Visit the Wander Disc Golf website
2. Circle 1 Disc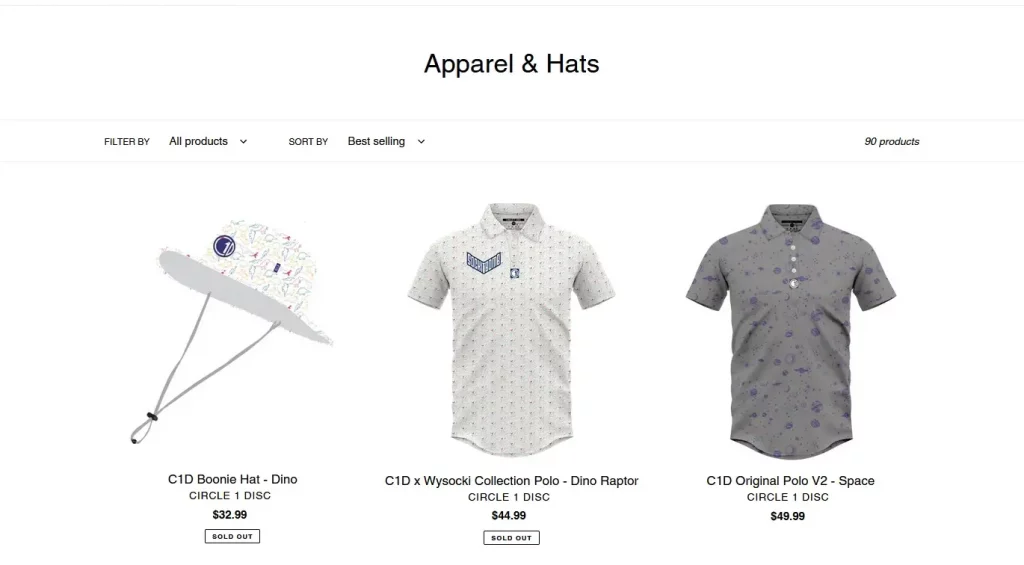 Circle 1 Disc is a disc golf apparel company that was created in 2022 and is currently operating in Maine. They have a goal of creating high-quality apparel and gear that disc golfers will enjoy using and wearing on and off the course.
Alongside their great apparel, Circle 1 Disc has a nice selection of discs from all the top manufacturers. If you're looking for custom shirts or hats for a club or tournament, they offer custom products where you can personalize your disc golf gear with logos, names, and more.
Here are some of the apparel products that you can get from Circle 1 Disc:
T-Shirts
Beanie
Hats
Polos
Socks
Customized shirts and hats
Visit the Circle 1 Disc website
3. JomezPro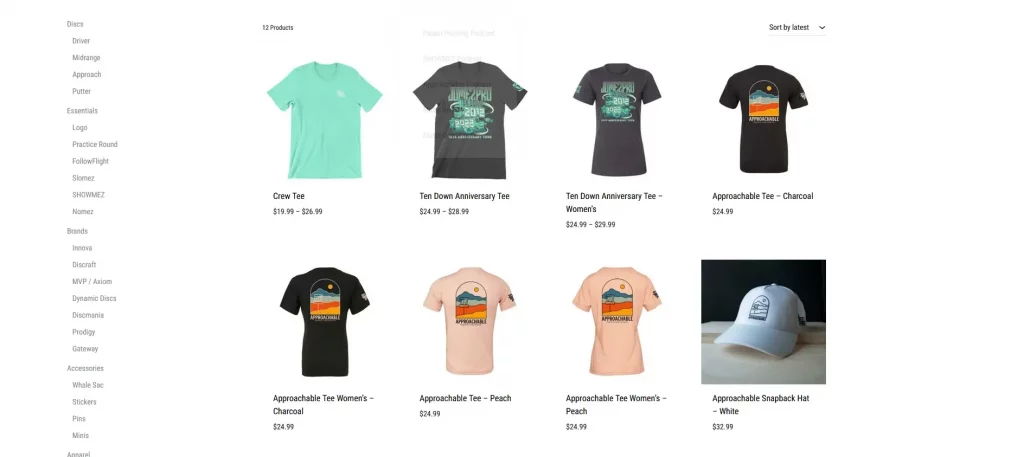 You should know the name JomezPro if you've ever watched any professional disc golf on YouTube. They're known for their engaging shots and entertaining commentary, but they also have their own apparel store.
Many of the shirts and hats you see on their coverage can be found and bought on their site, as well as special stamped and limited edition discs.
I personally love most of their designs so, if you're interested in a wide range of apparel items like jerseys, hats, and shirts, I recommend taking a look at their inventory.
Here are some of the apparel products that you can get from JomezPro:
Hats
Shirts
Hoodies
Stickers
Beanies
4. Diameter Apparel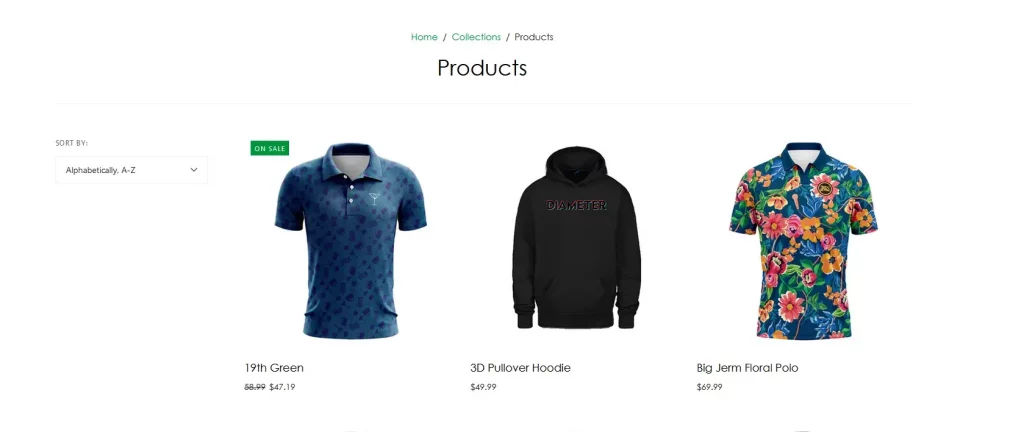 Diameter Apparel has a strong focus on creating simple apparel that makes you look and feel good while out playing disc golf. They have high-quality gear that's designed and created in North America.
Alongside their apparel items, Diameter supports many local disc golf clubs as well as touring professional players. Besides their stylish clothing, I appreciate that they also support and donate to sustainable and conservation programs.
Here are some of the apparel products that you can get from Diameter Apparel:
Polos
Hoodies
Tees
Jerseys
Visit the Diameter Apparel website
5. Infinite Discs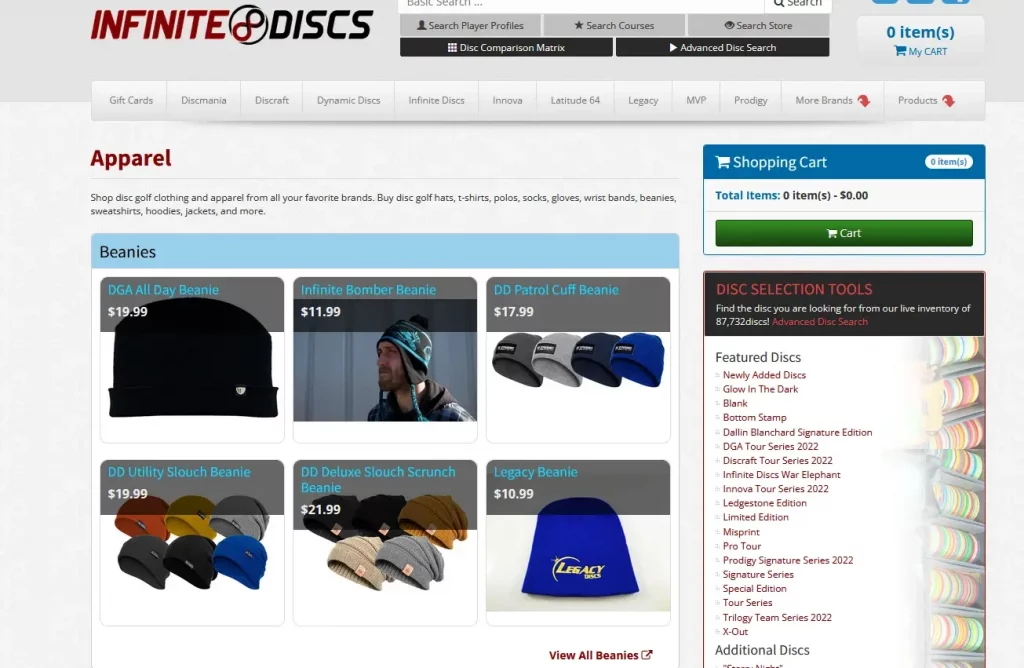 One of my favorite places to buy discs, Infinite Discs, also has an online store full of some unique and quality apparel items. This brand was founded back in 2012 and had provided disc golfers around the world with the best discs and apparel around.
Just off the top of my head I know they sell shirts, hats, beanies, jackets, wrist bands, and plenty more. Located in Utah, they ship discs and apparel to any of the states and many other countries.
Here are some of the apparel products that you can get from Infinite Discs:
Beanies
Hats
Shirts
Pants
Socks
Shorts
Visit the Infinite Discs website
Conclusion
This list of apparel companies just scratches the surface for disc golf. I've heard of many other stores with great apparel that I haven't gotten around to trying out yet.
The great thing about disc golf is that it's constantly growing and introducing new apparel companies and brands every year.
So, if you can't find what you're looking for, there's a good chance somebody will be working on introducing it as soon as possible!