Have you ever searched all over for a new disc but had no luck? If you're interested in the best place to buy disc golf discs online then you're in the right place!
Not everybody has a local shop to get new disc golf gear, but thankfully there are plenty of online disc golf stores that help to solve that problem.
In the list below I'll be covering the best disc golf websites and why each one made the list as well as a link out to the site.
So, let's dive into my guide of the best disc golf shops that you can find online!
5 Best Online Disc Golf Stores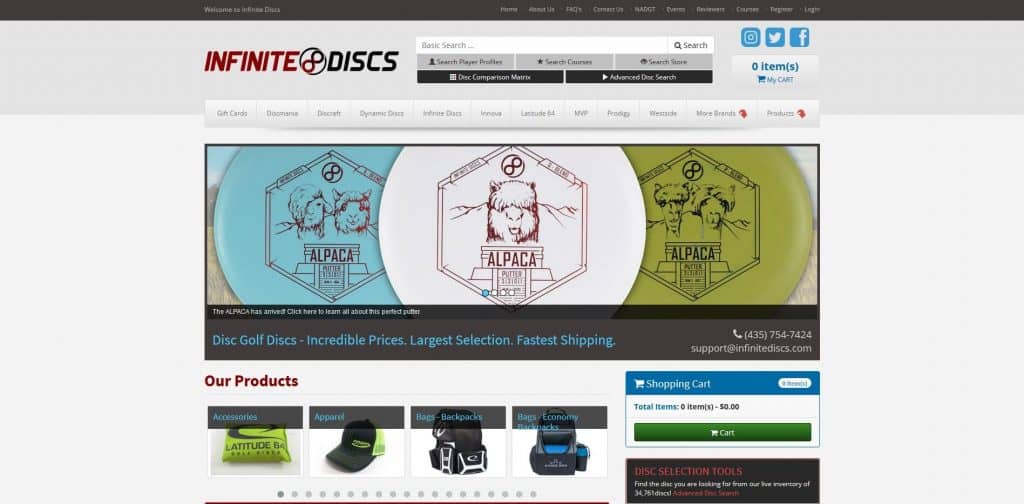 Infinite Discs is one of the best and most popular online disc golf stores that you can find. They offer discs from every brand and have all of the gear that's needed to play disc golf.
One amazing feature is that they have actual pictures of every disc offered in the store so that you can see every color and weight option. They also have a ton of information available like customer reviews, pro reviews, and flight paths for every disc golf mold and plastic.
This store has outstanding customer service, same day processing and shipping, and some of the lowest prices available. Whether you're looking for a specific disc or some other disc gold equipment, Infinite Discs is the first store that I would check.
Gear They Sell:
Discs
Hats & Caps
Bags
Bag Essentials
Carts
Baskets
Website: Infinite Discs
2. Sabattus Disc Golf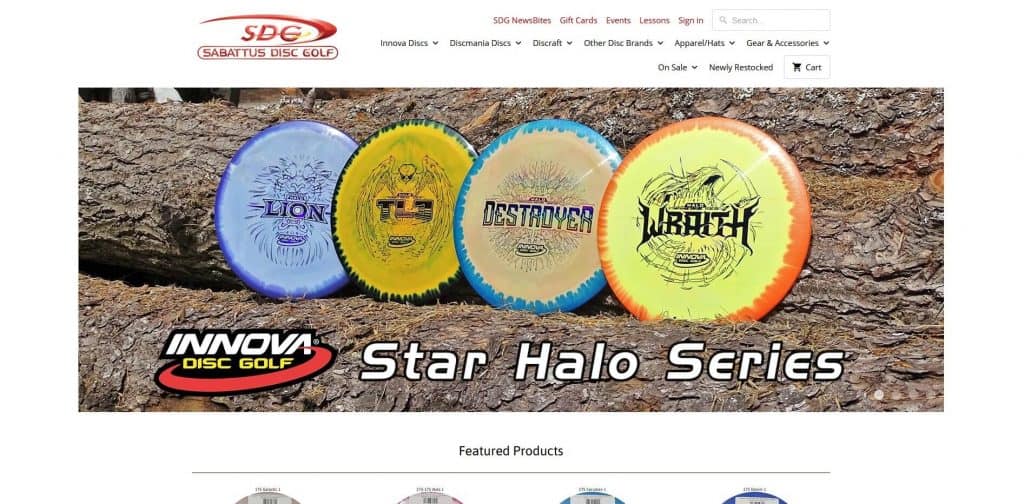 The Sabattus Disc Golf store has one of the largest varieties of items available to buy. From the newest pro series disc to the highest quality bag or cart, this is the site that will have it first.
They do offer same day processing and shipping if the order is placed before 3pm EST. Their shipping rates are very affordable even if you order a large number of discs at once.
You can sign up on their website to view your previous orders and order status, and can even email or call them for any questions about your order. They have great customer service and a very generous return policy if you feel like the quality of the equipment you received isn't good enough.
Gear They Sell:
Discs
Hats & Caps
Bags
Bag Essentials
Carts
Baskets
Season Pass
Gift Cards
Website: Sabattus Disc Golf
3. OTB Discs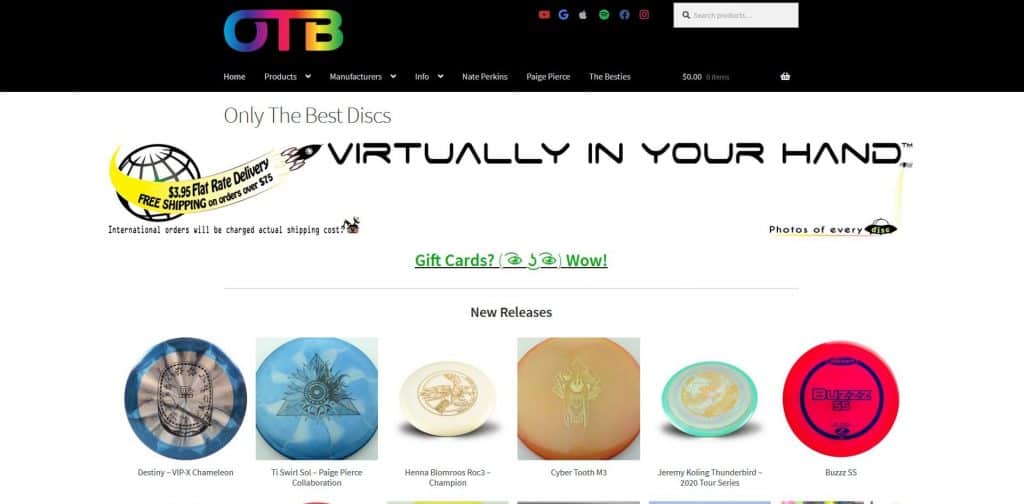 Just like with Infinite Discs, OTB discs makes sure to show photos of every disc on the site. It's a huge benefit to offer if you're looking for specific colors or stamps when shopping for a disc.
For each specific disc, they tell you the weight, flatness, stiffness, and the quantity that are in stock. This can be nice if you're a player who wants a very specific feel for every disc in their bag.
If you're a newer player or just trying to find some new discs to try, you'll appreciate the filtering that they have built-in. You can narrow down their options by brand, speed, glide, or many others to help find the perfect disc for your play style.
Gear They Sell:
Discs
OTB Apparel (shirts, hats, belts)
Brand Top Sellers
Gift Cards
Website: OTB Discs
4. Disc Golf Center
On the Disc Golf Center site, all of the top manufacturers like Innova, Discraft, and Discmania are listed and can be bought. They even list categories for Ultimate Disc Golf and Dog Discs if you're looking for something that's a little bit different.
They have one of the largest online stores for disc golf apparel, offering shirts, hats, hoodies, and beanies. Find your favorite new shirt or towel to bring out to the disc golf course or to show off during an upcoming tournament.
If you plan on ordering a large amount of disc throughout the year, sign up for their customer rewards program. When you sign up you'll receive discounts on your future purchases and can level up your account to get a higher percentage off.
Gear They Sell:
Discs
Disc sets
Bags & Straps
Baskets
Minis
Apparel (shirts, hats, hoodies)
Accessories (books, bottles, towels, led lights)
Website: Disc Golf Center
5. Marshall Street Disc Golf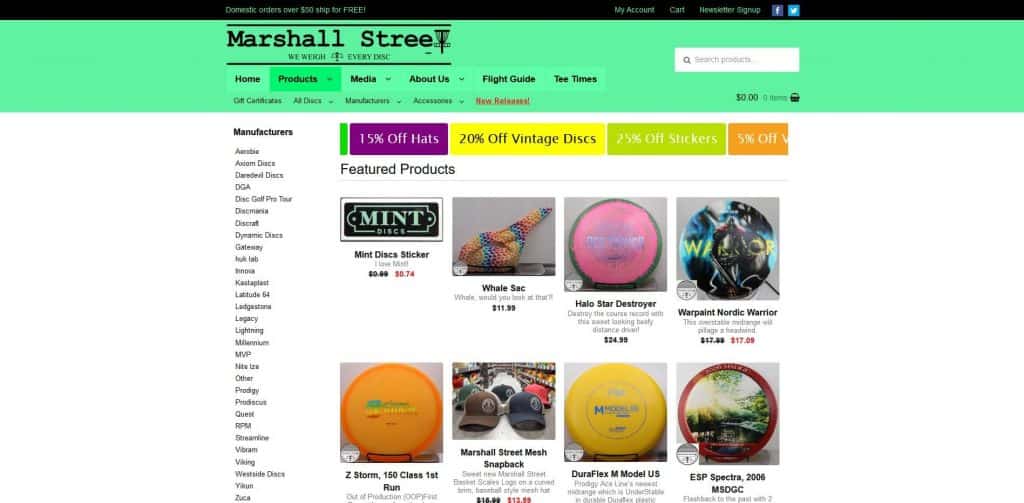 Marshall Street offers a huge amount of discs and different disc types. For this site, you can find newly released discs, vintage discs, recycled discs, and every other type of disc that you could think of.
When looking at their site you'll see for every disc they break them down into color, size, and weight. This means that when you pick out a disc to buy, you'll be shipped that exact disc that was shown on the site.
On top of the discs that are listed on the store, there's an interactive disc golf flight chart that they show on their website. It's a very useful guide that lets you click on a disc and get more detailed information and find out how the disc will fly when thrown.
Gear They Sell:
Discs
Bags & Straps
Baskets
Minis
Accessories (towels, stickers, patches)
Gift Certificates
Website: Marshall Street Disc Golf
6. 1010 Discs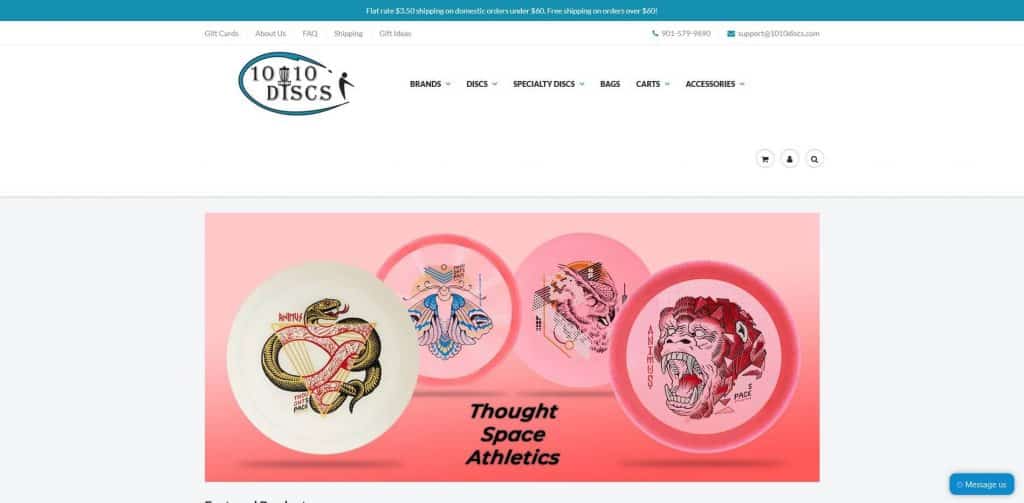 Like all of the sites above, 1010 Discs has a great variety of discs, equipment, and accessories. They have great customer service with good knowledge about each disc and can help you figure out what to get if you're unsure.
Any type of gear or equipment that you might need to play disc golf can be found on this site. For shipping, most of the orders are processed within 1 business day and are usually shipped out first class so that you'll receive your purchase very quickly.
Gear They Sell:
Discs
Mystery Boxes
Ultimate Discs
Bags
Baskets
Carts (Zuca, Rovic)
Accessories (retrievers, grip bags, towels)
Gift Cards
Website: 1010 Discs
7. Gotta Go Gotta Throw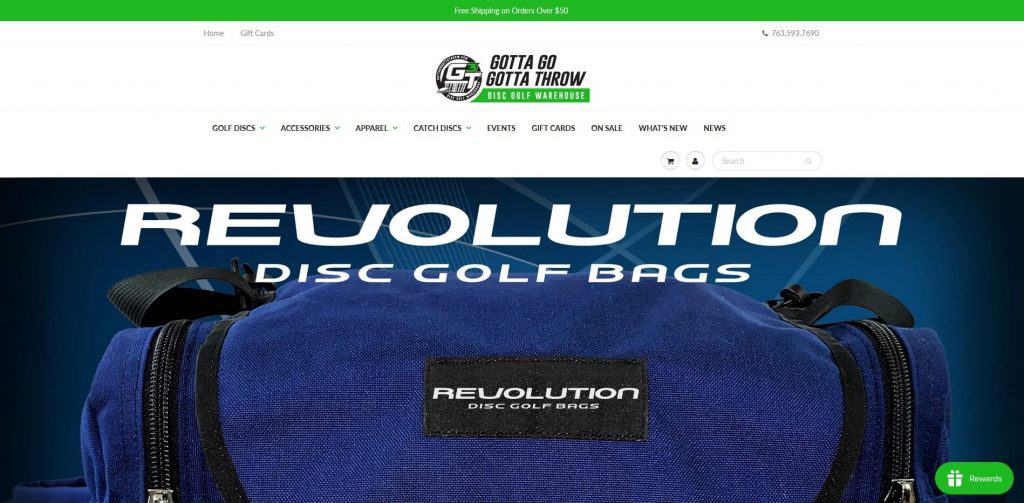 If you're looking for new releases or the chance to pre-order discs, check out the site for Gotta Go Gotta Throw. Along with the newer discs that they offer, you can find plenty of factory second discs that are cheaper and great alternatives if you want to test out a disc.
They have every type of disc golf accessory on the market, from key chains all the way to mini baskets. There's also a clearance section where you can find some good deals on apparel or other disc gold gear.
Gear They Sell:
Discs
Bags
Carts
Apparel (hats, shirts, jackets, shoes, socks, gloves)
Accessories (bag tags, bottles, towels, key chains)
Gift Cards
Website: Gotta Go Gotta Throw