Disclaimer: As an Amazon Associate I earn from qualifying purchases.
There are certain accessories for disc golf that can help improve your game and give you a better experience with the sport. Whether it's a product that helps you improve your game or just makes for a better disc golf experience, there's a reason the bags have so many additional pockets!
To help with all disc golfers, whether new or experienced, I put together a list of what I consider the must have disc golf accessories. I'm sure a few of these you might own or have heard about before, but these are the items that I always carry around with me while playing disc golf.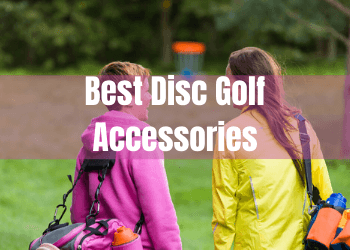 Quick Answer: The best disc golf accessories are:
Stool
Net
Disc retriever
Grip enhancer
Water bottle
Towel
Mini disc
Disc Golf Accessories Comparison Table
| Image | Name | Info | Link |
| --- | --- | --- | --- |
| | Disc Golf Stool | A small stool for taking a break during tournaments or while others throw. | |
| | Disc Golf Net | The perfect accessory for working on your technique and throwing form. | |
| | Disc Retriever | Never again struggle to get your lost disc out of water or a tree with a simple disc retriever. | |
| | Grip Enhancer | Having a grip enhancer or chalk bag will give you a better grip on your disc no matter the condition. | |
| | Water Bottle | Keep your water or other beverage ice-cold for hours at a time with an insulated water bottle. | |
| | Towel | Whether you're cleaning off a muddy disc or wiping away water, having a towel in your bag is a game-changer. | |
| | Mini Disc | Not everybody uses a mini to mark their disc position but it can be very useful to have and is easy to carry around. | |
Top 7 Best Disc Golf Accessories
1. Disc Golf Stool
Having a stool is a major game-changer and most disc golfers could benefit from carrying out around. If you play in tournaments or more serious rounds, you're bound to see other players sitting on stools throughout the day.
There are a lot of courses in the world that have a lack of seating, so even if you don't participate in tournaments you'll be glad to have a place to sit. Taking a break and relaxing your legs can really help with fatigue and can improve your throws on later holes.
Pros
Always have a place to sit and take a break
Easy to carry around
Comfortable and lightweight
Cons
Takes up space in your bag or cart
Final Verdict:
While waiting for other groups to throw, why not take a short break and pull out your comfortable chair? This stool has great support and is comfortable for those slower disc golf rounds.
---
2. Disc Golf Net
When I picked up a net for disc golf I noticed an almost immediate improvement in my throwing form. It's easy to work on and perfect your technique when you can go to your backyard and practice whenever you want.
Even though it's not an accessory that you can fit in your bag it's one that will help improve your game. Make sure to choose a net that's wide enough and sturdy to fully withstand a full-speed drive. I've been using the disc golf net above,
Read a full review of the best disc golf nets here.
Pros
Always have a place to practice your drives
You aren't able to see the flight of the disc
Rapid-fire drives to work on throwing technique
Cons
Final Verdict:
Buying a net is the perfect way to practice your form if you don't have an open field near you to throw in. Combine a net with a basket at home and you can work on putting and throwing all year round.
---
3. Disc Retriever
Sometimes we throw a bad shot that goes way off target and end up with a disc at the bottom of the local pond. It's not always in reach so what do you do in that situation?
If you're carrying a retriever in your bag it's usually as easy as throwing it on the water and pulling out your disc! There are even retrievers that have an extended pole that can grab those discs that get stuck in trees.
Read a full review of the best disc golf retrievers here.
Pros
Small enough to fit in any bag or cart
Will save you money in the long run by retrieving your "lost" discs
Cons
Most retrievers are designed to work in the water only
Final Verdict:
If you've ever lost a disc before because you couldn't reach it then the retriever is one accessory that you'll want to invest in. It will save you from having to buy a replacement disc when one gets lost. You'll also save time since it's so much easier to actually get your disc back with the right tool.
---
4. Grip Enhancer
Sometimes out hands get sweaty or wet and it can be really difficult to get a good grip on the disc. Since it's hard to get an accurate strong throw with slippery hands, a grip bag is one of the best items you can use in disc golf.
This might not seem like something that will have a drastic change but I strongly recommend that every disc golfer picks one up to try out. They're not very expensive but the results you get from using one are huge.
Pros
Takes up very little space in your bag
Works for all kinds of situations
Good for hot weather conditions
Very budget-friendly buy
Cons
Certain bags aren't long-lasting
Final Verdict:
As all of us players know, a good grip is key when playing disc golf. Sometimes if it's hot out or even raining it can be tough to get a grip without one of these grip enhancers. Buy a small grip bag and notice the huge difference while playing!
---
5. Water Bottle
Alright, this one might seem obvious but carrying a water bottle is something that a lot of players don't do. Not only is it important to stay hydrated during a round but it can even help you play your best game.
A round of disc golf can take hours depending on how many people you play with, so choosing a bottle that will keep your drink cold is the most important factor. The Hydro Flask bottle above is my favorite since it's stainless-steel and keeps the drink cold for hours.
Pros
Keeps your drink ice cold for hours
Let's you play multiple rounds in a row
Most bags and carts have a water bottle holder
Cons
Adds a bit of weight to your disc golf bag
Final Verdict:
Upgrading to a stainless-steel water bottle makes all the difference in how refreshing your drink will be throughout the day. The perfect accessory for those hot summer days out on the disc golf course!
---
6. Towel
Just like with the grip enhancer, a towel is a must-have to keep your hands and the disc dry and grippy. There are so many situations where a towel comes in handy including wiping off sweat, cleaning a muddy disc, or drying off a wet disc.
A lot of disc golf towels come with a handy clip that can be attached right to the zipper of your bag. Otherwise, you can always store it away in a side pocket until the time comes where it's needed.
Read a full review of the best disc golf towels here.
Pros
Helpful in many scenarios
Quickly dry and wipe off your hands or disc
Attach directly to your bag or cart
Cons
The towel might touch the ground when you place your bag down
Final Verdict:
Carrying a towel around is extremely helpful and useful no matter where you play disc golf. If you accidentally toss your disc in the water or mud you'll be glad you have this accessory to use.
---
7. Mini Disc
During casual rounds, a lot of players keep their driver or another disc on the ground and then throw or putt it from that spot. There's nothing wrong with that but I do prefer to use a mini disc for a few reasons.
Once you get in the habit of placing your mini on the ground, it helps you build a routine for when you're putting. It can help you zone in mentally and let you focus on your putt instead of where your feet are set.
Pros
Helps build a consistent putting routine
Very small and takes up no space
Cons
Can be easily forgotten or lost
Final Verdict:
A mini marker is the smallest accessory that actually gives a ton of value. They aren't very expensive and you can usually buy a bundle of 3 or more at once. You can even get slightly closer to the basket when you use a marker for putting!