A lot of disc golfers underestimate the importance of a good throwing putter, and two of the best options from Innova are the Pig and the Rhyno.
I've had practice throwing both of these discs, and I want to share my experiences to help you figure out which disc is better for your game.
If you're interested in learning more about the differences between the Innova Pig and Innova Rhyno, check out the detailed guide below!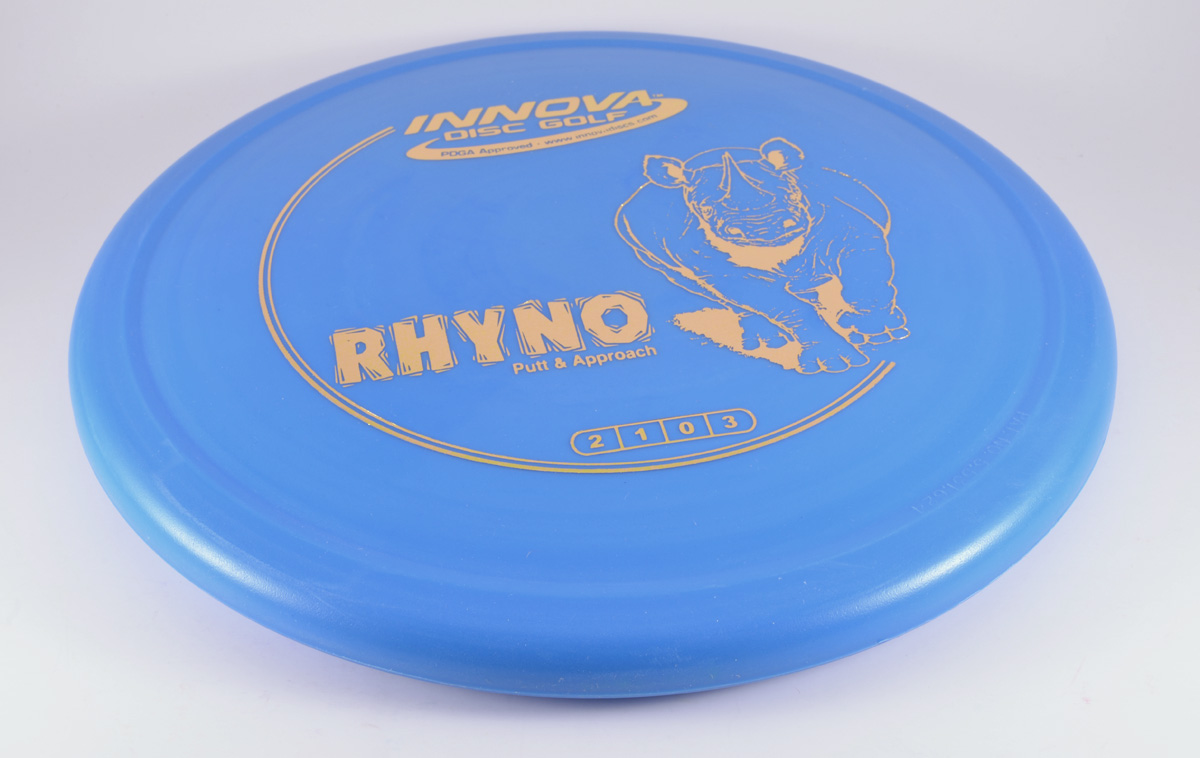 Innova Pig vs. Rhyno Comparison
Here's where I'll break down everything you need to know about each disc, including the similarities and differences that are most important.
Flight Ratings
| | | | | | |
| --- | --- | --- | --- | --- | --- |
| | Speed | Glide | Turn | Fade | Stability |
| Pig | 3 | 1 | 0 | 3 | Overstable |
| Rhyno | 2 | 1 | 0 | 3 | Overstable |
Disc Design
Here are the dimensions that you can expect from both the Pig and Rhyno.
Pig – Diameter of 21.2 cm, Height of 2.1 cm, Rim Depth of 1.4 cm, Rim Width of 1.4 cm
Rhyno – Diameter of 21.3 cm, Height of 1.9 cm, Rim Depth of 1.3 cm, Rim Width of 1.0 cm
The biggest differences for dimensions are the height and rim width for the Pig. Knowing the width of the rim is important since it has a huge impact on how the disc feels in your hand.
Discs with wider rims are usually faster but can be more difficult to control and get a clean release for newer players. This is also apparent when throwing one disc after the other, as the Pig is much faster when being thrown.
Another note about comfort, the Rhyno is beaded while the Pig is beadless. Most players that I've talked to have a preference for using one over the other. If you don't find beaded discs comfortable to throw, I would recommend sticking with the Pig which feels great to grip.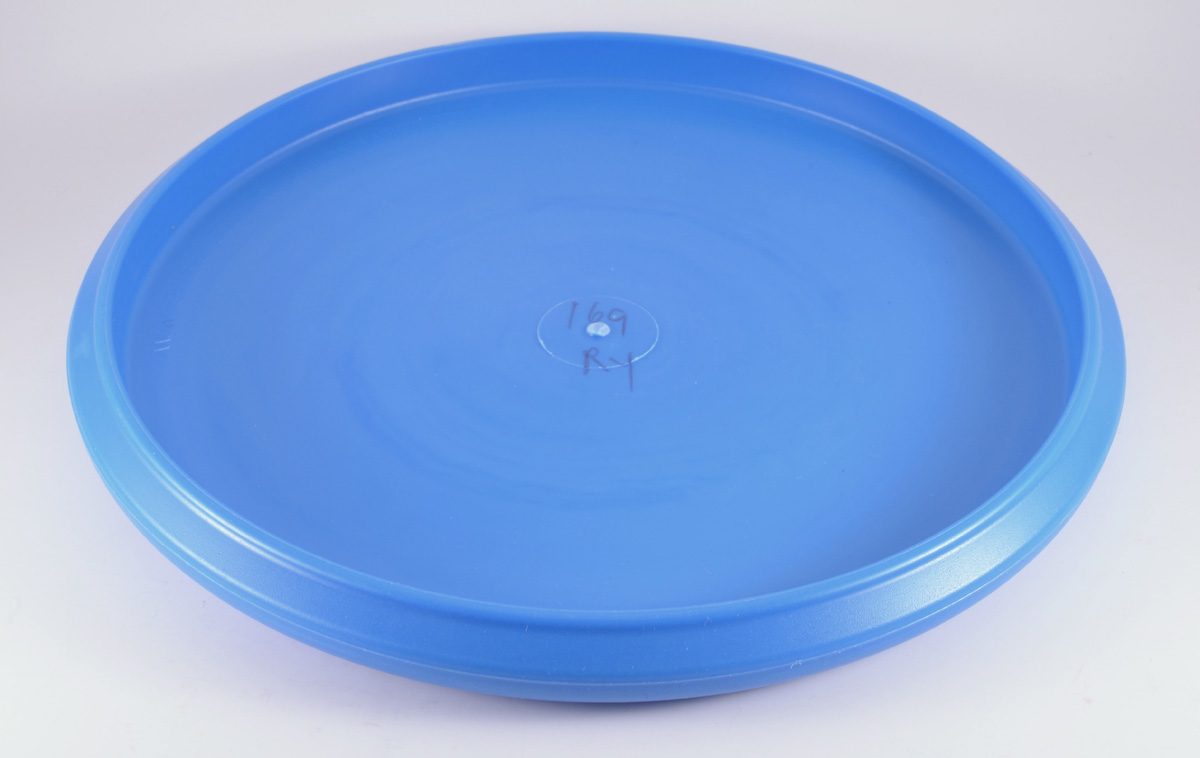 Max Weight
Both discs have a maximum weight of 175 grams, even though they're sold in different plastic molds. Although the Pig and Rhyno are often bought at the weight of 175, only the Rhyno is available in weights below 170.
Innova manufactures the Rhyno from 150 to 175g, while the Pig is only made from 170 to 175g.
Available Plastics
The reason the Pig is only offered in one weight range is because it only comes in one type of Innova plastic. If you buy an Innova Pig it will be made with their R-Pro plastic, which is softer and offers more grip than their premium plastic.
On the other hand, the Rhyno can be found in five different plastic molds. Each one has its own range of weights and will fly differently in certain conditions.
Here's every plastic that's available for the Rhyno:
DX: 150-175g
R-Pro: 160-175g
Star: 170-175g
GStar: 165-175g
Champion: 160-175g
You can find out more info on each plastic type by Innova here.
When to Throw Each Disc
Both discs are classified as "Putt & Approach" discs, meaning they're great for short controlled throws. Although they are putters, they're mainly used as throwing putters and not for taking putts. They have more fade and less glide than the typical putters that disc golfers use.
One of the best selling points for the Pig is how reliable it is for short throws and approach shots towards the basket. It's pretty overstable so it can be thrown hard without the worry of losing your disc mid-flight.
My favorite way to throw the Pig is when I'm within 100 feet to the basket and am trying to throw a low forehand that will softly land. Since the Innova Pig doesn't have a lot of fade it should land cleanly and not skip or roll around when it slows down.
If you're throwing in windy conditions on the course, I prefer to use the Pig over the Rhyno since it holds the line better when the wind picks up and sticks to the landing zone.
For short to medium distance throws, the Rhyno excels at flying straight towards the target. It's a good disc for players with a lot of throwing power who want to cut through any headwinds.
Just like with the Pig, the Rhyno is great at stopping as soon as it hits the ground which makes it easy to hit your intended target. One thing that I'll mention is that the Rhyno is harder to throw with sidearms when compared to the Pig. It has plastic that's soft and flexible, but can be difficult to control and release on forehand throws.
When it comes down to it, I find myself throwing the Rhyno when I need more distance and a full flight. The Pig comes out of my bag when I am approaching the basket and need a shorter flight that will land flat to the ground.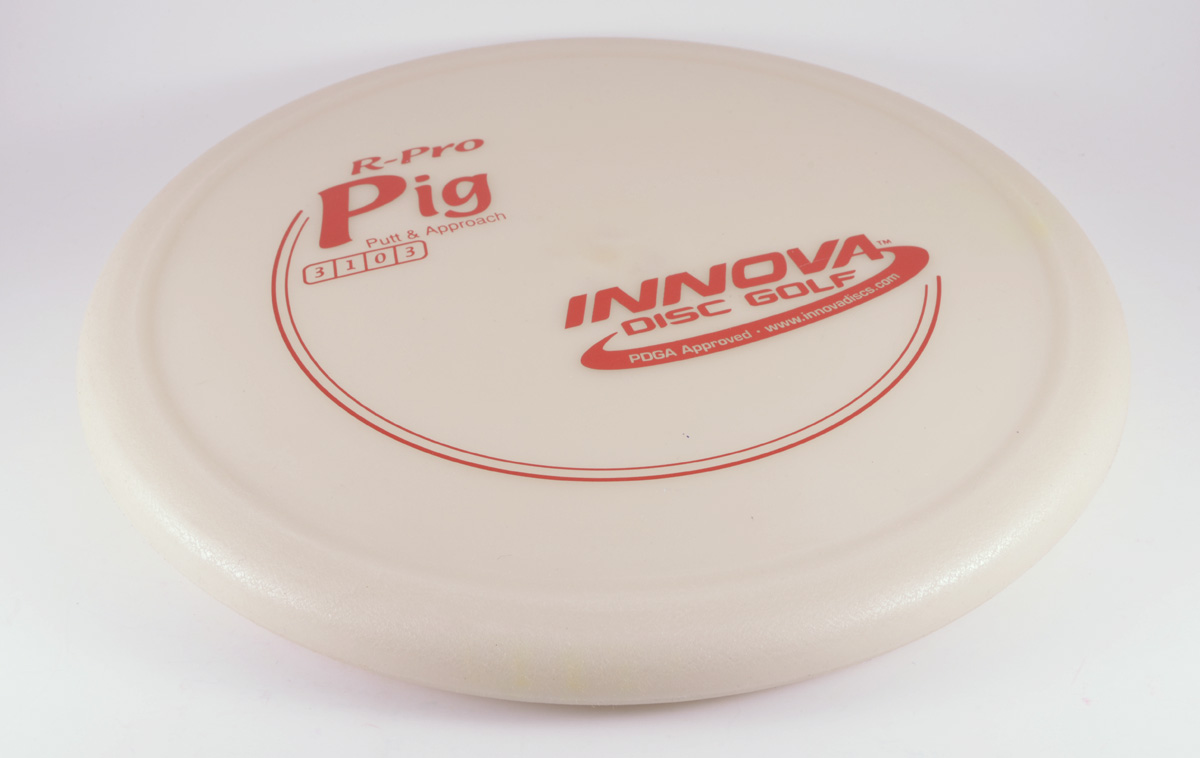 Required Skill Level
The great thing about both discs is that they work well for players of all levels. Even if you're a completely new disc golfer you'll be able to decently control either putter when throwing. It also helps to start out with slower discs to improve your throwing technique and form.
Between the two, the Rhyno is the more advanced disc, especially since experienced players can shape their more difficult shots with it.
Final Thoughts
When comparing the Innova Pig and Rhyno, the main differences to note are the max weight, plastic types, and when each disc should be used. Each Innova putter has use in most players' bags and can improve their short game and total scores.