The Innova XCaliber is an extremely fast distance driver that's designed to move quickly and glide consistently down the fairway.
It's an overstable disc that provides any disc golfer with a huge amount of shot types from power to finesse.
In this review, I'll be going over my experiences throwing the XCaliber including what I love about the disc and other important factors you should know.
Quick Review of the Innova XCaliber
Flight Ratings: 12 Speed, 5 Glide, 0 Turn, 4 Fade
Weight: 170-175 grams
Stability: Overstable
Skill Level: Advanced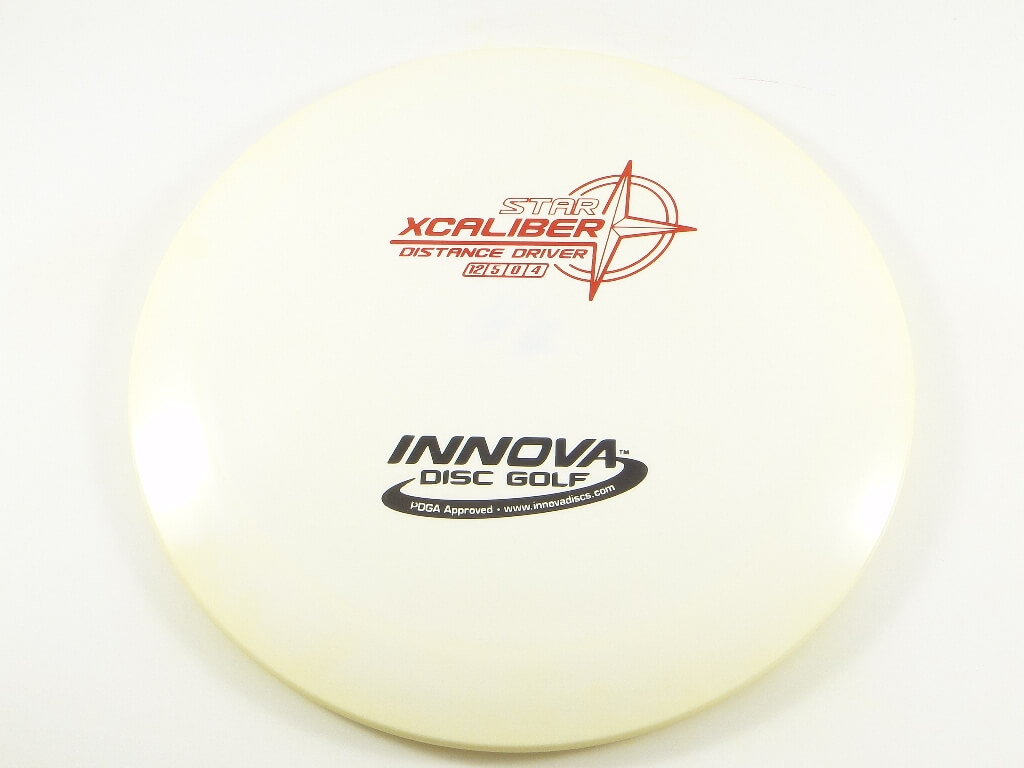 Who Is the Innova XCaliber For?
This driver is designed for players with a high arm speed who want to reach out further with their throws. If you can throw distance drivers with a speed of 11 or 12 on a regular basis, learning to throw this disc should not be difficult.
These are the major benefits of using a distance driver:
Getting closer to the basket on long distance holes
Designed with more speed, glide, and flexibility in shot types
This disc is more advanced and is generally intended for players with a lot of experience. They're typically harder to control the angle and speed of so that the disc doesn't turn or flip during flight.
When Should You Throw the XCaliber?
The best throws for the Innova XCaliber are:
Headwind – This disc performs well when throwing into a headwind situation. Headwinds are when the direction of the wind is pushing toward you and your disc. This causes the disc to be less stable and usually lifts the disc slightly. When there's a lot of wind, overstable discs are great options since they aren't affected as much during the flight.
Power – If you have a lot of arm speed, having a disc that's built for power throws is key to staying in control. Discs that can handle a lot of power will let you go all out without having to hold back or worry about turning the disc mid-flight.
Hyzer – Hyzer is the angle of release for a right-handed backhand thrower, with the outside edge or left edge tilted downward. A disc released with a hyzer will travel to the left faster than one thrown flat. If you want your disc to go further to the left, use more hyzer (RHBH).
The stability of the disc is one of the biggest factors in determining how a disc will fly once it's released.
This disc is considered extremely overstable, meaning the flight of the disc will turn left if it's released from a right-handed backhand. More stability also means the player can generate more power behind their throw without as much risk of the disc turning over during the flight.
Since the XCaliber is so overstable, players who like to throw hard and throw fast can get away with putting any amount of spin on this disc. One of my favorite uses for the XCaliber is throwing a low and fast shot to get through a smaller gap such as trees in a wooded area.
XCaliber Plastics
The XCaliber can be found in all of the following plastic grades:
Star – Star plastic is one of the premium Innova plastics that's known for being grippy, durable, and consistent. It has the same durability as the more expensive Champion plastic and will keep its shape in both cold and warm weather.
EchoStar – EchoStar plastic is soft and has a better grip than the standard Star plastic. It's also produced with between 50 and 100 percent recycled plastic to help reduce waste.
Champion – For hundreds of rounds of disc golf, Champion Line discs retain their original flight characteristics. The DX, Pro, or Star version is sturdier than the Champion Line model because of its stronger plastic.
XCaliber Weights
The XCaliber can be found with a minimum weight of 170 grams and a maximum weight of 175 grams. Since the only plastic options for the XCaliber are premium, there are fewer available weights, especially lightweight discs.
Pros of the Innova XCaliber
The XCaliber is great at powering through or around small obstacles that are in the way.
There's a small and consistent fade that can be controlled on longer throws.
Where Can You Find the Innova XCaliber?
Although the XCaliber can be found at most of your local disc golf shops, I also recommend checking out these online shops to find the majority of Innova drivers.
They have plenty of disc options and have images of each individual disc that you can sort through, look at, and pick.
You can find plenty of options for brands and plastics right on the Amazon site.
Related Discs
Check out these similar discs to the XCaliber and read through my full reviews below!
Innova Destroyer – A comfortable and fast driver with great control and consistent fade at the end.