One of my favorite discs ever from Innova, the Thunderbird is accurate, consistent, and extremely controllable on the course.
It's an overstable 9 speed driver that any player can pick up and throw no matter what skill level they're at. If you're looking for a disc with massive glide and minimal fade, you should consider picking up the Thunderbird.
For this disc review I'd like to share with you my experience throwing the Thunderbird, including what I love about the disc and when it's most effective to use.
Quick Review of the Innova Thunderbird
Flight Ratings: 9 Speed, 5 Glide, 0 Turn, 2 Fade
Weight: 165-175 grams
Stability: Overstable
Skill Level: Beginner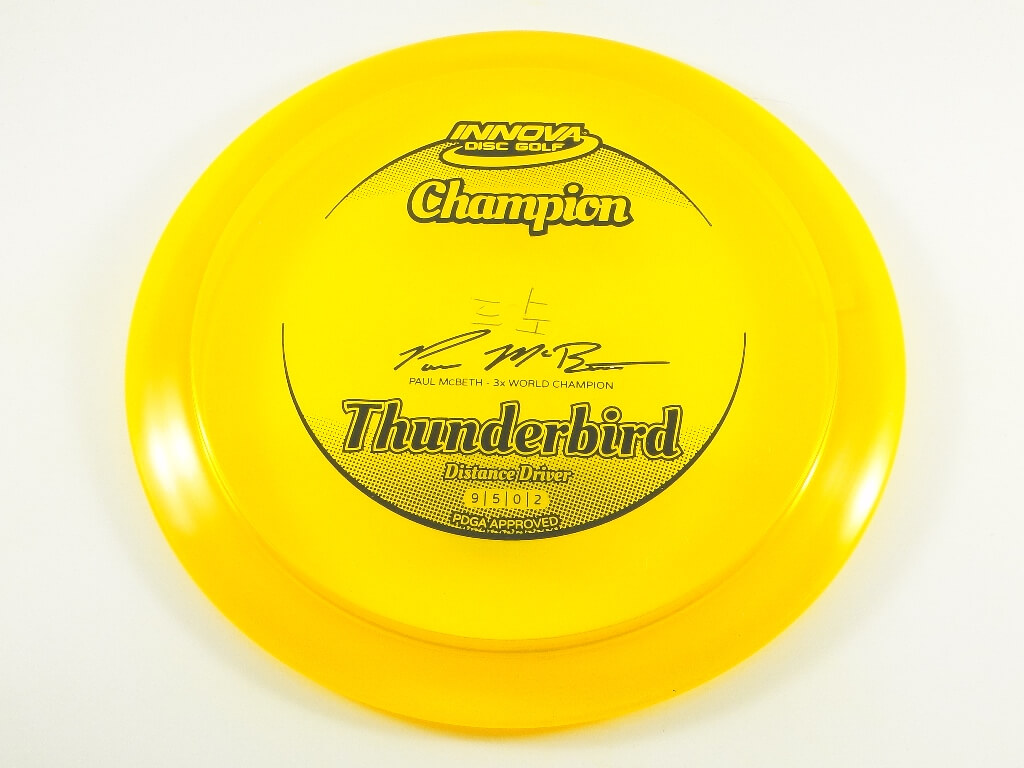 Who Is the Innova Thunderbird For?
Every player will want to move up to higher speed drivers eventually. Although the Thunderbird is a driver, it doesn't need as much speed to get a lot of distance.
Because of the larger rim on the Thunderbird, players can get a better grip and more spin to generate a longer glide and go further. For more experienced players or those who can throw far distances, distance drivers are effective at improving your game.
These are the major benefits of using a distance driver:
Getting closer to the basket on long distance holes
Designed with more speed, glide, and flexibility in shot types
Many people wonder how difficult a disc will be to throw, but this disc is designed for players of all levels, meaning you should have no trouble throwing it even if you're new to disc golf. 
Beginner-friendly discs are easier to aim, control, and throw when compared to the other difficulty levels that you can find. My first few times using the Thunderbird were when I was a newer player, and I was amazed watching the disc continue on and on down the fairway.
When Should You Throw the Thunderbird?
The best throws for the Innova Thunderbird are:
Accurate – Some discs are easier to control than others, and this one can easily be maneuvered and thrown for accurate lines and distances. You'll have no trouble keeping this disc on the fairway or heading right at the basket.
Hyzer – Hyzer is the angle of release for a right-handed backhand thrower, with the outside edge or left edge tilted downward. A disc released with a hyzer will travel to the left faster than one thrown flat. If you want your disc to go further to the left, use more hyzer (RHBH).
Straight – This disc is one that can be thrown straight at your target. Whether you're throwing through a tunnel of trees or just going straight at the basket, you'll have no problems keeping this disc on a straight line.
The stability of the disc is one of the biggest factors in determining how a disc will fly once it's released. With an overstable rating, the Thunderbird can be thrown hard and fast without much worry it won't fade back at the end.
Overstable discs like this one are also great for players who generate a lot of power as well as if you need a disc to move right to left for a right-handed backhand throw.
Thunderbird Plastics
The Thunderbird can be found in all of the following plastic grades:
DX
Pro
Star
GStar
Champion
Metal Flake
DX – The DX line is available for virtually every disc model and weight at Innova. This is their most cost-effective plastic and provides outstanding traction in the majority of situations. In comparison to other plastics, discs manufactured with DX plastic are significantly less robust and can be damaged while flying through trees or other obstructions.
Pro – The Innova Pro line is made with a higher grade of plastic than their basic mold, ensuring longer life and better performance. When comparing the durability of pro versus DX plastic, the Pro Line discs are more durable. The Pro Line discs glide farther and are less expensive than premium Champion or Star Line discs.
Star – Star plastic is one of the premium Innova plastics that's known for being grippy, durable, and consistent. It has the same durability as the more expensive Champion plastic and will keep its shape in both cold and warm weather.
GStar – GStar is a softer and less stable premium plastic than other high-end materials. It's comparable to Star or Champion plastic that has been used and beaten in before. One great advantage of GStar plastic is that it will retain its form and flight path for longer than DX or Pro discs.
Champion – The most premium and costly plastic produced by Innova is the Champion mold. It's extremely long-lasting, firm, and overstable. Discs molded in Champion plastic can withstand abuse from trees or rocks while retaining their flight characteristics. Because it is so robust, this material is less flexible and soft.
Metal Flake – The Metal Flake discs from Innova are actually made from the exact same Champion plastic. These discs are firm and long-lasting, with the only difference being the metal flecks that have been added. With the small pieces of metal, the disc will be a heavier weight and more overstable.
Thunderbird Weights
The Thunderbird can be found with a minimum weight of 165 grams and a maximum weight of 175 grams.
Pros of the Innova Thunderbird
The Thunderbird generates a lot of distance by its high glide and a small amount of fade.
It's one of the most consistent and dependable discs when looking at the flight path.
I enjoy throwing the Thunderbird for both forehand and backhand drives.
If you're interested in learning more, here's my in-depth guide to the best Innova Distance drivers.
Where Can You Find the Innova Thunderbird?
Although the Thunderbird can be found at most of your local disc golf shops, I also recommend checking out these online shops.
They have plenty of disc options and have images of each individual disc that you can sort through, look at, and pick.
You can find plenty of options for brands and plastics right on the Amazon site.
Related Discs
Check out these similar discs to the Thunderbird and read through my full reviews below!
Innova Firebird – An overstable driver that works well for flex shots and throwing into the wind.
Final Thoughts on the Thunderbird
If any of the uses above sound like issues you run into on the course, the Innova Thunderbird might be the next disc to try out.
This review covered everything you need to know about the Thunderbird, including:
The best uses and throws for the driver
What plastic options and weights are available to get
Although there are comparable discs to the Thunderbird, it's one of the best you can get that combined accuracy with distance.
Thanks for reading and I hope you can get out there and enjoy your next round of disc golf!