The Innova TeeDevil was created for fast throwers who are aiming to get more distance and range on their shots. There's a lot of control built into this distance driver, so it feels great to aim and hit your line.
Not every disc golfer has tried out this disc, so for this TeeDevil review, I'll be talking about the best shots and uses for the TeeDevil.
Keep reading if you're interested in learning more about this high-speed driver with massive glide!
Quick Review of the Innova TeeDevil
Flight Ratings: 12 Speed, 5 Glide, -1 Turn, 2 Fade
Weight: 130-175 grams
Stability: Stable
Skill Level: Intermediate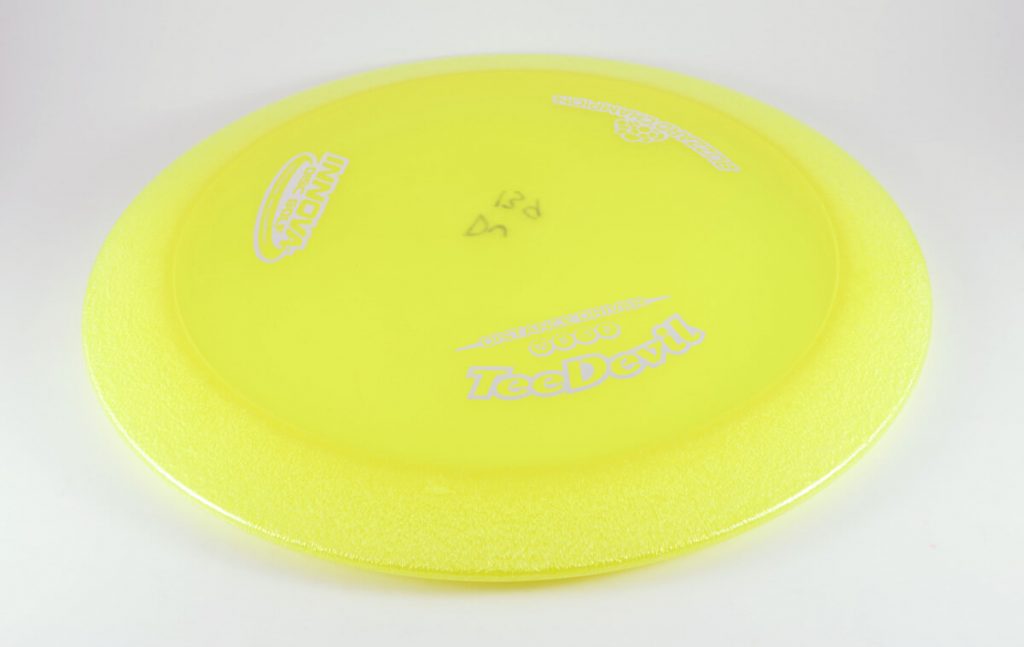 Who Is the Innova TeeDevil For?
Every player's game necessitates drivers. Drivers are the flattest disc type by profile, and their rims are big. This is also why driver flight qualities vary so much. Because of the larger rim, distance drivers have a longer glide and go further. For more experienced players or those who can throw far distances, distance drivers are effective at improving your game.
These are the major benefits of using a distance driver:
Getting closer to the basket on long distance holes
Designed with more speed, glide, and flexibility in shot types
Discs that are given an Intermediate rating are great for disc golfers who have some previous experience and practice. Beginners could learn to throw these discs, but at the start it would be difficult to get much distance out of them.
What Are The Best Throws For The TeeDevil?
The best throws for the Innova Teedevil are:
Distance
Accurate
Straight
Distance – This type of disc will push you in the right direction for reaching your maximum distance off the tee. When it comes to increasing how far you can throw the disc, look for a high speed and glide number.
Accurate – Some discs are easier to control than others, and this one can easily be maneuvered and thrown for accurate lines and distances. You'll have no trouble keeping this disc on the fairway or heading right at the basket, especially since it's comfortable for both forehand and backhand drives.
Straight – The TeeDevil is one disc that is ideal for aiming at and throwing towards your goal. You'll have no difficulties maintaining this disc on a straight line whether you're throwing through a tunnel of trees or just going straight at the basket.
Available TeeDevil Plastics
The Teedevil can be found in all of the following plastic grades:
Star – The Star plastic mold gives your disc the durability of the Champion plastic, while offering up more overall grip. It's similar to the Pro line for comfort and grip, but is more firm. Most of the Innova discs are manufactured in this plastic at least since it's durable, performs great in all weather, and is cheaper than their premium plastics.
Blizzard – Blizzard plastic is a mix between the original Champion plastic and micro air bubbles. Adding more air inside the rim causes the disc to have the same durability while cutting down on the total weight. These lighter discs are great for newer players who want to get the same flight and distance as a heavier disc.
Teedevil Weights
The Teedevil can be found with a minimum weight of 130 grams and a maximum weight of 175 grams.
Pros of the Innova TeeDevil
The TeeDevil has a great combination of control, glide, range, and low fade that makes for some long drives.
You can throw the TeeDevil in most conditions, including into any headwind or tailwinds on the course.
Where Can You Find the Innova TeeDevil?
Although the Teedevil can be found at most of your local disc golf shops, I also recommend checking out these online shops.
They have plenty of disc options and have images of each individual disc that you can sort through, look at, and pick.
Innova TeeDevil Related Discs
Check out these similar discs to the Teedevil and read through my full reviews below!
Innova Destroyer – A comfortable and fast driver with great control and consistent fade at the end.
Innova Tern – An understable driver with maximum glide and a lot of turn for shot shaping throws.