The Innova Savant is a very similar disc to the popular Innova Thunderbird, but you can expect more total glide and less fade at the end.
When it comes to distance drivers, the Savant is on the lower end of speeds, coming in at only a 9 for speed value. That's one of the reasons this disc can get a good amount of glide even without too much power behind a throw.
This post will cover a full review of the Innova Savant and will explain the best throws, weights, and plastics for this Innova driver!
Quick Review of the Innova Savant
Flight Ratings: 9 Speed, 5 Glide, -1 Turn, 2 Fade
Weight: 165-175 grams
Stability: Stable
Skill Level: Beginner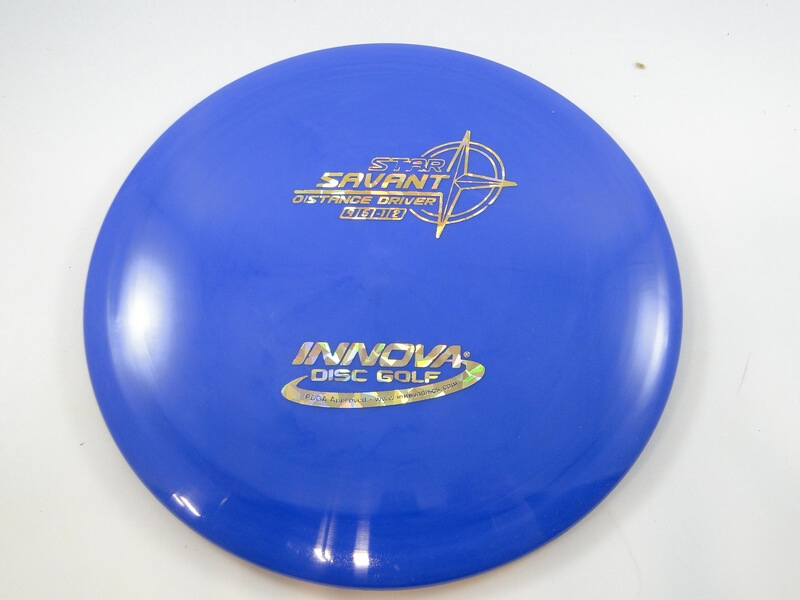 Best Uses For The Innova Savant
This driver is designed for players with decent arm speed who want to reach further distances with their throws. If you can throw distance drivers with a speed of 11 or 12 on a regular basis, learning to throw this disc should not be difficult with less overall speed.
These are the major benefits of using a distance driver:
Getting closer to the basket on long distance holes
Designed with more speed, glide, and flexibility in shot types
This disc is designed for players of all levels, meaning you should have no trouble throwing it even if you're new to disc golf. Beginner-friendly discs are easier to aim, control, and throw when compared to the other difficulty levels that you can find.
When Should You Throw the Savant?
The best throws for the Innova Savant are:
Distance – This type of disc will help you to reach your maximum distance off the tee. A high speed and glide number are two important factors to look for when increasing how far you can throw the disc.
Accurate – Some discs are more controllable than others, and this one is straightforward to control and launch for precise lines and distances. You'll have no trouble keeping this disc on the fairway or aiming straight towards the basket.
Savant Plastics
The Savant can be found in all of the following plastic grades:
Star – Star plastic is one of the premium Innova plastics that's known for being grippy, durable, and consistent. It has the same durability as the more expensive Champion plastic and will keep its shape in both cold and warm weather.
Champion – The most premium and expensive plastic from Innova is the Champion mold. It's extremely durable, firm, and overstable. Discs made in Champion plastic can take a beating against trees or rocks and still keep the same flight characteristics. Since it's so durable, this plastic is less flexible and soft.
Savant Weights
The Savant can be found with a minimum weight of 165 grams and a maximum weight of 175 grams. There isn't much of a range difference, especially since the Savant isn't available in the cheaper and lighter plastic molds.
Pros of the Innova Savant
Has enough stability to handle hard forehand torque and spin generation.
The Savant can be thrown low and straight for a considerable amount of distance.
One important thing to note about the Savant is that other players have commented about the stability being heavily affected depending on the plastic mold.
If you're thinking of picking one up, I recommend doing some additional research to figure out which Innova plastic is best for you!
Where Can You Find the Innova Savant?
If you have any local disc golf shops around, that's the best place to look for the Innova Savant. That lets you actually feel the disc and plastic in your hand to see how you like it.
Other than pro shops, InfiniteDiscs and Amazon are the two online shops where I get most of my disc golf gear.
They have plenty of disc options and have images of each individual disc that you can sort through, look at, and pick.
You can find plenty of options for brands and plastics right on the Amazon site.
Read more reviews about the best Innova distance drivers here!
Related Discs
Check out these similar discs to the Savant and read through my full reviews below!
Innova Firebird– An overstable driver that works well for flex shots and throwing into the wind.