The Innova Roadrunner is an understable driver that comes with a lot of turn and glide. It's a great disc for newer players who are looking to get a bit more distance out of their throws.
Since the Roadrunner is so understable, more experienced disc golfers will find it to be the perfect roller disc, or even great for distance with a well-placed turnover drive.
For this Roadrunner review, I'll be discussing the best Roadrunner throws, plastics, weights, and anything important I've learned while using the disc.
Quick Review of the Innova Roadrunner
Flight Ratings: 9 Speed, 5 Glide, -4 Turn, 1 Fade
Weight: 150-175 grams
Stability: Understable
Skill Level: Beginner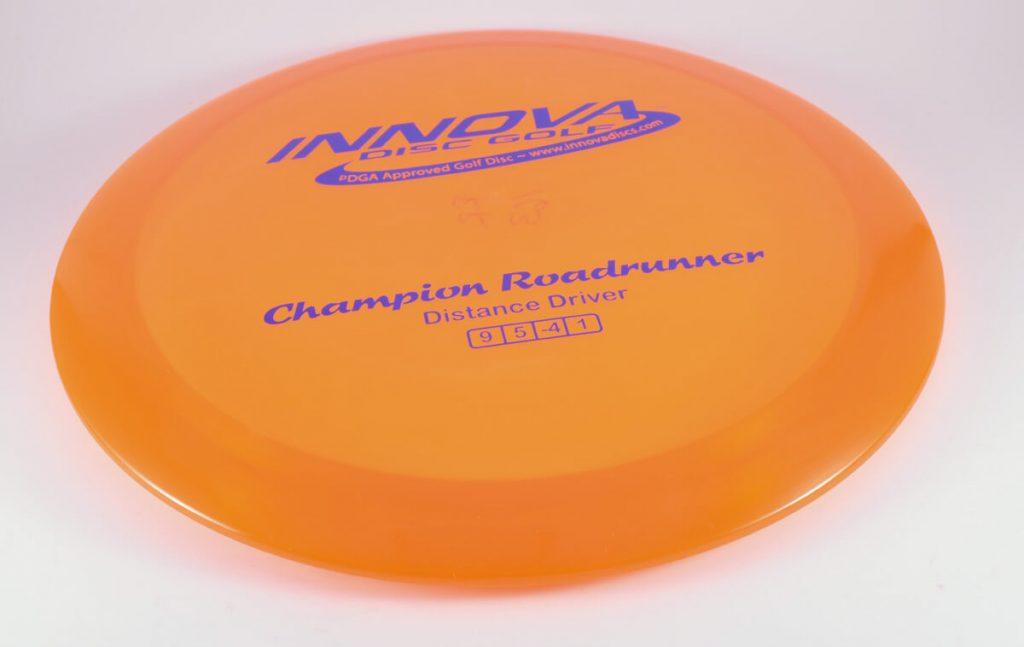 Who Should Throw the Innova Roadrunner?
This driver is designed for players with a high arm speed who want to reach out further with their throws. If you can throw distance drivers with a speed of 11 or 12 on a regular basis, learning to throw this disc should not be difficult.
These are the major benefits of using a distance driver:
Getting closer to the basket on long distance holes
Designed with more speed, glide, and flexibility in shot types
You might be wondering how difficult the Roadrunner is to throw, and there are a few important things to note when it comes to mastering this driver.
This disc is designed for players of all levels, meaning you should have no trouble throwing it even if you're new to disc golf. Beginner-friendly discs are easier to aim, control, and throw when compared to the other difficulty levels that you can find.
With a turn value of -4, the Roadrunner is very likely to turn during the flight, however new players can take advantage of that to get straighter throws.
When Should You Throw the Roadrunner?
The best throws for the Innova Roadrunner are:
Roller
Tailwind
Hyzer Flip
Roller – This disc is great for throws where the majority of the distance is gained by rolling the disc on the ground rather than flying through the air.
Tailwind – Tailwinds will assist and propel your disc forward since it will be moving in the same direction as the disc. Because it is pushed down towards the ground, this sort of wind causes the disc to be more overstable and have less glide.
Hyzer Flip – One effective throw with this disc is the Hyzer Flip. It's similar to an S-Shot, but the line is straighter and the disc rotates or flips up and comes down nose first in the process. This allows for a long straight glide with minimal fade potential.
The stability of the disc is one of the biggest factors in determining how a disc will fly once it's released.
Understable discs are more likely to turn over during the flight compared to stable or overstable discs. Newer players should be able to throw straighter and gain more distance with understable discs since the slower arm speed will cause them to travel straight.
Roadrunner Plastics
The Roadrunner can be found in a variety of plastics, including the following grades:
Star
Champion
GStar
EchoStar
StarLite
Star – The Star plastic mold gives your disc the durability of the Champion plastic, while offering up more overall grip. It's similar to the Pro line for comfort and grip, but is more firm. Most of the Innova discs are manufactured in this plastic at least since it's durable, performs great in all weather, and is cheaper than their premium plastics.
Champion – The most premium and costly plastic produced by Innova is the Champion mold. It's extremely long-lasting, firm, and overstable. Discs molded in Champion plastic can withstand abuse from trees or rocks while retaining their flight characteristics. Because it is so robust, this material is less flexible and soft.
GStar – GStar is a flexible plastic mold that's softer and less stable than other premium plastics. It's comparable to Star or Champion plastic that has been used and beat in. One great benefit of the GStar plastic is that it will hold its shape and flight pattern for longer than DX or Pro discs.
EchoStar – EchoStar plastic is soft and has a better grip than the standard Star plastic. It's also produced with between 50 and 100 percent recycled plastic to help reduce waste.
StarLite – This plastic has similar benefits to the original Star plastic, with the addition of being more lightweight. Starlite discs can often be found as light as 130 grams when they would usually be around 160-165 grams in premium blends.
Roadrunner Weights
The Roadrunner can be found with a minimum weight of 150 grams and a maximum weight of 175 grams.
Pros of the Innova Roadrunner
One of the better drivers for rollers, the Roadrunner is understable with a lot of glide.
There is very little fade on the Roadrunner so it's easier to control where it lands.
The Roadrunner is a good disc for players of all skill levels to use and enjoy.
Where Can You Find the Innova Roadrunner?
Although the Roadrunner can be found at most of your local disc golf shops, I also recommend checking out these online shops.
They have plenty of disc options and have images of each individual disc that you can sort through, look at, and pick.
You can find plenty of options for brands and plastics right on the Amazon site.
Related Discs
Check out these similar discs to the Roadrunner and read through my full reviews below!
Innova Valkyrie – A turnover distance driver with a lot of glide that also works well in windy conditions.
Conclusion – Roadrunner Review
Hopefully this has given you some great insight into the Innova Roadrunner and whether or not it's the right disc for you!
It's an interesting and effective driver that can be used for fast rollers or just maximum distance turnover throws as well.