One of the most accurate drivers created by Innova, the Orc is a lot of disc golfers go-to driver no matter the situation.
Along with its accuracy, the Innova Orc has a great amount of glide and consistent fade which is one reason it's so popular among newer players.
Thankfully, with the Orc you don't need a lot of power behind your throw to get a full fight and maximum distance.
For this Innova Orc disc review, I'll be talking about my experiences throwing the disc, including what I enjoyed and if it's a driver that I would recommend.
Quick Review of the Innova Orc
Flight Ratings: 10 Speed, 4 Glide, -1 Turn, 3 Fade
Weight: 150-175 grams
Stability: Overstable
Skill Level: Beginner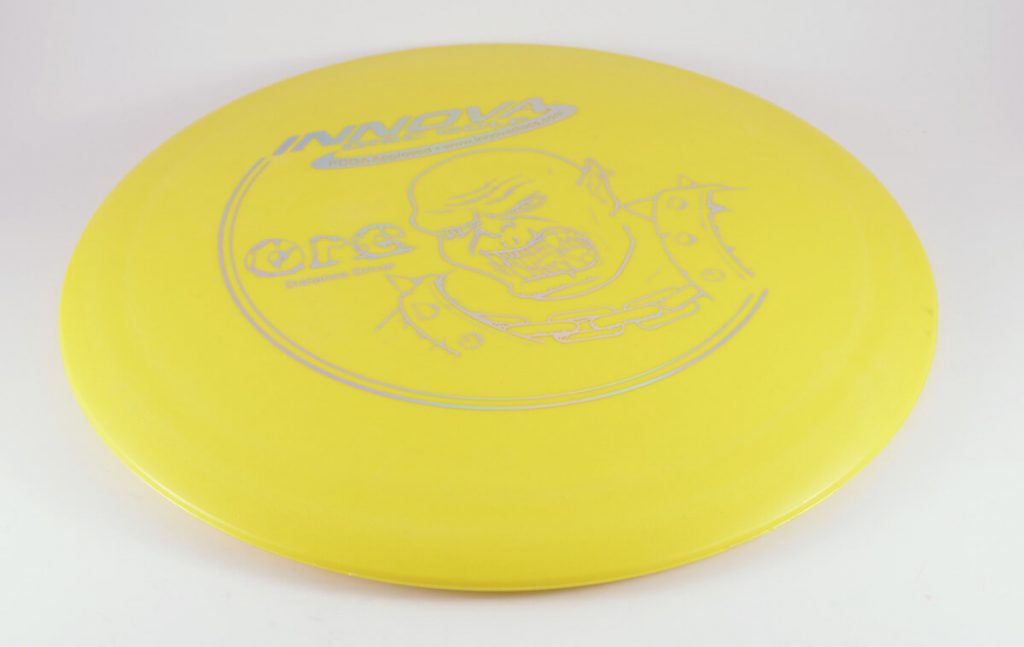 Who Is the Innova Orc For?
Distance drivers give you the distance that you need to get close to the basket. These provide the greatest amount of speed due to their design, including a bigger rim and sharper nose, as well as flight characteristics.
Distance drivers usually range from 9 through 15 in terms of speed ratings, depending on other factors like plastic and stability.
The Orc is actually on the lower range of speed for drivers, making it easy for beginners to pick up and throw correctly.
These are the major benefits of using a distance driver:
Getting closer to the basket on long distance holes
Designed with more speed, glide, and flexibility in shot types
This disc is designed for players of all levels, meaning you should have no trouble throwing it even if you're new to disc golf. Beginner-friendly discs are easier to aim, control, and throw when compared to the other difficulty levels that you can find.
It was also officially approved by the PDGA back in 2004.
When Should You Throw the Orc?
The best throws for the Innova Orc are:
Accurate – Some discs are more controllable than others, and this one is straightforward to control and launch for precise lines and distances. You'll have no trouble keeping this disc on the fairway or aiming straight towards the basket.
Tailwind – Tailwinds will help push your disc forward since it'll be moving in the same direction that the disc is flying. This type of wind also causes the disc to be more overstable and have less glide since it gets pushed down towards the ground.
This disc is considered overstable, meaning the flight of the disc will turn left if it's released from a right-handed backhand. More stability also means the player can generate more power behind their throw without as much risk of the disc turning over during the flight.
Which Plastics Can You Find The Orc In?

The Orc can be found in all of the following plastic grades:
Star
GStar
Pro
DX
Champion
Star – The Star plastic mold gives your disc the durability of the Champion plastic, while offering up more overall grip. It's similar to the Pro line for comfort and grip but is more firm. Most of the Innova discs are manufactured in this plastic at least since it's durable, performs great in all weather, and is cheaper than their premium plastics.
GStar – GStar is a flexible plastic mold that's softer and less stable than other premium plastics. It's comparable to Star or Champion plastic that has been used and beat in. One great benefit of the GStar plastic is that it will hold its shape and flight pattern for longer than DX or Pro discs.
Pro – Each disc model has its own Pro Line of plastic molds. Pro is more resilient and provides more grip to the player than DX plastic. One of Innovas most cost-effective and popular polymers, it's also one of the most affordable.
DX – For Innova, the DX line can be found for almost every one of their disc models and available weights. This is their most affordable plastic and has excellent grip in the majority of conditions. Discs made in DX plastic are much less durable and can become damaged from hitting trees or other obstacles.
Champion – The most premium and expensive plastic from Innova is the Champion mold. It's extremely durable, firm, and overstable. Discs made in Champion plastic can take a beating against trees or rocks and still keep the same flight characteristics. Since it's so durable, this plastic is less flexible and soft.
Orc Weights
The Orc can be found with a minimum weight of 150 grams and a maximum weight of 175 grams. Most of the Innova drivers fall in between that common range of 150-175 grams which is the maximum weight.
Pros of the Innova Orc
The Orc is a beginner-friendly disc that's a great option for players trying to move up in terms of disc speed.
You'll get an accurate and consistent flight when throwing the Orc.
Where Can You Find the Innova Orc?
Although the Orc can be found at most of your local disc golf shops, I also recommend checking out these online shops.
They have plenty of disc options and have images of each individual disc that you can sort through, look at, and pick.
You can find plenty of options for brands and plastics right on the Amazon site.
What Discs Are Similar To The Innova Orc?
Check out these similar discs to the Orc and read through my full reviews below!
Innova Beast – A comfortable and power driver that is designed for newer players to throw for more distance.