Most distance drivers are designed to be thrown hard and fast, and the Innova Monarch is no different. This disc has a lot of glide, is great for any player, and has a consistent turn during its flight.
The rest of this Monarch review covers anything important like weights, plastics, best throws, and any negatives about the driver.
Overview of the Innova Monarch
Even though the Monarch has a high turn value (-4), it's not actually too difficult to throw for beginners. It definitely works better with a higher arm speed, but slower arm speeds can still take advantage of the max glide provided by this disc.
Another reason I liked this disc when I first used it was because the Monarch was the first 10-speed driver to be available in lightweight (160 grams) champion plastic molds. That makes it easier to throw far and control for anyone who starts throwing it.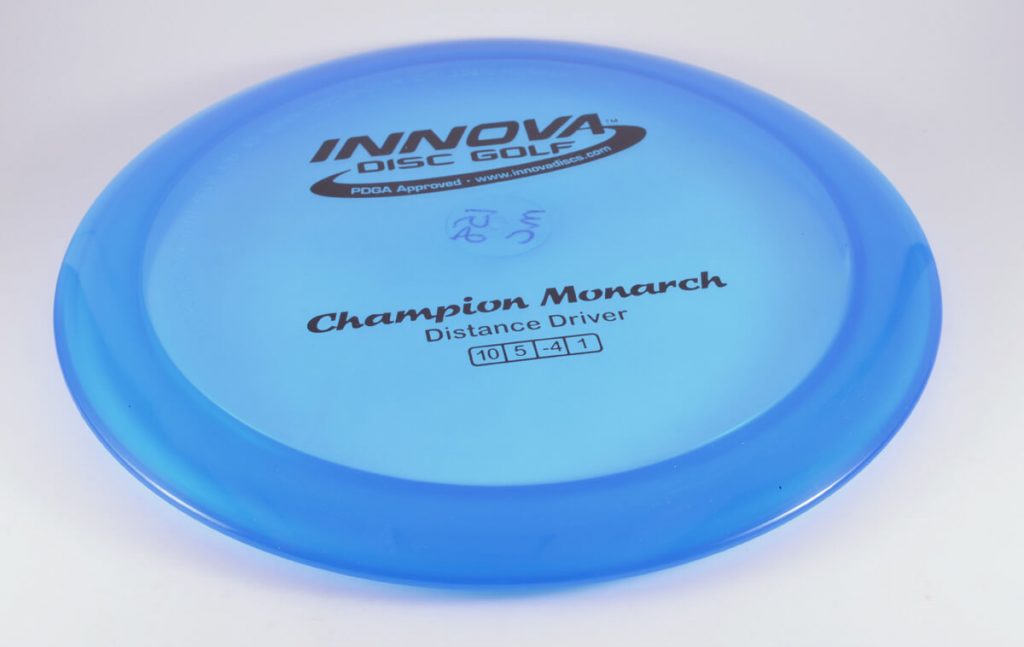 Innova Monarch Specifications
Flight Ratings: 10 Speed, 5 Glide, -4 Turn, 1 Fade
Plastics: Champion
Weight: 153-175g
Stability: Understable
Fade: Minimum
Primary Use: Distance
Skill Level: Intermediate
Innova Monarch Features
Plastic Types
You can find this disc golf disc in the following mold; Champion Monarch.
Champion – The most premium and costly plastic produced by Innova is the Champion mold. It's extremely long-lasting, firm, and overstable. Discs molded in Champion plastic can withstand abuse from trees or rocks while retaining their flight characteristics. Because it is so robust, this material is less flexible and soft.
Available Weights
The Monarch can be found with a minimum weight of 153 grams and a maximum weight of 175 grams. It's rare to see high-speed drivers in such lightweight plastics, but it makes the Monarch such a great option rollers or for beginners.
Best Throws for the Innova Monarch
For most players, the best throws for the Innova Monarch are:
Roller – This disc is great for throws where the majority of the distance is gained by rolling the disc on the ground rather than flying through the air.
Hyzer Flip – One effective throw with this disc is the Hyzer Flip. It's similar to an S-Shot, but the line is straighter and the disc rotates or flips up and comes down nose first in the process. This allows for a long straight glide with minimal fade potential.
Monarch Stability and Turn
Understable discs are more likely to turn over during the flight compared to stable or overstable distance drivers. Newer players should be able to throw straighter and gain more distance with understable discs since the slower arm speed will cause them to travel straight.
Which Players Should Use the Innova Monarch?
Distance drivers are designed for players who want to throw their disc at high speeds and as far as possible. Most of these discs have thin rims which help them cut through the wind without slowing down. You'll also find some of the highest speed and glide numbers on these drivers, which can make them tough for new disc golfers to use.
These are the major benefits of using a distance driver:
Getting closer to the basket on long distance holes
Designed with more speed, glide, and flexibility in shot types
Discs that are given an intermediate rating are great for disc golfers who have some previous experience and practice. Beginners or newer players could learn to throw these discs, but at the start it would be difficult to get much distance out of them.
Where Can You Find the Innova Monarch?
As an experienced player, my preferred place to look for certain disc golf discs like the Monarch is at any local disc golf shop in my state. If I can't find the disc in-store, there are two online shops that I always prefer to shop at.
InfiniteDiscs – They have plenty of disc options and show unique images of each individual disc that you can sort through, look at, and buy.
Related Discs
Check out these similar disc golf discs to the Monarch and read through my full reviews below!
Innova Orc – One of the most popular and straight-flying distance drivers.
Innova Beast – A comfortable and power driver that is designed for newer players to throw for more distance.
Final Review
The Innova Monarch is a high speed driver that has consistent turn, lots of glide, and a predictable fade at the end of the flight.
Players of all levels will be able to throw it fast and far down the fairway. I also enjoy using it for forehand throws, even though most understable drivers aren't great for sidearm drives.