The Innova Dominator is designed to be a great shot-shaping driver that has predictable distance and great control.
From my experience, the Dominator can be difficult to learn and handle until you have some practice with more experienced and less stable discs.
If you're considering trying out this driver, be sure to keep reading this Dominator review to see if it's the disc for you!
Quick Review of the Innova Dominator
Flight Ratings: 13 Speed, 5 Glide, -1 Turn, 2 Fade
Weight: 150-175 grams
Stability: Stable
Skill Level: Intermediate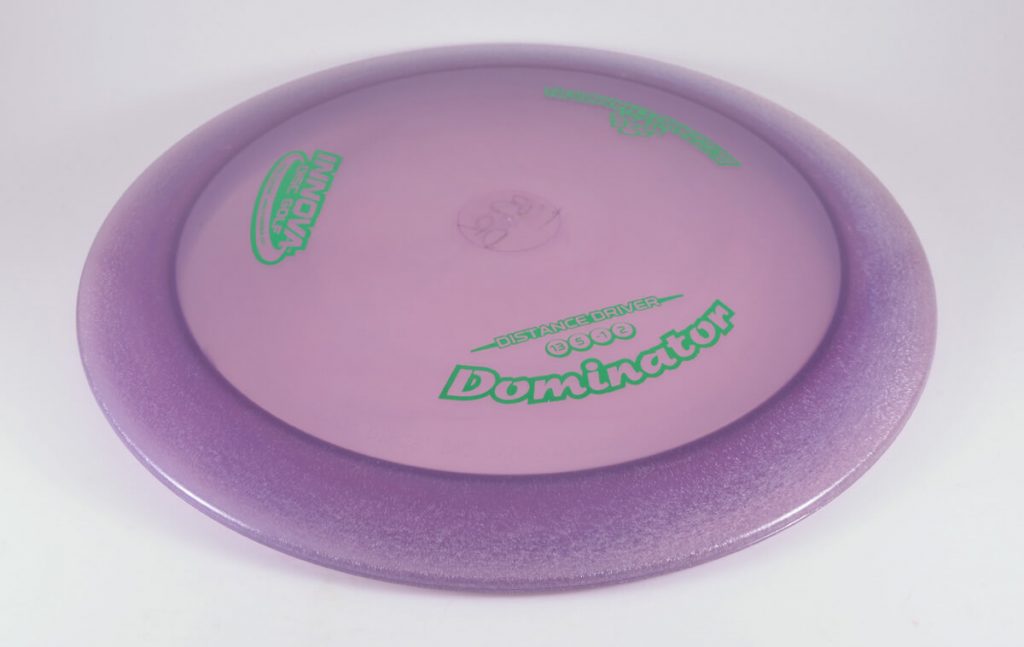 Who Is the Innova Dominator For?
This type of driver is designed for one thing: maximum distance. Drivers are also used on long holes when your disc is sitting up nicely on the fairway and you need to hit over a hazard or some other obstacle. A good drive sets you up for an easy second shot and a stress-free hole.
These are the major benefits of using a distance driver:
Getting closer to the basket on long distance holes
Designed with more speed, glide, and flexibility in shot types
Discs that are given an Intermediate rating are great for disc golfers who have some previous experience and practice. I will admit I had some trouble throwing the Dominator when I first started using it, and my disc never traveled very far.
But, beginners can learn to throw the Dominator, especially if you're willing to put in the time and effort to master your angle control.
When Should You Throw the Dominator?
The best throws for the Innova Dominator are:
Distance – This type of disc will help you to reach your maximum distance off the tee. A high speed and glide number are two important factors to look for when increasing how far you can throw the disc.
Sidearm – One of the things I like about this disc is how comfortable it is for me to throw both backhand and forehand. It's comfortable and has enough grip that I can generate the spin I need to watch it fly down the fairway.
Flex – Overstable discs are perfect for throwing these flex shots where the disc is released at a strong angle and then flex back to stable. For a lot of players, this is the easiest way to add more distance to your normal drive.
The Dominator is considered stable, which is important in determining what type of shots you can use it for. I mentioned above that it's really good for shaping your shots and stability plays a huge factor in that.
If this driver was less stable then you would probably have trouble with the Dominator flipping over and turning during forehand throws.
Dominator Plastics
The Dominator can be found in all of the following plastic grades:
GStar – GStar is a softer and less stable premium plastic than other high-end materials. It's comparable to Star or Champion plastic that has been used and beaten in before. One great advantage of GStar plastic is that it will retain its form and flight path for longer than DX or Pro discs.
Champion – For hundreds of rounds of disc golf, Champion Line discs retain their original flight characteristics. The DX, Pro, or Star version is sturdier than the Champion Line model because of its stronger plastic.
Blizzard – Blizzard plastic is a mix between the original Champion plastic and micro air bubbles. Adding more air inside the rim causes the disc to have the same durability while cutting down on the total weight. These lighter discs are great for newer players who want to get the same flight and distance as a heavier disc.
Dominator Weights
The Dominator can be found with a minimum weight of 150 grams and a maximum weight of 175 grams.
Pros of the Innova Dominator
The Dominator is one of the best drivers for throwing unique and consistent lines.
There's a lot of natural glide that helps you throw the Dominator extremely far.
With a wider rim, the Dominator can be controlled and feels great for both backhand and forehand grips.
Where Can You Find the Innova Dominator?
Although the Dominator can be found at most of your local disc golf shops, I also recommend checking out these online shops.
They have plenty of disc options and have images of each individual disc that you can sort through, look at, and pick.
Related Discs
Check out these similar discs to the Dominator and read through my full reviews below!
Innova Boss– This is a fast, steady driver that can handle strong winds and moderate headwinds. The dependable stability will appeal to seasoned players and sidearm throwers. The Boss has a tiny high-speed turn to help you get the most distance from your shot with a predictable fade.