The Innova Daedalus is a maximum speed distance driver that is designed to elevate any player's game and increase their throwing distance. It's fast, understable, and has a ton of built-in glide that new disc golfers will love taking advantage of.
In this disc review I'll be discussing the best throws for the Daedalus, as well as any benefits that you can expect if you pick up this advanced distance driver.
Quick Review of the Innova Daedalus
Flight Ratings: 13 Speed, 6 Glide, -3 Turn, 2 Fade
Weight: 165-175 grams
Stability: Understable
Skill Level: Intermediate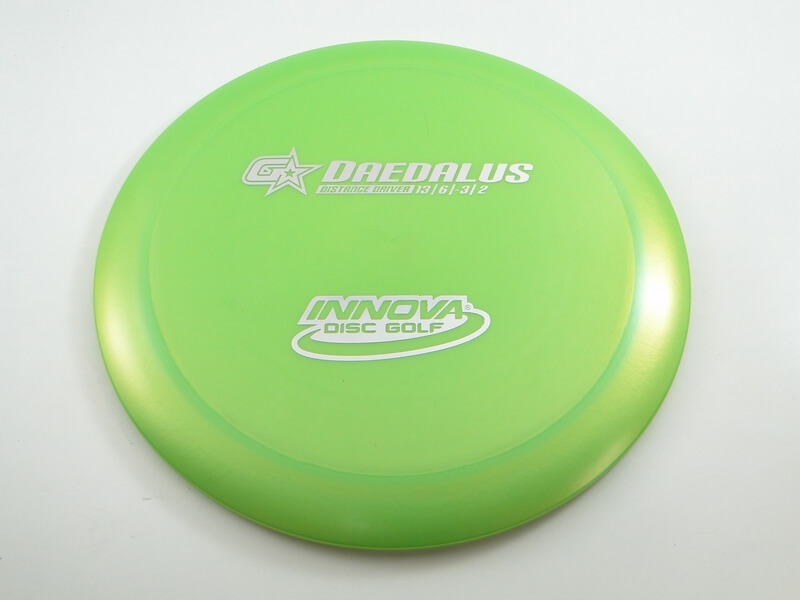 Who Is the Innova Daedalus For?
Most distance drivers fall in between speeds of 10 to 14, and they require a lot of power to complete the disc's entire flight. The Daedalus has a 13 speed, but with the 6 glide rating it doesn't require as much power as you'd think to generate distance.
One of the reasons it's recommended as a disc to help developing players is because it'll still fly down the fairway even if it's not thrown as hard.
These drivers are also usually flat on top and have wider rims that let the plastic edge cut through the air and keep flying and gliding.
These are the major benefits of using a distance driver:
Getting closer to the basket on long distance holes
Designed with more speed, glide, and flexibility in shot types
For disc golfers with some prior expertise and practice, Intermediate discs are ideal. These discs may be thrown by beginners, but they'll require a lot of effort to achieve considerable distance.
When Should You Throw the Daedalus?
The best throws for the Innova Daedalus are:
Tailwind – Tailwinds will help push your disc forward since it'll be moving in the same direction that the disc is flying. This type of wind also causes the disc to be more overstable and have less glide since it gets pushed down towards the ground.
Glide – Having a disc with maximum glide is essential when you need a long throw. This disc has enough glide to keep going down the fairway without requiring too much power behind the throw.
Roller – This disc is great for throws where the majority of the distance is gained by rolling the disc on the ground rather than flying through the air.
The stability of the disc is one of the biggest factors in determining how a disc will fly once it's released.
Understable discs are significantly more speed sensitive than stable or overstable ones. An understable disc will often fly level to overstable at low speeds. Newcomers frequently throw discs at slower speeds which causes them to be more stable.
Daedalus Plastics
The Daedalus can be found in all of the following plastic grades:
Star – Star plastic is one of the premium Innova plastics that's known for being grippy, durable, and consistent. It has the same durability as the more expensive Champion plastic and will keep its shape in both cold and warm weather.
GStar – GStar is a flexible plastic mold that's softer and less stable than other premium plastics. It's comparable to Star or Champion plastic that has been used and beat in. One great benefit of the GStar plastic is that it will hold its shape and flight pattern for longer than DX or Pro discs.
Champion – The most premium and costly plastic produced by Innova is the Champion mold. It's extremely long-lasting, firm, and overstable. Discs molded in Champion plastic can withstand abuse from trees or rocks while retaining their flight characteristics. Because it is so robust, this material is less flexible and soft.
The Daedalus can be tough to control at first, so having a premium plastic that won't change its flight characteristics will help you to easily learn the disc.
Daedalus Weights
The Daedalus can be found with a minimum weight of 165 grams and a maximum weight of 175 grams. It's only found in the more durable and premium plastic types from Innova, which are usually found in the heavier weight classes.
Pros of the Innova Daedalus
It's a great disc to help developing players generate spin and distance on their throws.
More advanced players can take advantage of the stability to turn it into a long-throwing roller disc.
The Daedalus feels great in the hand and makes for a great forehand and backhand driver.
View my other favorite Innova Distance Drivers here!
Where Can You Find the Innova Daedalus?
Although the Daedalus can be found at most of your local disc golf shops, I also recommend checking out these online shops.
They have plenty of disc options and have images of each individual disc that you can sort through, look at, and pick.
You can find plenty of options for brands and plastics right on the Amazon site.
Related Discs
Check out these similar discs to the Daedalus and read through my full reviews below!
Innova Vulcan– Designed for less powerful players who need to throw far and fast.