One of the best beginner discs, the Innova Cheetah is known for its control and good distance. It's a slower disc with a speed of 6, but you might be surprised by how much glide you can get with a good throw.
After experimenting with the Cheetah for a few rounds I wanted to share everything I learned about this midrange, including the best throws, plastics, and when on the course you should throw it.
Overview of the Innova Cheetah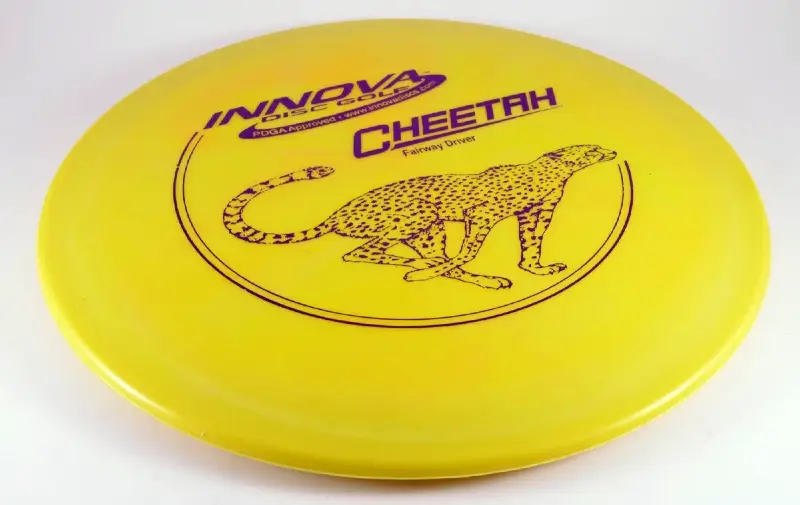 Besides being an easy disc to throw, the Cheetah can be thrown straight with very little fade which makes it good for approaches and tunnel shots. If you play in any areas with tight fairways it's nice to have a disc option that will do exactly what you want it to.
Players with more power and speed on their throws might experience more turn on the disc, so good angle control is important to ensure the Cheetah doesn't turn over mid-flight.
Innova Cheetah Specifications
Flight Ratings: 6 Speed, 4 Glide, -2 Turn, 2 Fade
Plastics: DX
Weight: 150-175g
Stability: Stable
Fade: Minimum
Primary Use: Fairway
Skill Level: Beginner
Innova Cheetah Features
Plastic Types
The Cheetah can only be found in the base Innova plastic, DX. The DX Cheetah isn't too durable but it is a cheaper option that will be more stable and stiff compared to their other plastics.
DX – The DX line is available for virtually every disc model and weight at Innova. This is their most cost-effective plastic and provides outstanding traction in the majority of situations. In comparison to other plastics, discs manufactured with DX plastic are significantly less robust and can be damaged while flying through trees or other obstructions.
Here's my full guide to every available Innova plastic option.

Available Weights
The Cheetah can be found with a minimum weight of 150 grams and a maximum weight of 175 grams. Lightweight discs around 150-155 grams are more likely to turn during the flight, but players with slower arm speeds can get more overall distance.
Best Throws for the Innova Cheetah
For most players, the best throws for the Innova Cheetah are:
Straight approaches
Accurate or tunnel shots
Straight – This disc is one that can be thrown straight at your target. Whether you're throwing through a tunnel of trees or just going straight at the basket, you'll have no problems keeping this disc on a straight line.
Accurate – Some discs are easier to control than others, and this one can easily be maneuvered and thrown for accurate lines and distances. You'll have no trouble keeping this disc on the fairway or heading right at the basket.
Cheetah Stability and Turn
Discs with a stable rating are the most neutral type of stability in between understable and overstable options. Stable discs are great for angle control since they should stay on the same angle that they're released on.
Which Players Should Use the Innova Cheetah?
Fairway or control drivers are a wonderful combination of midrange and max distance drivers. They don't require as much arm speed, making them ideal for controlled shots. You probably won't be able to hit the same distance, but you should notice greater control and accuracy.
Since the Cheetah is designed for players of all levels, it's the perfect option for newer players to try out. That doesn't mean that more experienced players shouldn't use it, just that it's easier for beginners and newer players to control and use.
Where Can You Find the Innova Cheetah?
As an experienced player, my preferred place to look for certain disc golf discs like the Cheetah is at any local disc golf shop in my state. If I can't find the disc in-store, there are two online shops that I always prefer to shop at.
They have plenty of disc options and show unique images of each individual disc that you can sort through, look at, and buy.
You can find plenty of options for brands and plastics right on the Amazon site.
Discs Related to the Cheetah
Check out these similar disc golf discs to the Cheetah and read through my full reviews below!
Innova Leopard – The most popular fairway driver from Innova that's perfect for throwing straight and far.
Final Review
If you're looking for a slower midrange Innova disc that is easy to control and throw straight, the Cheetah is one great option.
The rest of this review covered everything important about the Cheetah, including,
The best weights, plastics, and uses for the Cheetah.
When you should and shouldn't throw it.
Whether or not this is a disc that you should consider trying out.
Every disc golfer can get great distance and improve their approach game with a disc like the Cheetah.