The Archon is a very similar disc to the popular Innova Valkyrie, including similar values for turn and fade. It's built with more speed and glide which makes it the perfect choice for when you want to throw straight and far.
Even though it's not my favorite Innova disc, there are plenty of opportunities to use the Archon outside of just straight tunnel shots.
If you're interested in learning more about this distance driver, I'll be covering the important aspects like shot selection, plastic, and weight options in this disc review!
Quick Review of the Innova Archon
Flight Ratings: 11 Speed, 5 Glide, -2 Turn, 2 Fade
Weight: 165-175 grams
Stability: Stable
Skill Level: Intermediate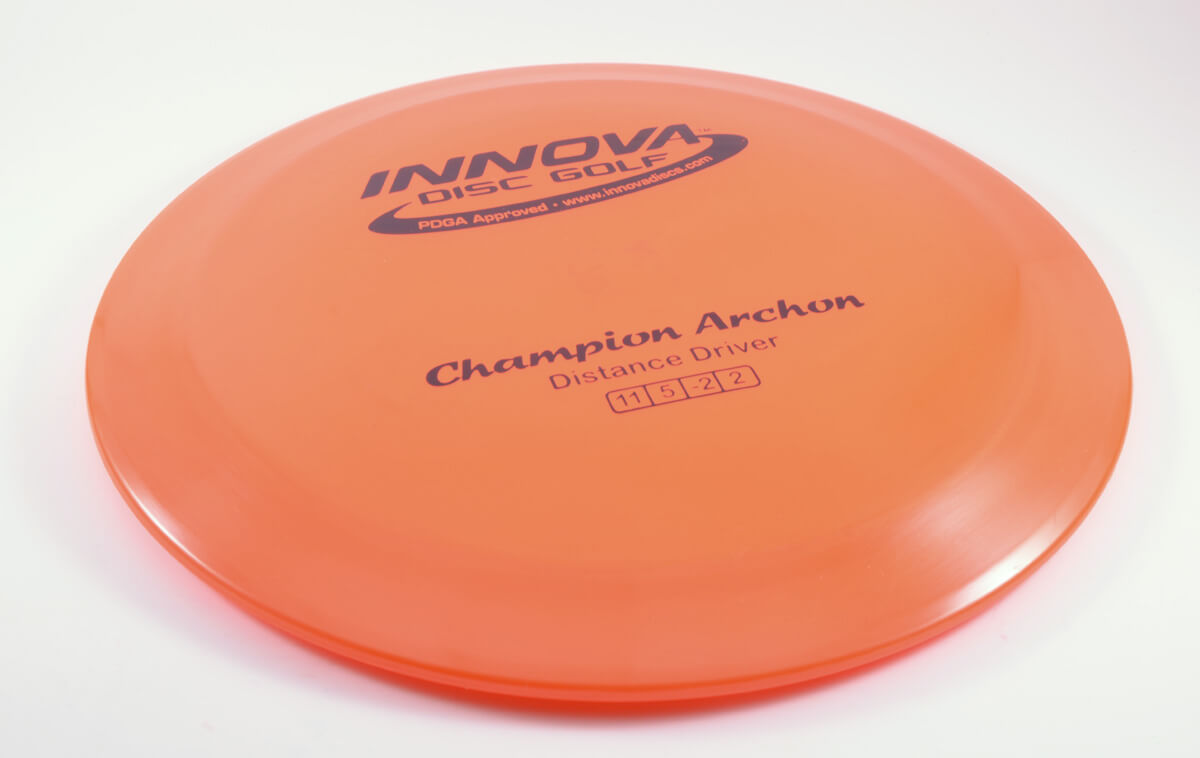 Who Is the Innova Archon For?
A distance driver is a type of driver that's designed to be thrown very long distances. They are the fastest flying discs with the farthest reaching flight paths of any type of golf disc, and are therefore used when maximum distance is needed.
Distance drivers typically have a speed rating of 11 or 13, meaning they are designed to be thrown by players with a very powerful arm.
The Archon has less speed than other drivers, coming in with an 11 rating, but with a glide of 5 it makes up the missing distance.
These are the major benefits of using a distance driver:
Getting closer to the basket on long distance holes
Designed with more speed, glide, and flexibility in shot types
More opportunity for gaining strokes on long par 4's and 5's
For disc golfers with some prior expertise and practice, Intermediate discs are ideal. These discs may be thrown by beginners, but they'll require a lot of effort to achieve considerable distance.
When Should You Throw the Archon?
The best throws for the Innova Archon are:
Straight throws
Low-ceiling shots
Straight – This disc is ideal for targeting a basket that's directly in front of you. You'll have no difficulties maintaining this disc on a straight line whether you're throwing through a tunnel of trees or just going straight at the basket.
Low-ceiling – If you don't have a lot of space to throw your disc, using this disc will let you keep it low and flat through any obstacles. Throw it fast and it'll glide right over the ground for the entire flight before fading out slowly.
The Innova Archon is a stable driver which is one of the reasons why many players use it as a finesse type disc. You can control the angle and hit different lines than you would be able to with other Innova drivers.
Available Archon Plastics
The Archon can be found in all of the following plastic grades:
Star
GStar
EchoStar
Champion
Star – Star plastic is one of the premium Innova plastics that's known for being grippy, durable, and consistent. It has the same durability as the more expensive Champion plastic and will keep its shape in both cold and warm weather.
GStar – GStar is a flexible plastic mold that's softer and less stable than other premium plastics. It's comparable to Star or Champion plastic that has been used and beat in. One great benefit of the GStar plastic is that it will hold its shape and flight pattern for longer than DX or Pro discs.
EchoStar – EchoStar plastic has similar features to the original Star plastic, but is softer and has enhanced grip. It's also made with between 50-100% recycled plastic to help reduce waste.
Champion – The most premium and expensive plastic from Innova is the Champion mold. It's extremely durable, firm, and overstable. Discs made in Champion plastic can take a beating against trees or rocks and still keep the same flight characteristics. Since it's so durable, this plastic is less flexible and soft.
Best Archon Weights
The Archon can be found with a minimum weight of 165 grams and a maximum weight of 175 grams.
Pros of the Innova Archon
The Archon is one of the better Innova drivers for throwing straight, flat, and far.
It's great as a finesse disc and opens up your options for throwing types.
Where Can You Find the Innova Archon?
Although the Archon can be found at most of your local disc golf shops, I also recommend checking out these online shops.
They have plenty of disc options and have images of each individual disc that you can sort through, look at, and pick.