One of Innovas high-speed drivers, the Ape is super overstable and very difficult to throw for a lot of players. If you've been playing disc golf for a while and are looking to add a new distance driver to your bag, it might be time to consider the Innova Ape.
In this full disc review, I'll be talking about my experience using the Ape, when it's a good choice of a disc, as well as what plastics and weights you can find it in.
Quick Overview of the Innova Ape
Flight Ratings: 13 Speed, 5 Glide, 0 Turn, 4 Fade
Weight: 130-175 grams
Stability: Overstable
Skill Level: Advanced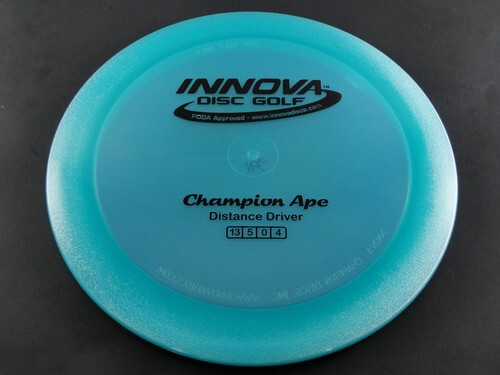 Who Is the Innova Ape For?
Every player's game necessitates drivers. Drivers are the flattest disc type by profile, and their rims are big. This is also why driver flight qualities vary so much. Because of the larger rim, distance drivers have a longer glide and go further. For more experienced players or those who can throw far distances, distance drivers are effective at improving your game.
These are the major benefits of using a distance driver:
Getting closer to the basket on long distance holes
Designed with more speed, glide, and flexibility in shot types
Since this disc is more advanced, it's usually geared more towards players with a good amount of experience. They're often more difficult to control the angle and speed so that the disc doesn't turn or flip during the flight.
When Should You Throw the Ape?
Although each player will have their own preferred throws, these are generally the best uses for the Ape.
The best throws for the Innova Ape are:
Headwind
Sidearm
Distance
Hyzer
Headwind – This disc performs well when throwing into a headwind situation. Headwinds are when the direction of the wind is pushing toward you and your disc. This causes the disc to be less stable and usually lifts the disc slightly. When there's a lot of wind, overstable discs are great options since they aren't affected as much during the flight.
Sidearm – One of the things I like about this disc is how comfortable it is for me to throw both backhand and forehand. It's comfortable and has enough grip that I can generate the spin I need to watch it fly down the fairway.
Distance – This type of disc will aid you in reaching your maximum distance off the tee. When it comes to increasing how far you can throw the disc, look for a high speed and glide number. I prefer using the Ape for those far par 5's or 6's that you'll come across out on the course.
Hyzer – Hyzer is the angle of release for a right handed backhand thrower, with the outside edge or left edge tilted downward. A disc released with a hyzer will travel to the left faster than one thrown flat. If you want your disc to go further to the left, use more hyzer (RHBH).
Since the stability of your disc is important in determining when it should be thrown, it's important to know that the Ape is more overstable than most other Innova drivers.
It's usually found in premium Champion plastic, which is one reason it's so overstable.
Overstable discs can be an essential part of any player's bag, as they offer a dependable option when other discs might turn over or fade away prematurely.
Innova Ape Plastics
The Ape can be found in all of the following plastic grades:
Star
Champion
Blizzard
DX
Star – Star plastic is one of the premium Innova plastics that's known for being grippy, durable, and consistent. It has the same durability as the more expensive Champion plastic and will keep its shape in both cold and warm weather.
Champion – The most premium and costly plastic produced by Innova is the Champion mold. It's extremely long-lasting, firm, and overstable. Discs molded in Champion plastic can withstand abuse from trees or rocks while retaining their flight characteristics. Because it is so robust, this material is less flexible and soft.
Blizzard – Blizzard plastic is a mix between the original Champion plastic and micro air bubbles. Adding more air inside the rim causes the disc to have the same durability while cutting down on the total weight. These lighter discs are great for newer players who want to get the same flight and distance as a heavier disc.
DX – For Innova, the DX line can be found for almost every one of their disc models and available weights. This is their most affordable plastic and has excellent grip in the majority of conditions. Discs made in DX plastic are much less durable and can become damaged from hitting trees or other obstacles.
When I'm not sure if I'll enjoy using a disc or not, I get one in the cheapest plastic and then upgrade if it's something that I want to keep throwing.
Innova Ape Weights
The Ape can be found with a minimum weight of 130 grams and a maximum weight of 175 grams. If you want to get a lightweight disc you'll have to get the Ape in Blizzard plastic. It'll be lighter and easier for disc golfers without as much arm speed to throw.
Pros of the Innova Ape
One of the most overstable discs that can be thrown fast and hard for maximum distance.
The Ape has a wide and comfortable rim, especially for backhand throws.
It's very accurate and has a lot of glide for most players.
When it's windy out on the course, the Ape is fast and overstable enough to be easily controlled.
Where Can You Find the Innova Ape?
Although the Ape can be found at most of your local disc golf shops, I also recommend checking out these online shops.
They have individual images of every disc that you can purchase, letting you see what you'll be getting.
When I can't find a disc on Infinite, I'll usually check on Amazon since they have a lot of inventory for disc golf as well.
Related Discs
Check out these similar discs to the Ape and read through my full reviews below!
Innova Boss – This is a fast, steady driver that can handle strong winds and moderate headwinds. The dependable stability will appeal to seasoned players and sidearm throwers. The Boss has a tiny high-speed turn to help you get the most distance from your shot with a predictable fade.