Wisconsin isn't just the home of cheese and beer. It's also home to one of the top recreational sports in the state, disc golf.
The story of disc golf can be traced back to the 1970s when fans of Frisbee and traditional golf fused the two to create a game with all the strategies of golf and the fun, free-wheeling spirit of Frisbee.
Whether you're a seasoned pro or first-time player, Wisconsin offers some of the best courses in the country. 
Rolling Ridge
Yulga Park
Big Eau Pleine
North Park of Wood County
Braem Park
Stockton Park
Willow Run
McDill Pond
Liberty Park
Timberwolf Run
Let's get into it and start exploring these fantastic courses!
Rollin Ridge
Rating: 4.7/5
Holes: 18
Cost: $5/day, $80/annual, Free for kids 12 and under
Location: Reedsville
Rolling Ridge is an 18 hole course that's open year-round and was established back in 2011. They are pay to play, although the prices are very fair coming in at $5 a day. There's also an annual pass that can be bought for $80 if you plan to go to the course frequently.
Each hole features three different sets of tees and baskets, allowing for a variety of shots. Having multiple tees also makes it a great course for players of all skill levels to get out and enjoy the day!
Yulga Park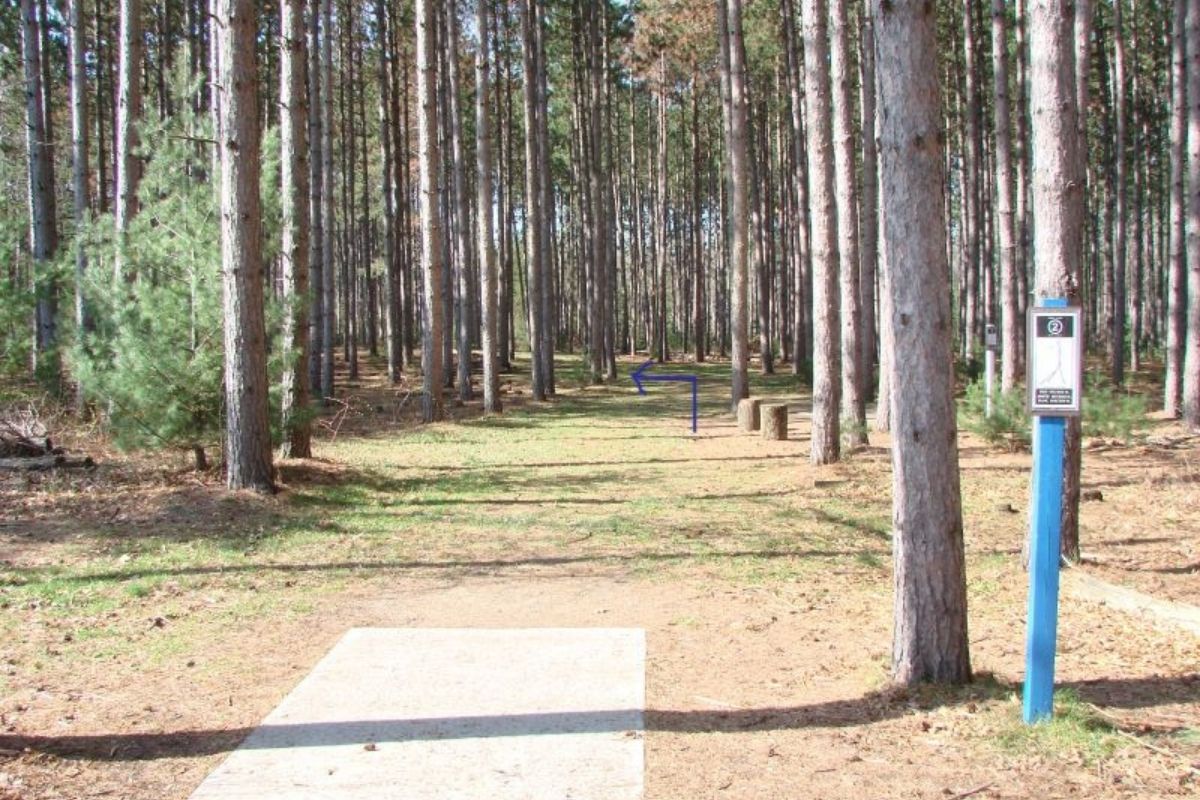 Rating: 4.4/5
Holes: 18
Cost: N/A
Location: Stevens Point 
Yulga Park is a vibrant, welcoming disc golf course that features one main course with three different teepad locations.
The course has three distinct levels for teepads; White, Red, and Blue. All levels are welcome, including beginners.
This beautiful course features stadium lights, well-maintained concrete tee pads, and Mach VII baskets.
There are three sets of tees so that all disc golfers can play here comfortably. Over the last few years, the club members have put a lot of work into making this course one great place to throw some plastic.
Big Eau Pleine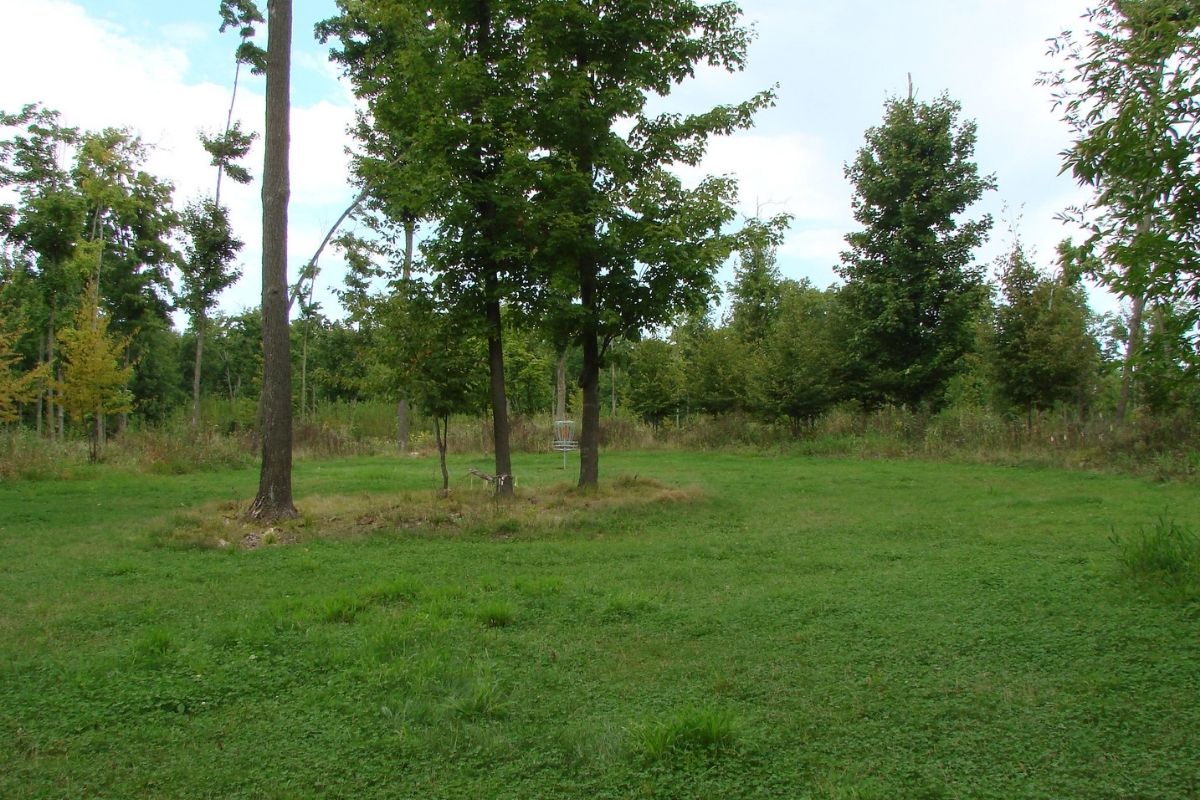 Rating: 4.2/5
Holes: 18
Cost: $4/day or $30 annual
Location: Mosinee
Located just outside Wausau, this 18-hole course has cement tees, baskets, and signage at every hole. Situated in a beautiful park with mature trees and rolling hills,
Big Eau Pleine is great for beginner/intermediate players and is a good course for practicing multiple shots. The system uses the woods for some interesting dogleg holes and offers a good mix of open views. Some very challenging water hazards come into play in a few spots.
The local club and town maintain this disc golf course. Lowlands are likely to get very wet during the rainy season but have an excellent maintenance reputation. Big Eau Pleine disc golf course was established in 2007. The course flows pretty well from hole to hole and features ChainStar baskets for each one.
North Park of Wood County
Rating: 4.2/5
Holes: 20
Cost: $4/day, $20/season, $40/season for families
Location: Arpin
Wood County Park includes 20 holes, multiple tees, and a unique layout using mature trees for obstacles and challenging for experienced but playable by novices. One of the top courses in Wisconsin.
North Park of Wood County is open from May 1 to October 31. Fees are $4 for each disc golfer if you want to play for the day. If you get a season pass, it only costs $20 so it would definitely be worth it if you live nearby. The course is typically left open at night and closed in poor weather, such as during thunderstorms or after snow events.
North Park of Wood County is a mix of Wooded and open holes in a park setting that uses the terrain to challenge your disc golf skills. All the tees are dirt, several wooden tees are incorporated into the design, and all targets are dispatchers.
This course has fun but challenging holes with two long par 4's and some short par 3's such as a hole. North Park of Wood County was established in 1993.

Braem Park
Rating: 4/5
Holes: 18
Cost: N/A
Location: Marshfield 
Braem Park is a championship 18-hole disc golf course nestled in the hills of central Wisconsin. Located just south of Stevens Point, the facility features a driving range, pro shop, snack bar, and full-service bar. Braem opened in 1997 and hosts both PDGA sanctioned tournaments and Ice Bowls.
It is designed for various skill levels with multiple tees and target placements. The course has multiple challenging holes and provides players of all levels, making it a great place to play regardless of your skill level. All tees in this course are made up of concrete.
Stockton Park
Rating: 4/5
Holes: 18
Cost: N/A
Location: Custer 
This 18-hole wooded course will have you enjoying the outdoors, including a walk through the Lower Wisconsin State Riverway. Although none of the terrains is exceptionally hilly, the land is sloping, so a good amount of exercise is required to get from hole to hole.
The baskets are well balanced and often quite challenging. There is no grass on the fairway, but artificial turf tees are available.
Known for its unique features and community of disc golf enthusiasts, the Stockton Disc Golf Course is the perfect place to spend a day outside. Featuring challenging holes and a calm scenic setting, this course is one of Wisconsin's most popular disc golf parks. The course was established in 2014 and had rubber mat tees.

Lake Wazeecha/Willow Run
Rating: 3.9/4
Holes: 12
Cost: N/A
Location: Wisconsin Rapids 
Lake Wazeecha/Willow Run is a beautiful disc golf course located near Wisconsin Rapids. The course is 12 holes and offers three different types of concrete tees for all skill levels (back grass tees for advanced players and two sets of cement tees for intermediates/beginners).
Nineteen large, green DGA Mach baskets are used to set up this relatively wide-open course. Large boulders, rolling hills, water, and woods are incorporated into the layout to make it more challenging.
A practice basket is also available near the pro shop (along with the Willow Run Golf Range).
Lake Wazeecha/Willow Run was established in 1997. The park also features boat rentals, volleyball courts, horseshoe pits, and playgrounds. A walking trail runs through both parks, so it is the perfect weekend getaway for all ages.
McDill Pond
Rating: 3.8/5
Holes: 9
Cost: N/A
Location: Stevens Point 
McDill Pond disc golf course has nine holes with two pin locations each. Two of those holes have three tees. This one is probably on the short side, but McDill prides itself on being a very challenging course that rewards accuracy over distance while still having a few lengthy holes that will get your arm warmed up before the big throws.
The course has significant elevation changes in mature trees, with many challenges. The short holes are deceivingly easy, but the long holes will challenge any player's distance and accuracy.
There is plenty of shade, but the area can be buggy during the summer months. There are two water hazards on the course, and they come into play on hole 9. McDill Pond has natural tee pads and baskets from DGA Mach V.

Liberty Park
Rating: 3.8/5
Holes: 9
Cost: N/A
Location: Wausau 
One of the most popular disc golf courses in the area, Liberty Park, is always teeming with activity and held to a high, clean standard. It offers a variety of holes that are challenging and fun to play and is always well-maintained.
This fun & challenging 9-hole course is nestled in the beautiful woods of Liberty Grove. An excellent course for beginner, intermediate and advanced players. The many cedars, maples, and pines that line each hole provide a nice canopy for those hot summer days.
Timberwolf Run
Rating: 3.7/5
Holes: 18
Cost: N/A
Location: Wausau 
Timberwolf Run was designed built-in 2017 by Tom Schot and is currently maintained by the residents of Castle Rock Manor. The course, located on private housing development, has wide-open fairways, with trees lining some holes leading to large Black Hole Pro baskets.
As for natural hazards, water comes into play on holes 12, 13, 14, and 17.
Timberwolf Run is a challenging wooded course located in beautiful Southeastern Wisconsin. The course utilizes all aspects of a player's game and features a variety of holes with plenty of risk/reward.
Conclusion
Wisconsin is home to hundreds of beautiful disc golf courses, most set in the trademark Green Bay forests and foliage.
The best disc golf courses in Wisconsin are found in its biggest cities, including Milwaukee and Madison, and smaller towns like Waukesha.
If you're looking for other top courses around the country, check out these Michigan places to play.
Photo Credit:
Yulga Park
Big Eau
Open Course
Throwing Disc
Night Disc Golf