Utah has been ranked the 30th best state for disc golf and has over 120 courses available to play!
Every year there are more and more courses built, so it can be difficult to get out and try every one.
Here's a list of the five best disc golf courses in Utah that will give you a fun and challenging round.

Base Camp Adventure
Rating: 4.9/5
Holes: 18
Cost: $5/round
Location: Moab
Base Camp Adventure is truly among the best disc golf courses in Utah. This is a terrific course that is remote for those who like things that offer a more isolated experience. There are some great holes at this course and surely you will appreciate the wide variety of shots.
You will also find that this disc golf course is invigoratingly challenging as a result of the elevation changes for the various holes on this disc golf course.
All of the tee pads are created with turf, which is secured in a solid manner to the ground. You can have the peace of mind that they are maintained in good condition.
You can enjoy the fact that there are holes that offer both short and long shots for the ultimate disc golfing experience. We are pleased to highly recommend Base Camp Adventure especially since the people who run their course are friendly and pleasant.
You should take a 4X4 with you to get around this course of many different elevations. If you love the sport of disc golf, then this course is one that you absolutely must try out.

The Fort
Rating: 4.7/5
Holes: 21
Cost: $2/round
Location: Ogden
It cannot be denied that The Fort is also right up there in the list of the best disc golf courses in Utah. It is impressive to realize that the Fort is a disc golf course with the status of champion level.
This disc golf course that is well maintained in pristine condition at all times offers twenty-one holes. You can enjoy playing disc golf on this fine course all year round. You will notice that the tees are constructed of asphalt, turf, as well as concrete.
The disc golf course is structured on a property that is a public park that is used for a variety of things. There are dogs permitted at the park and the course is also friendly for cart users.
You will also be pleased with the availability of restroom amenities as well as access to drinking water for real convenience. This amazing disc golf course was created in 2018. The layout of the course is awesome and you will enjoy the ultimately challenging shots. There are some open holes as well.
In fact, the 2021 Pro Worlds were hosted at this disc golf course. This is truly a disc golf course that is designed with meticulous care and is maintained in excellent condition at all times. You will enjoy playing some rounds of disc golf here for sure.
Solitude Mountain Resort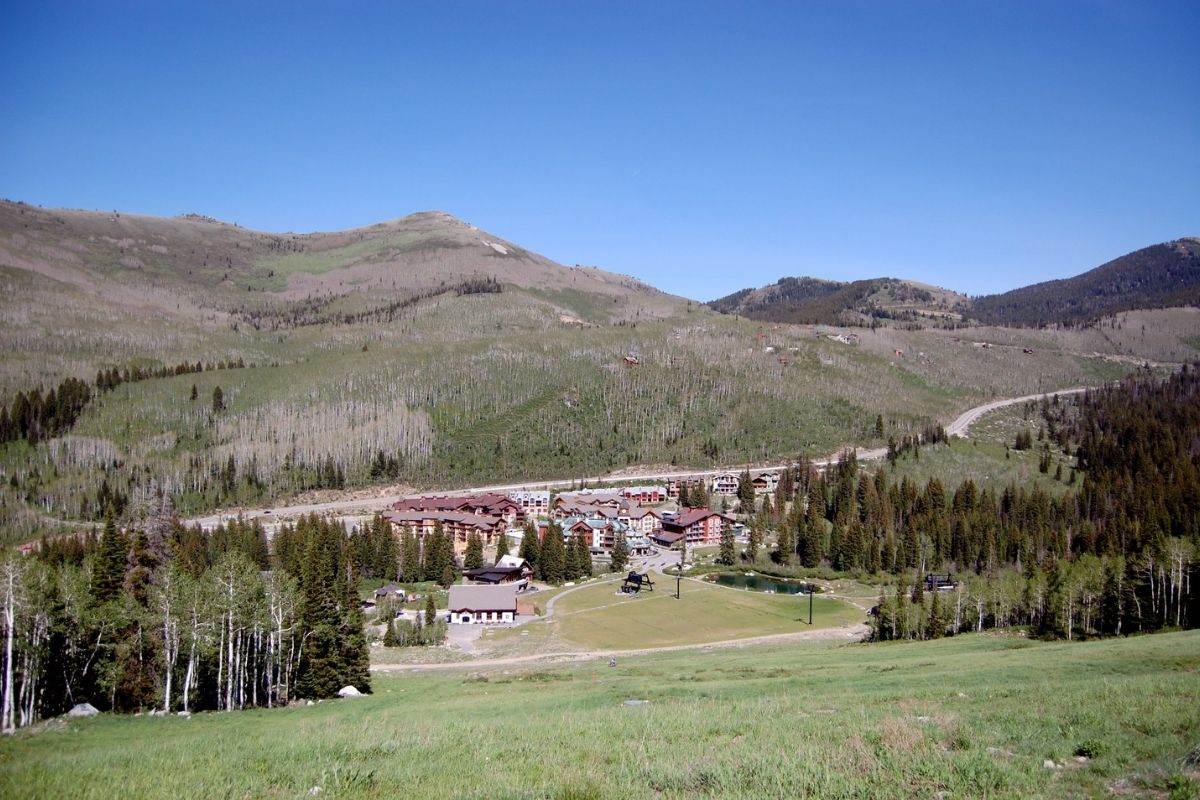 Rating: 4.7/5
Holes: 27
Cost: Optional $15 lift pass
Location: Brighton
You will have an absolutely amazing experience at Solitude Mountain Resort, which has one of the best disc golf courses in Utah. This is a fine-quality course at a very high altitude that commences at nine thousand feet. This disc golf course offers twenty-seven holes.
Note that this golf course operates on a seasonal basis. You can play disc golf here from the months of June to October.
The tees are constructed of rubber mats. The property where the disc golf course is located is noted as serving mixed usages, such as featuring a resort, a hotel, a ski area, etc. You do have the convenience of having access to drinking water as well as restroom facilities when needed. This disc golf course was established back in the year 2001.
You will find that this disc golf course will become a classic one that you like to frequent as often as possible, as you will instantly find it thrilling. When you are here, you have the added benefit of views that are so utterly gorgeous.
The holes on the course are unique and interesting, providing a good range of easy and difficult shots. There is much thick forest and grass that add to the intrigue of the region.
Thunderbird Gardens DGC
Rating: 4.6/5
Holes: 18
Cost: N/A
Location: Cedar City
You will experience beautiful red rock formations throughout Thunderbird Gardens as you play disc golf at this splendid disc golf course. Though the front region possesses quite a bit less need for hiking for the first nine holes, you will still experience huge elevations for your shots.
The last nine holes present the need for more hiking effort that is quite extreme.
You will truly enjoy a satisfying round of disc golf on this enticing course at Thunderbird Gardens DGC. The good news is that you can enjoy access to this nice disc golf course during the whole year. The tees are noted as being constructed of brick pavers.
This property is considered to offer mixed usages, such as the disc golf course as well as a public park. Furthermore, if you have a dog, it is great to know that dogs are permitted on the site and there also is the provision of washroom facilities when needed.
It is truly worth your while to play some rounds of disc golf here.

Jolley's Ranch
Rating: 4.6/5
Holes: 18
Cost: N/A
Location: Springville
You will have fun when you come to the disc golf course at Jolley's Ranch. You will enjoy the front nine holes that tend to be relatively open, which is ideal for those who are at the beginner skill level to those who have moderate skills.
There is much variety in regard to the holes, which makes the playing experience supremely interesting.
During the first nine holes, there are some slight changes in regard to the elevation. But the last nine holes tend to be more technically designed.
The area is much more densely wooded with increased elevation points, which results in the shots being more challenging. All this adds to the thrill of the game for those with advanced playing skills.
You can enjoy coming to this fun disc golf course any time of the year. The tees are noted as being made of concrete and it's designed where the usage of carts is encouraged. This is a site that offers mixed usages, such as a campsite and a public park.
For your benefit, there are restroom facilities here. Indeed, this is regarded as one of the best disc golf courses in Utah.
Conclusion
There you have it, the five best disc golf courses in Utah! The great thing about disc golf is how often new courses spring up around each state.
If you're looking for other courses around your area, check out the UDisc website for a larger list of available places to play, or read my next post on the best courses in Florida!
Photo Credit:
Solitude Hole 18
Salt Lake City Disc Golf
Solitude Mountain Resort
Solitude Lifts