One of my favorite activities to do on the weekends is to travel around and try new disc golf courses around my state. If you haven't tried this, you would be surprised by just how many amazing and unique courses are available near you.
Even though local courses can be fun to play at, if you want to explore new places, we've compiled a list of some of the best places to play disc golf in Florida that you should check out for a round!
This list was compiled with three factors in mind; fun factor, difficulty, and course design.
Here's a look at the best disc golf courses in Florida, for players of all skill levels!

The Green Gauntlet
Rating: 4.6/5
Holes: 18
Cost: N/A
Location: Eustis
The Green Gauntlet is an 18-hole disc golf course located in Eustis. The Green Gauntlet was laid out as a championship-level layout that combines the park's open areas with several technical lines through the woods.
This course showcases all aspects of disc golf and offers something for everyone, both advanced & beginner alike.
This challenging layout is home to several tournaments. Be prepared to use all discs in your bag as you experience tight tunnels, water hazards, and very narrow fairways as you play this course.
The overall course design is very technical, with a lot of holes involving the woods and other obstacles. There are 11 par 4's on the course and only 1 hole with a par 5.
Ocala Greenway
Rating: 4.5/5
Holes: 24
Cost: N/A
Location: Ocala
Are you a disc golf fanatic? The Ocala Greenway is one course that you must try if you live in the area.
With 24 holes, two sets of tees, and two pin placements per hole, you will find a course that will challenge players of any skill level on their beautiful 72-acre property. There's no better spot to play the fastest-growing sport in America.
It's set up in the woods and has some wide-open holes too. It is heavily used by the local Gainesville residents and the number of travelers to the area who want to play at least once while they are there.
The terrain is cart-friendly and you'll find a nice variety of holes including many par 4's and a few par 5's.

Floral Park
Rating: 4.4/5
Holes: 24
Cost: N/A
Location: Floral City
Floral Park is one of the largest, oldest, and most well-known disc golf parks in Florida. Floral Park is located just twenty minutes outside Orlando, making it the perfect spot for players looking to get away from city life and enjoy.
The 24 holes at Floral Park are designed to provide a challenging experience for every skill level. One wonderful feature of this course is that there are two different tee pads for each hole; one closer and one longer from the basket.
The designer has created loops that are between 800 and 2,000 feet in length so that players can enjoy the park's large terrain. There is something for everyone at this park.
It comprises concrete tee pads, challenging terrain, and a river that runs through the park for an added challenge. There are bathrooms and water fountains located at the park, but no food vendors.
Sawmill Disc Golf Course
Rating: 4.3/5
Holes: 24
Cost: N/A
Location: Silver Springs
Sawmill Disc Golf Course offers an unusual layout and design that gives a challenging round for experienced players, as well as a pleasant experience for those just beginning to learn the game of disc golf. It is a 24-hole course that was built on a country park that wasn't frequently used.
The course is located in a beautiful location just east of Ocala in Silver Springs, FL. Build, making disc golfing in Gainesville much more than just around the park. It's an adventure.
The terrain on Sawmill can be tough to navigate, offering incredible vistas along with unforgiving obstacles. All over the course, you will find narrow fairways lined with trees and bushes, thick groves that demand pinpoint accuracy, and many open fields perfect for hitting fast drivers.

The LakeHawk
Rating: 4.1/5
Holes: 18
Cost: N/A
Location: Leesburg
The LakeHawk is an 18-hole disc golf course with one of the most scenic grounds in Florida. At 18 holes, you can enjoy every bit of this great sport. Whether you're a disc golf expert or just starting, you'll find this course fun and challenging.
Take your time meandering through the course's many ponds, lagoons, and dense palm forests.
Though it's not necessarily for beginners, since some holes are tighter than three feet of clearance around water. The LakeHawk is a beautiful setting with dual tees for each hole to add an element of challenge and strategy.
This course is mostly run through a wooded area, although there are a few open holes that allow for bigger drives. There are four different options for fairways on each hole, making it fun and engaging to play over and over again.
Whispering Pines – White Course
Rating: 3.9/5
Holes: 18
Cost: N/A
Location: Inverness
The Whispering Pines disc golf course is a well-maintained 18-hole course with some of the most immaculate greens of any course in the state. The course also features nicely manicured fairways and a challenging array of obstacles for players to encounter as they make their way through this fantastic layout.
The course begins with a short, wide-open fairway that lets players get warmed up with easy placement shots. As players navigate through the trees, they quickly find themselves challenged by difficult shots over water and around punishing trees.
After finishing the back 9 of a golf course, players will have had a unique experience that cannot be matched anywhere else in Florida.
Lincoln Park Disc Golf Course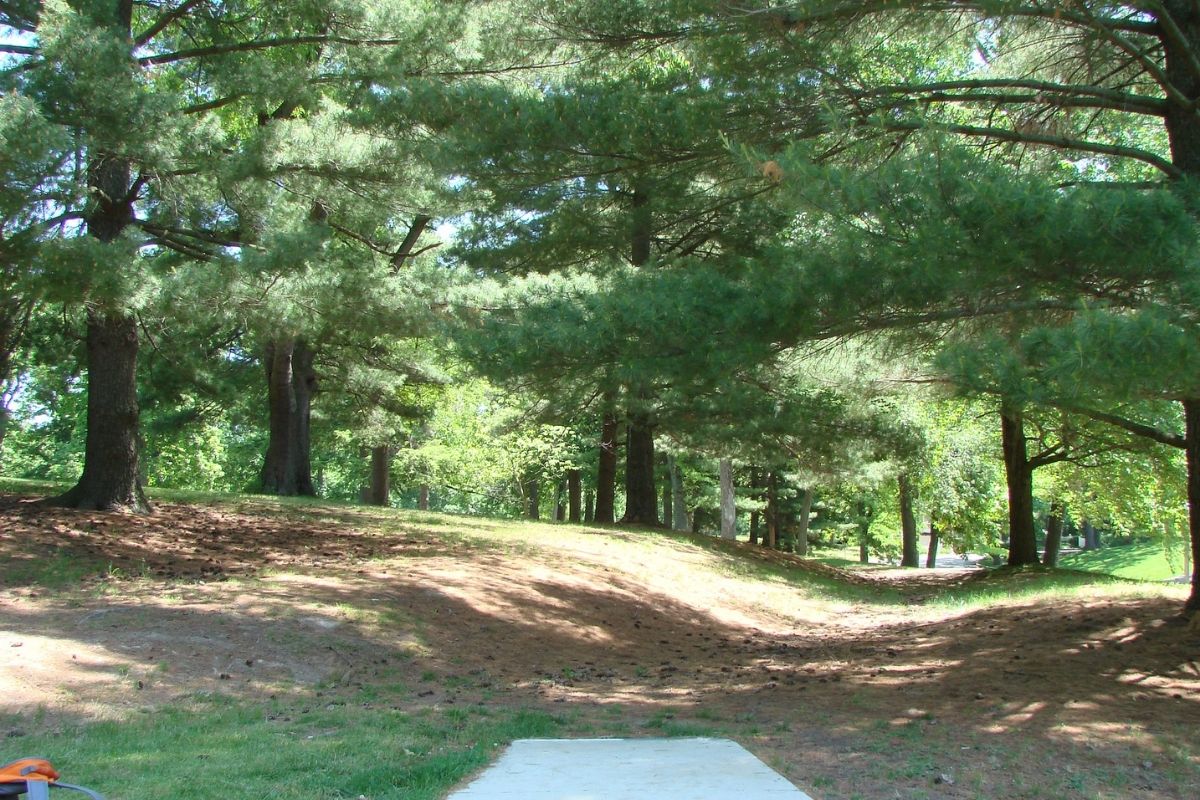 Rating: 4/5
Holes: 9
Cost: N/A
Location: Mount Dora
Lincoln Park Disc Golf Course is a short nine-hole disc golf course perfect for beginners or those who want to keep their game sharp. The course will reward good shots and provide an enjoyable experience for all skill levels.
The course has various concrete tee areas, baskets with chains embedded into the ground in strategic locations, hazards comparable to lakes and rivers, and five bridges that are more than 100 feet long.
The Lincoln Park Disc Golf Course is designed for recreational players and more advanced players who want to challenge themselves to do better. But no matter the level of difficulty setting you choose, you will get a fantastic experience.
Barwick
Rating: 4.2/5
Holes: 18
Cost: N/A
Location: DeBary
Barwick Park is an 18-hole course located in DeBary, Florida. The course is composed of 6,900 yards and features a par of 71. The course has a variety of large greens, wide fairways, and well-manicured rough.
What makes this a great golf course for players of all skill levels is that there are a variety of course layouts from which to choose.
This golf course features beautiful rolling hills filled with various trees and other flora, artificial water features, and natural wetlands. This disc golf course is open and offers something for everyone with a variety of open grass fairways and tightly wooded holes all surrounded by beautiful conservation land on all sides.

Bill Frederick Park: T-2
Rating: 4.4/5
Holes: 18
Cost: $2/person or $5/car
Location: Orlando
Bill Frederick Park: T-2 is an 18-hole golf course in Orlando, Florida. This is an exciting course with various terrain, ranging from easy to complex. The first nine holes are located in the woods, while the back nine are opened on flat, open ground.
Most of the holes are par 3, with at least one Par 5 and two Par 4's. This course is part of a Gopher Tortoise habitat. Gopher Tortoises can be found around the grounds and are known to explore while they're out in the open.
Gran Canyon/Throw Down The Mountain
Rating: 4.8/5
Holes: 18
Cost: $10/day with $6 for parking
Location: Brooksville
Gran Canyon/Throw Down The Mountain is an 18-hole course built by some of the very best in Florida. It offers a variety of challenging holes, breathtaking scenery, and excellent customer service for all different skill levels.
There's something for everyone. It includes several big slopes, which challenge more advanced throwers and add great opportunities for novices to work on uphill and downhill throws. The views from the top of the hill are beautiful.
This course features rolling hills that drop off into wooded ravines. The elevation changes will challenge more advanced players and allow less experienced throwers to throw uphill and downhill shots. Hole 16 is one of the highest points in the state.
Champions Pointe DGC
Rating: 4.6/5
Holes: 18
Cost: N/A
Location: Clermont
Champions Pointe DGC is an 18-hole open wood setting course located in Florida. It is known across the state for being one of the most beautiful and challenging courses. It is set in a public park with various trees and shrubs and several benches.
The path is lined with flowers that are just beginning to bloom, giving the course an airy and inviting feel.
This public park has plenty of trees to the right places to make this a challenging course and create some great lines to let you use all those tricks shots you've been practicing. When you get to this town, you have to play this course.
Champions Pointe DGC should be at the top of your list for best disc golf courses in Florida.
The Quarry Disc Golf Course
Rating: 4.2/5
Holes: 20
Cost: N/A
Location: Brooksville
The Quarry Disc Golf Course is a 20-hole golf course located in Brooksville, Florida. This course was previously a limestone quarry and golf course and featured majestic views and extreme topography. It is also called the "mini canyon" because it is next to the Gran Canyon property.
This course was designed to be different and challenging by utilizing some high elevation drop shot holes, long par 3's, and one challenging par four holes that should be considered a true par five-hole for anyone under a 925 rated player.
All of this comes with hurricane-force winds that can suddenly change your game significantly in just minutes.
Conclusion
Florida has many high-quality disc golf courses, and there are enough differences that every disc golfer can find one they love!
Hopefully, the list above has shown you some of the best available options in Florida. If you're still looking for more information, the UDisc website has a course finder that's helpful.
You can also read about my favorite courses found in Oregon!
Photo Credit:
Florida Course Near Water
Cliff Stephens Park
Bench in Park
Lincoln Park
Northwest Florida Course