Oregon is known for its evergreen forests, mountainous ranges, and Pacific Ocean shorelines, but what many people don't know is that it also boasts some of the most fun disc golf courses around.
Disc golf is an amazing sport that resembles traditional golf but uses a flying disc instead of clubs and balls. It continues to gain traction as recreational activities increase over the past few years.
The following are some of Oregon's top-rated best disc golf courses.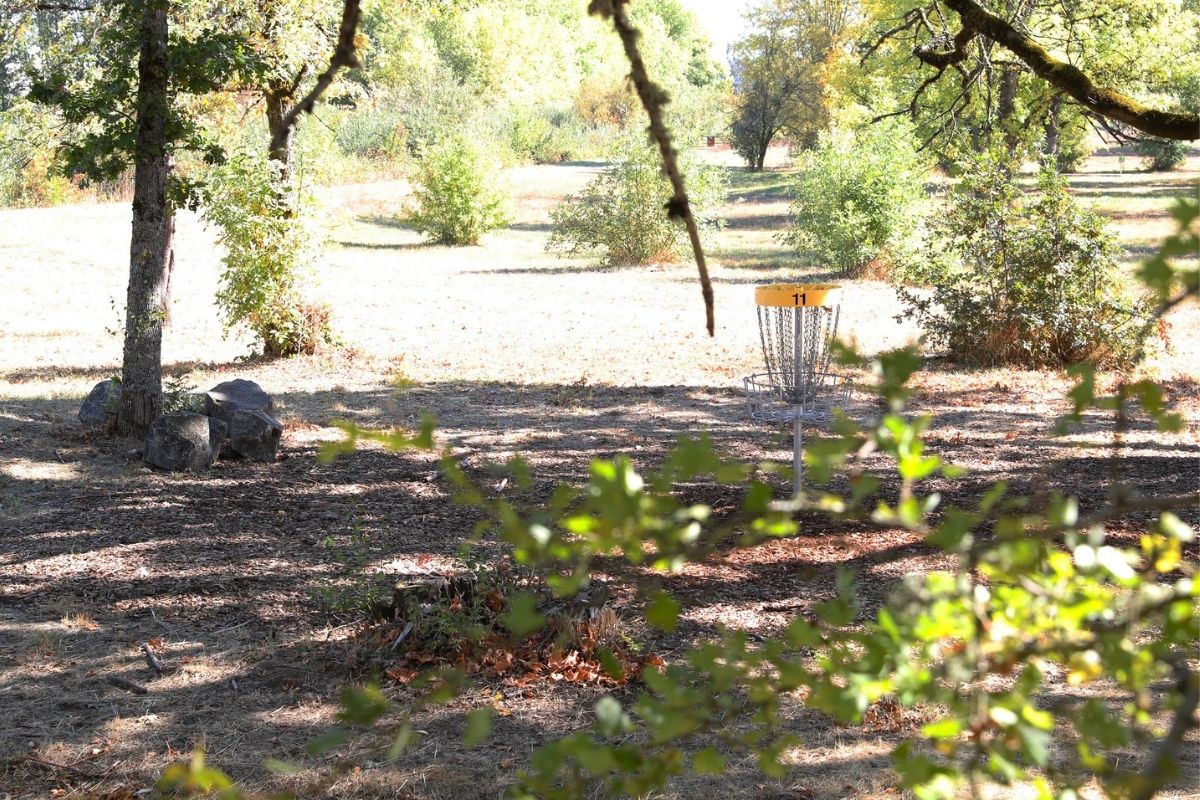 Iguanas Head PDGC
Rating: 4.5/5
Holes: 21
Cost: N/A
Location: Terrebonne
This disc golf course, nicknamed Iguanas Head due to its unique shape, is located at a popular park with a kid's play structure and covered picnic tables. The par on this course is 52, with a few par 21 holes to increase the challenge and excitement for players.
This disc golf course is available during special events, has mixed tees, and offers services such as restrooms and the availability of plenty of drinking water. Ingunas Head PDGC was established in 2017.
The course is sometimes closed for Events only, so be sure to contact them before going out to play for the day.
Bend Pine Nursery
Rating: 4.3/5
Holes: 19
Cost: N/A
Location: Bend
Located at the top of a steep hill, Bend Pine Nursery is an excellent course for all skills. The course offers a perfect introduction to disc golf without being overly complicated. More experienced players looking for a new challenge can hone their skills on the more technical holes and take advantage of the unique landscape. This course is truly one of Oregon's finest.
Bend's Pine Nursery Park is a 19 hole disc golf course tucked away in the beautiful bluffs just east of the Deschutes River. Appropriate for all skill levels, this short and tight course is excellent for practicing your game.
Bend's Pine Nursery Park is designed with concrete tees and Mach New II baskets around the course.
Features: New benches and tee signs
Notes: Not a cart-friendly location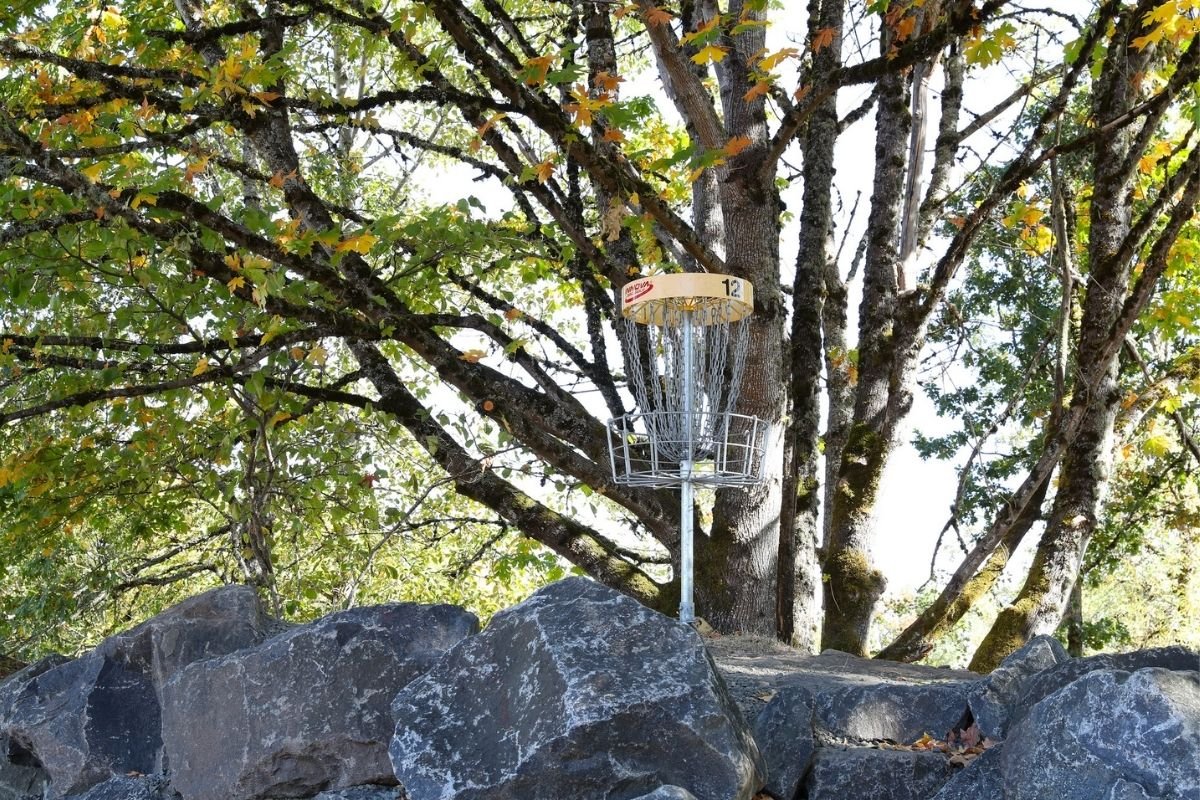 Rockridge Park Putting Course
Rating: 4.2/5
Holes: 18
Cost: N/A
Location: Bend
This putting course was designed to consist of only short holes that allow disc golfers to practice their putts. If you're looking to improve your short shots or practice throwing your putters, Rockridge is the place to go!
Since the course is so short it's a great introduction to players who are just picking up the game of disc golf. If you're lucky you might just come away with an ace while throwing on these less than 200-foot holes!
Base Camp at Horse Butte
Rating: 4.1/5
Holes: 18
Cost: N/A
Location: Bend
Base Camp at Horse Butte is a disc golf paradise. Located on the banks of the beautiful Deschutes River in Bend, Oregon, this course offers the best views in Central Oregon. It is set on a well-manicured grassy lawn that provides an open feel but challenges an average player due to its many well-placed pin placements.
Base Camp at Horse Butte features a beautiful 27-basket, 18-hole course. This park-like setting is excellent for beginning and intermediate level players.
The Horse Butte area offers some of the best disc golf in Oregon due to its vast space featuring a wide variety of scenic backdrops, terrain, and wildlife. Base Camp at Horse Butte has dirt tees and was established in 2016.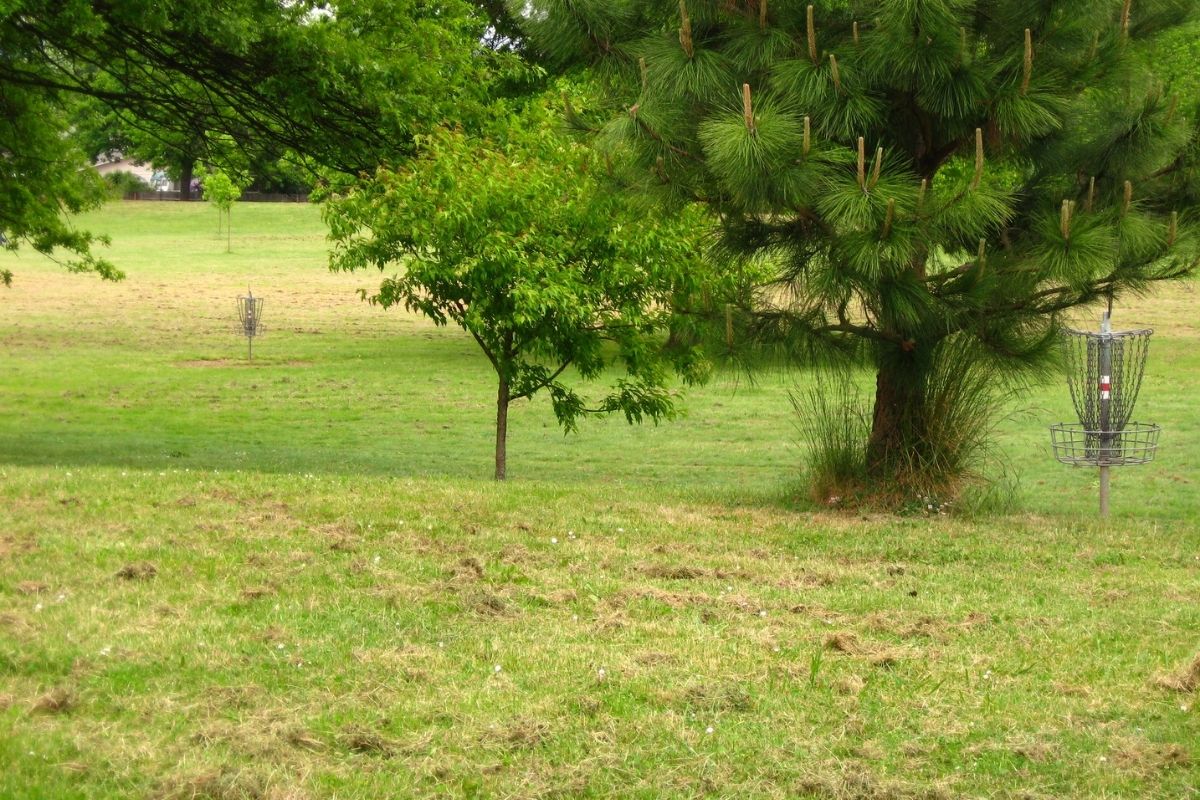 Pondo Ridge at Face Rock
Rating: 4.5/5
Holes: 18
Cost: Parking fee
Location: Bend
This 18-hole course features a ton of elevation changes as you travel from basket to basket. Your disc golf skills will be tested as you need to be decent at almost every type of shot.
The most unique thing about Pondo Ridge is that the baskets on the course are actually buckets. It's a fun and different way to enjoy disc golf, without only playing on the standard basket setup!
Playing a round in groups of 2-3 should take around 2.5 hours to finish. A lot of the holes will have multiple targets and teepads that you can choose to drive from.
Dry Canyon DGC
Rating: 4/5
Holes: 9
Cost: N/A
Location: Redmond
Dry Canyon disc golf course features nine holes of challenging, fun Disc Golf over 21 acres. Even though there are only 9 teepads, the course actually has 18 different pins that you can throw to.
This is a difficult, primarily forested course with various elevation changes and wind patterns. The course is well maintained and has elevated tees and underground baskets.
Dry Canyon is a technically challenging course. Although not excessively long, there are many tight fairways and almost no room for error on the approach shots. At least 8 of the holes have OB near the pins.
The course does not play through private property; thus, only OB hazards are along the course perimeter.
This is a great course to start playing on. The holes are relatively short, and it's a great place to go if you want to play a quick round or practice a few throws.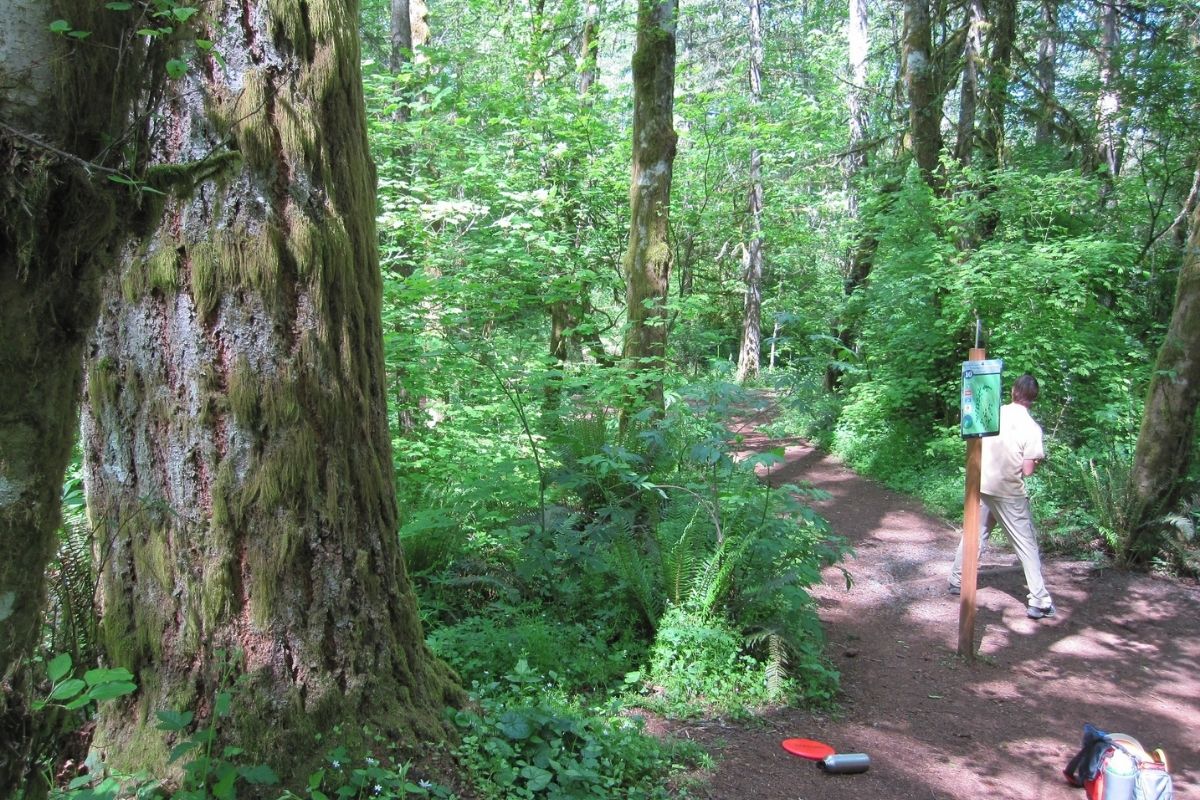 Pier Park
Rating: 4.6/5
Holes: 18
Cost: N/A
Location: Portland
Pier Park was established back in 2002 and has been an enjoyable place to play disc golf ever since. The course is open year-round, built with concrete tees, and has a Mach X basket installed on every hole.
You'll get to experience going through the forest that has Douglas Fir and Red Cedar trees as obstacles. It also has a decent amount of elevation changes that increase the difficulty of the course.
You can usually find a mix of recreational and tournament players at this location, so there's a little bit of something for everyone.
Bryant Park
Rating: 4.2/5
Holes: 18
Cost: N/A
Location: Albany
Central Oregon is a fantastic place for disc golf. There are many different courses to choose from with varying levels of difficulty.
Bryant Park is located in Albany and has a good mix of short to longer holes throughout the course.
Their main layout is very technical and has many holes that travel through the wooded areas of the course.
The holes at Bryant Park range from 300 feet all the way up to their 700-foot par 4. It's a well-maintained course and has recently put in new Mach 7 baskets for most holes.
Most of the par 4's that remain in the woods have two different baskets to make it easier for newer players.
Skyline Park
Rating: 4.5/5
Holes: 9
Cost: N/A
Location: Bend
Skyline Park is a seasonal course in Oregon that's only open from November 1st to March 1st. The course can be found on the North side of the park and features 9 separate holes.
It was recently established in 2021, and currently has rubber mat tees with veteran targets to throw at.
This course runs through the wooded park, so get ready for lots of tight lines and tunnel shots. They make great use of the natural elevation to increase the difficulty and build unique and fun holes.
Conclusion
The disc golf courses in Oregon are expanding and multiplying each year. Oregon offers a wide variety of courses, from flat plains to hilly terrain.
You can find a course that matches your skill level and get in a good round of disc golf! And, if you're ever visiting Wisconsin, don't forget to play a round on these beautiful courses!
Photo Credit:
Courses in Oregon
Basket on Rocks
Open Course
Wooded Hole