If you live in the Las Vegas area you might be wondering what the best disc golf courses around are. This list below features a good mix of courses, including easier ones for beginners and technical courses for more experienced players.
Hopefully, you'll come away with a new course in Las Vegas to try out next time you play a round!

Las Vegas Disc Golf Courses
1. North Las Vegas Municipal
Rating: 4.2/5
Holes: 18
Cost: $9/round
Location: North Las Vegas
This disc golf course in North Las Vegas features 18 different holes that are mostly par 3 or par 4. There are nine tee pads that have two different baskets for each (white and gold).
If you've ever been interested in playing disc golf at night, they host night rounds where you can play on the lighted course Friday through Tuesday.
It's recommended to call ahead at least one hour before you plan to play to make sure there isn't much of a wait.
On the course is also a clubhouse and pro shop where you can get new discs, snacks, or drinks.
2. Mountain Crest
Rating: 4.2/5
Holes: 18
Cost: N/A
Location: Las Vegas
Mountain Crest is a shorter course that's made up of mainly par 3's coming in at around 300 feet for distance. It's an open course that is known for having a lot of wind on these short and technical shots.
This is an easy course that fits new players extremely well, but more experienced players can still enjoy a nice round and might even come away with an ace!
There is a lot of maintenance done to this course so you should have no moving from one hole to the next. Since this is located in a public park there will be a lot of people walking around that you have to be more careful around.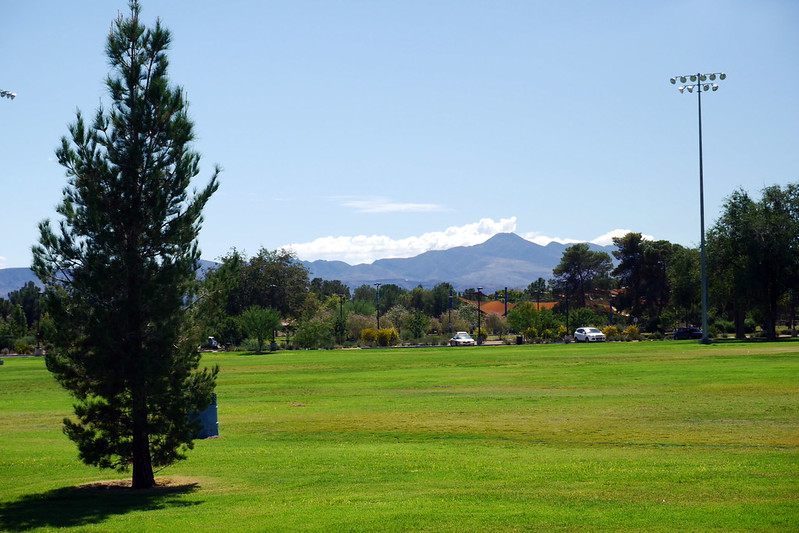 3. Peccole Ranch
Rating: 4.2/5
Holes: 18
Cost: N/A
Location: Las Vegas
Peccole Ranch is one of the more difficult and technical courses in the Las Vegas area. It can often be very windy even in the wooded areas, which makes it tough to hit your lines.
Their amateur course layout has a nice mix of par 4's and par 5's, as well as some shorter par 3's.
One thing to keep in mind is that many of the holes are near houses and yards within the neighborhood. It's probably best to try to find a time when fewer people are walking around so that there are fewer distractions and risks while throwing.
The course is open all year, has concrete tees and is always taken care of with nice layouts and baskets.
4. Red Ridge Park
Rating: 4.0/5
Holes: 9
Cost: N/A
Location: Las Vegas
Red Ridge Park features a 9 hole disc golf course that runs throughout the beautiful looking park. The surrounding area is well-groomed and is relatively flat throughout each hole.
This is one of the better courses for beginners since most holes are designed to be short and won't require a lot of accuracy or arm speed. There are out of bounds areas, but they're marked with rocks and bushes so it's unlikely that you'll end up losing a disc.
The course is fairly open and flat, so very technical shots aren't a requirement for having a good time! Since the course is located in the park, you'll have to keep an eye out for walkers and other people who are near the baskets during your round.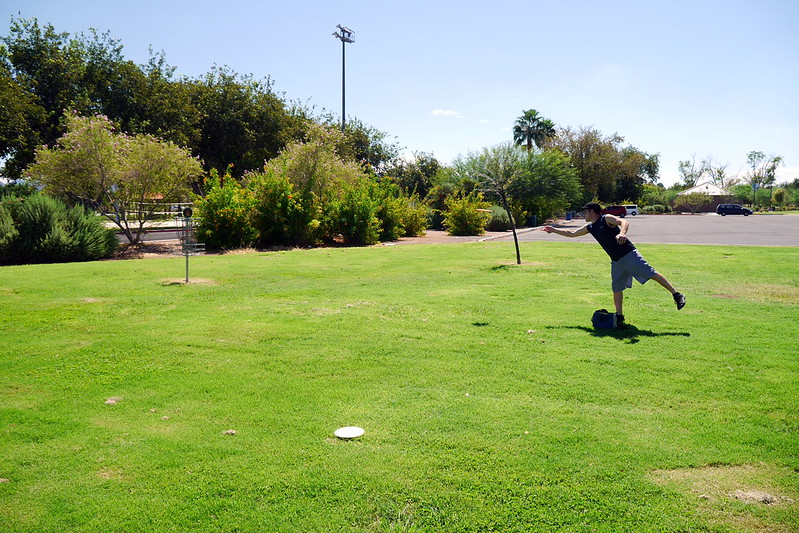 5. Fox Hill Park
Rating: 3.9/5
Holes: 18
Cost: N/A
Location: Las Vegas
Fox Hill Park is an 18 hole course that is made up of all short par 3's. The longest hole on the course is a little over 200 feet, so this is the perfect place for newer players to experience the game.
There's also a second course alongside the main course called Dylan's Fox Safari which features much more variety and difficulty on throws.
If you play here you'll find a good mix of aceable holes, longer throws, and out of bounds areas as you play through the par 59 course. Be aware that the area can be pretty busy with people walking around, which is why many of the holes are short and easier for beginners.
Conclusion
There we have it, my list of the best Las Vegas disc golf courses. If you're ever in the area and looking for a new and exciting place to try out, swing by one of these courses and get a round or two in!
With many more courses in the area, it should be easy to find a place that's fun and challenging at the same time.
If you're ever in the Utah area I have another list of courses that are some of the best in the state!
Photo Credit:
Open Course
Putting at Course