We've compiled this list of the best disc golf courses in Colorado so that you can find the perfect course for your next adventure! All of the courses below offer something slightly different with varying terrains, difficulty levels, and amenities.
We're going to share the most important details relating to each of them in this list so you know what to expect!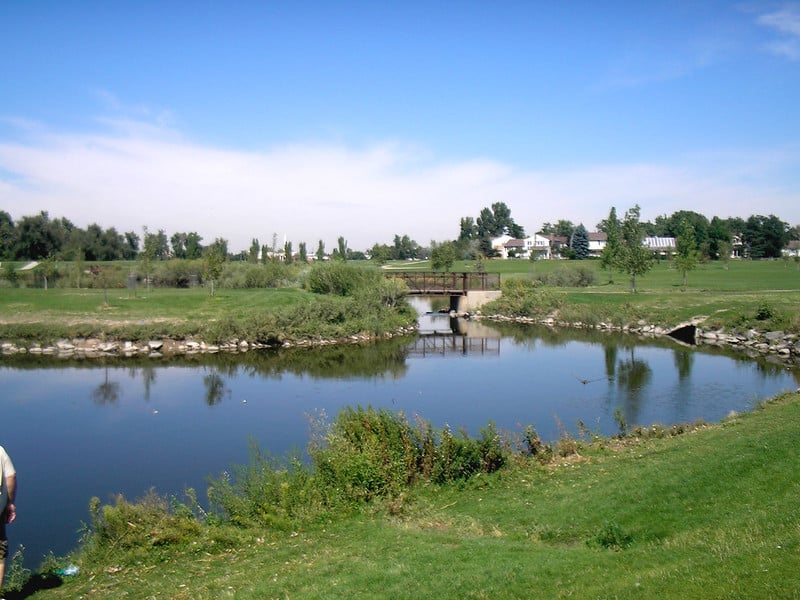 The Best Disc Golf Courses in Colorado
1. Ghost Town
Ghost Town is located in Central City and the namesake is because part of the course goes through an old mining ghost town. It costs $10 to play one round and $15 for two and reservations are also necessary.
This unique course features creative holes that travel through wooded or elevated areas. There's also great scenery in the background while you do your best to stay in bounds! The main layout is 20 holes with a par 60 and the regular is 19 holes with a par 57.
Overall Rating: 4.5/5
Holes: 20
Cost: $10
Location: Central City
2. Beaver Ranch Disc Golf Course
Beaver Ranch Disc Golf Course is located in Conifer and costs $12 to play all day or you can buy a season pass for $100. The scenery is beautiful and there is a restroom and drinking water on-site. It's cart friendly too so you don't have to worry about carrying your heavy disc golf bag.
There are two courses with a total of 41 holes. There are challenging holes and the pins are moved around weekly on the big course. The "silver baskets" course is 21 holes with a par of 63 and the "gold baskets" course is 21 holes with a par of 67.
Overall Rating: 4.8/5
Holes: 41
Cost: $12
Location: Conifer
3. Colorado Mountain College (Leadville)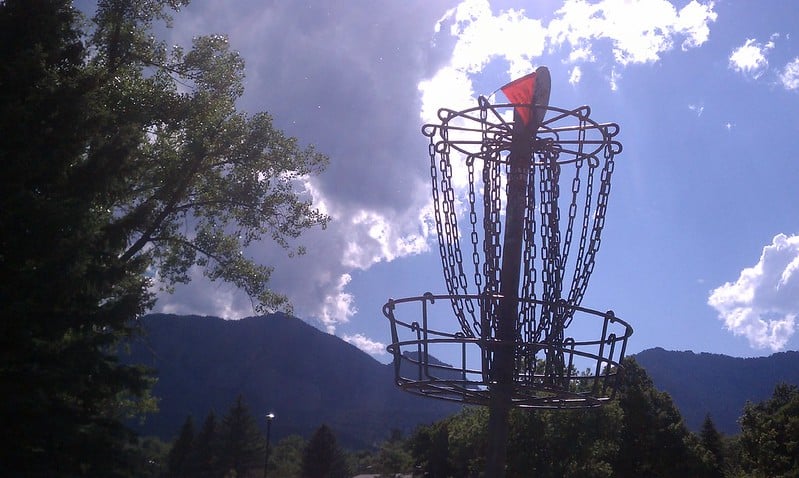 Colorado Mountain College is located in Leadville and has 18 holes with a par of 56. The course is very hilly and technically challenging so it's a little tough for beginners. It's still enjoyable for all players, but I would consider the most of the holes to be par 4 for newer players.
There are some beautiful views to see while playing through this hilly course with a lot of trees to worry about. If you have a straight throwing putter or mid-range you'll definitely need it to navigate through the wooded holes.
Overall Rating: 4.4/5
Holes:  18
Cost: n/a
Location: Leadville 
4. Bailey
Bailey disc golf course is one of the longer courses in Colorado with the main layout of 21 holes and a par of 69. There's a very rugged landscape on the holes since it's located in the mountains with many elevation changes.
The course is well-marked and maintained to a high standard. There are lots of natural obstacles and elevation changes that make it difficult and a lot of fun. You'll definitely have to use every disc in your bag to tackle this tough course!
Overall Rating: 4.8/5
Holes: 21
Cost: $5
Location: Bailey 
5. Dreamtime Ranch
Dreamtime Ranch is located in Hartsel and has 21 holes with a par of 70. It's a private course so it's a little more expensive and reservations are required to play.
It's a challenging course that has a mix of creative open shots and tight lines through the woods. Players of all skill levels will have a great time and will enjoy the awesome views and wildlife as well. There are marked paths so it's easy to navigate your way around.
Overall Rating: 4.8/5
Holes: 21
Cost: $20
Location: Lake George
6. Wondervu Disc Golf Course
Wondervu Disc Golf Course is located in Golden and is seasonal, costing $10 per day during the peak season. They do offer a season pass in the pro shop if that's something you're interested in.
There are 19 holes with a par of 59 and the course is very technical and challenging. It is set around a mountain top so you will be rewarded with beautiful Colorado views and get a good hike while throwing plastic.
Most of the holes have some sort of elevation, so be prepared for a lot of difficult shots that you won't throw on many other courses.
Overall Rating: 4.7/5
Holes: 22
Cost: $10
Location: Golden 
7. Bucksnort DGC
Bucksnort DGC is located in Pine and has 28 holes with a par of 84 with some extremely challenging terrain in two sections (which can be skipped to make it 20 holes). They only offer two tee times per day so that your group will be able to enjoy the course alone.
It is very clearly signposted with arrows and the views are incredible. All of the holes are different and there is a great mixture of elevation to keep things interesting. There is a pro shop on-site with rare discs and water throughout the course.
Overall Rating: 4.8/5
Holes: 23
Cost: $20
Location: Pine
8. Skol Ranch
Skol Ranch is located in Florissant and has 18 holes with a par of 58. Set on 10 acres of private property there are great views of Pike's Peak and the surrounding mountains.
There is an excellent mix of up and down shots and variations throughout. The hosts are known for their warm welcome and helpful manner, and you will get a very accurate map.
One cool thing about this course is that there's a cabin that can be rented right on the property. It's perfect for a getaway disc golf trip since renting it comes with the perk of unlimited disc golf while you're there!
Overall Rating: 4.9/5
Holes: 19
Cost: $10
Location: Florissant
9. Lake Dillon
Lake Dillon has two full size courses: the main one and a family-friendly course. The main layout consists of 18 holes and has a par of 55 with steep elevation changes. The easier of the two courses has 12 holes and is moderately challenging but still the better option for beginners..
Both of the courses are free to play on but there are no restrooms or trash cans on the course.. You will be treated to excellent views and beautiful scenery of Dillon and while throwing your best backhands of the day!
Overall Rating: 4.4/5
Holes: 30
Cost: n/a
Location: Montezuma 
Read Next: The most challenging and exciting courses in Texas.